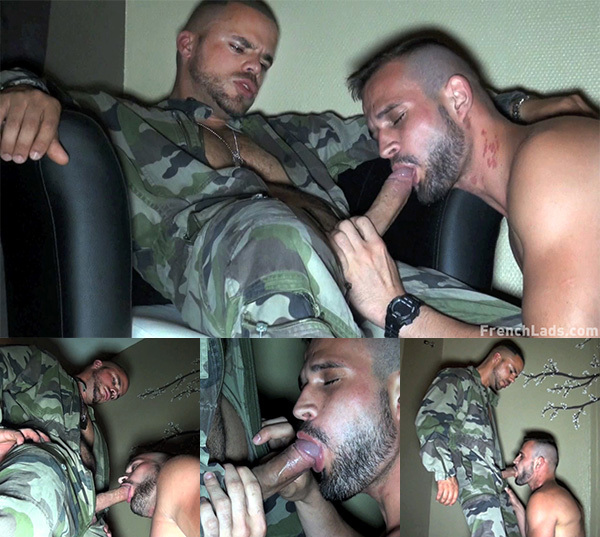 I remember the first time I saw Delta Kobra, I sucked wind and said, "Who's that?" I've seen him a number of times since and always enjoy him. He's wearing camouflage overalls and putting Mike Tiger through some push-up drills when this French Lads video opens. Then Kobra says in French that he wants to give this guy some mouth exercises and pushes his crotch in Tiger's face.
Delta Kobra is in his early thirties, he's Brazilian, but he lives in France, and as you'll hear in this video, he speaks fluent French. He's a bit of a rough-looking fucker and looks a bit angry, until he smiles. And notably, he's got a full-=head tattoo just like gay porn performer Francois Sagat.
Once Mike Tiger is finished with his push-ups, he pulls Delta Kobra's thick uncut dick out of his coveralls and sucks it until it's rock hard. Kobra pushes Mike against the wall. He's only wearing a jockstrap, so there are no clothes to remove. Kobra pounds Mike's hole and verbally abuses him, he even spits on the cocksucker. Finally, Kobra slips his coveralls over his shoulders and they fall past his hips and we gaze on his beautiful round ass pumping this bottom.