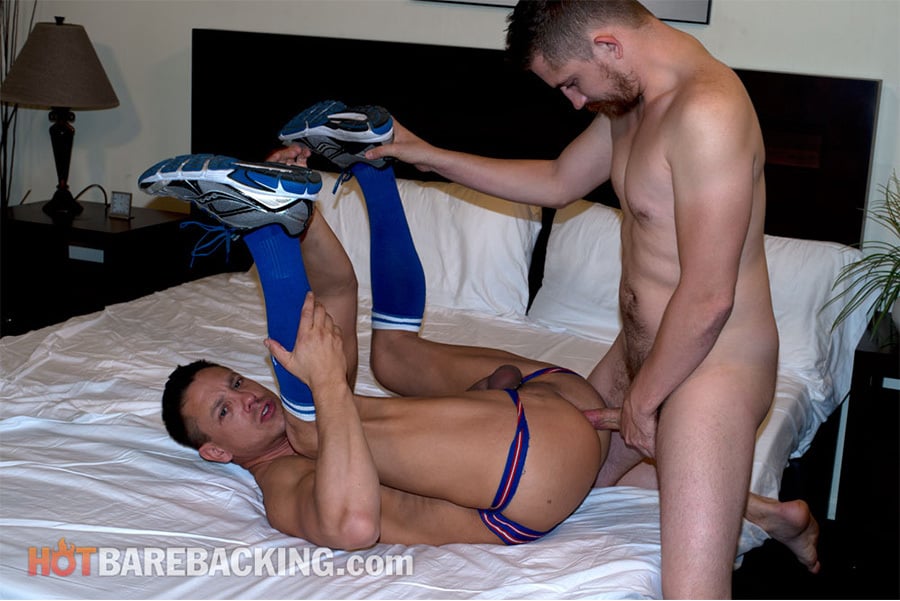 "He fucked the cum right out of him" is one of those clichéd porn lines that bugs me. It's a lazy thing writers and porn bloggers say along with "then he returned the favour" and we see them repeatedly. But in the case of Dayton O'Connor, he really does fuck the cum out of Ryan Cummings. In this Hot Barebacking video, Ryan was on his back after a long fuck session and Dayton is pumping to the finale. Ryan has his hand on his cock but he's not really jerking, then Dayton gives him a hard, single thrust and a squirt of cum flies out of Dayton's hard-on. It's as if Dayton's cock hit the "on" button.
But that isn't Ryan's only cum shot of the scene, he blows several times while Dayton fucks him. Ryan is a hardcore bottom. I laughed out loud when I saw his bottle of poppers on a string around his neck. I've never seen that before, I didn't even know such a thing existed. It's a handy thing though, isn't it? I'm sure we've all dropped the bottle cap at least once. Geez, I had a guy drop the whole damned bottle on the floor at the baths once, it smashed and sent liquid and glass all over the room. "Clean up on aisle three" doesn't even begin to describe it.
Dayton O'Connor is really turning me on lately. I don't even remember when he first started in porn, it was years ago, and he's one of those guys who has grown up on camera. He was skinny and boyish when he started, and now look at him, he's sporting a full beard (he has for a while now), which I think ramps up his sex appeal. I always loved his cock too and he can tend to be a bit of a nasty top, which is always a thrill. He works up a sweat drilling this insatiable power bottom who never gets enough and finally gives him his load.