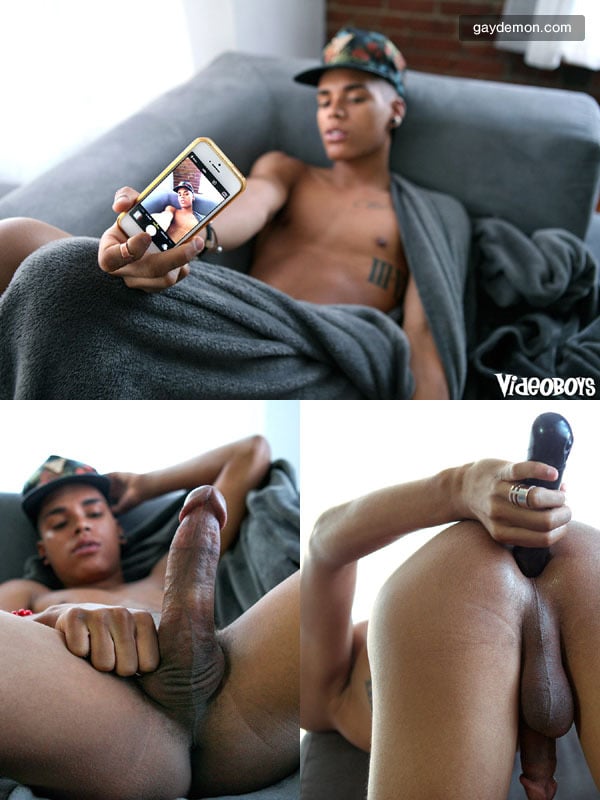 Video Boys model, 18yo Damien Gunn, is typical of most guys his age, he's been the owner of a "smart phone" since his early teens, and it is now a permanent appendage, something he simply cannot exist without! He uses it to keep in touch with friends and family, all the social media sites, and naturally, uses it for hook-ups with other guys and even to make videos of himself doing all manner of things.
Today he's using it to do some "sex-ting", where he films himself showing off his amazing body, big rock-hard cock, and his tight little arsehole! He is a master of one-handed photography; does "selfies" in fun and weird locations for friends; and his sexy looks and horny dick means he's always on the look-out for potential fuck-partners, "sex-ting" them images of himself in his underwear, or filming short videos of himself doing whatever they request!
Today he's using it to show off his new toys - an assortment of rather interesting looking butt plugs and a variety of dildos. He starts off fully dressed, but soon is totally naked, cock hard and pointing to the heavens, arsehole lubed and ready for some fun times being filmed as it engulfs these new toys - check it out, he's got a lot of imagination and really knows how to film himself in some very sexy poses! If only he'd share his Twitter or Grinder account details with us!