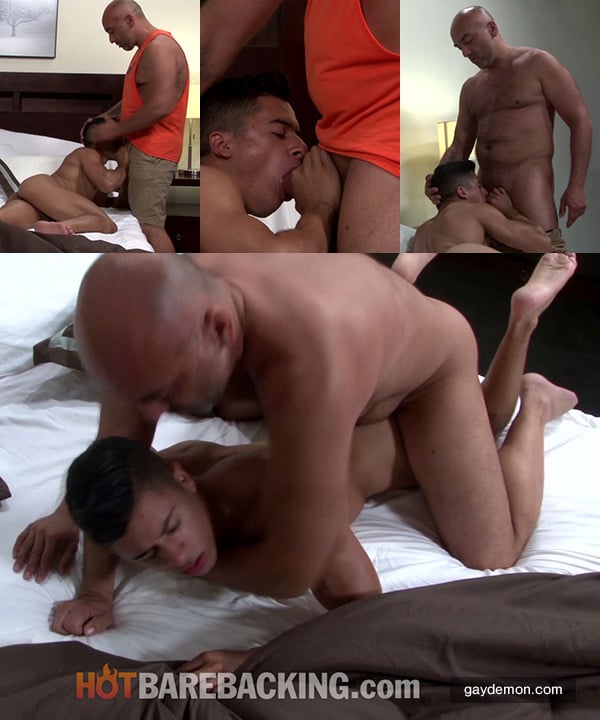 Do you like a long dick, or do you prefer them thick? I don't need a large penis to have a good time, in fact, there's something extra satisfying about being able to take a comfortably-average cock down your throat without gagging. Let's face it, very well-hung men are a lot of work. But if I had to pick, I'd choose a thick piece of meat every time -- they fill you up in a different way.
In this Hot Barebacking video, Armond Rizzo was having a nap until his lover walked in the bedroom and saw the young lad's beautiful round ass. Brian Davilla doesn't even try to accidentally wake up Rizzo, he walks to the edge of the bed, gives him a hard nudge, then grabs Rizzo's head and pushes it into his crotch -- just like the cavemen used to do. Within seconds, Armond has Brian's big dick out and he's gulping it -- or trying to, Brian is both big and thick.
Brian's also one of those top daddies who isn't interested in a whole lot of foreplay, so after shoving his dick down Armond's throat for a couple of minutes, he mounts the lad doggy style. And Davilla likes pounding rough. Armond is already struggling with daddy's thick cock, but Brian gives the lad a forceful pumping until he's ready to fill Rizzo's hole. Sometimes a hard, quick fuck is all you need, right?