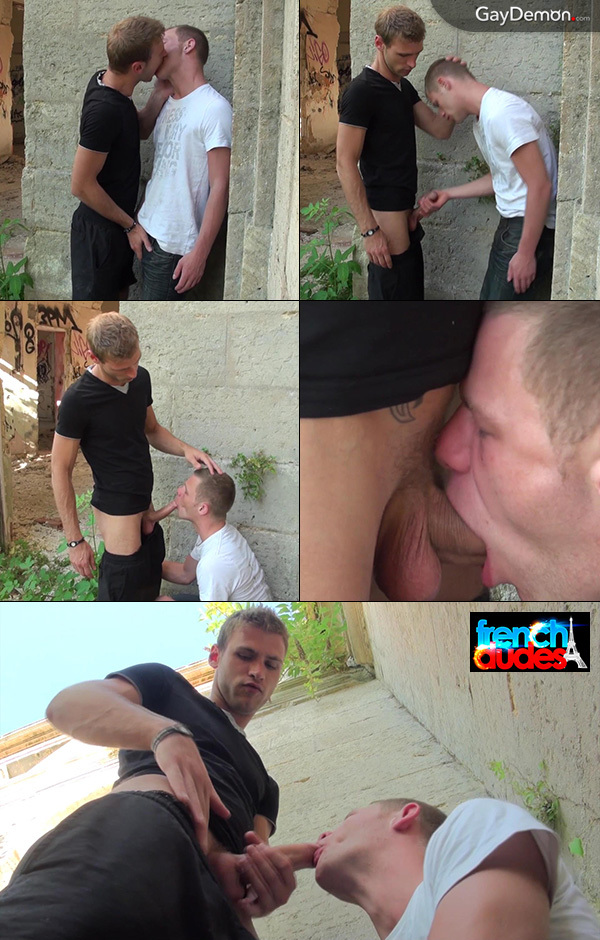 Rod Malek has found a quiet corner in an abandoned building to jack his cock in private. But Leo Helios is on the cruise for some outdoor sex and finds him. In this new scene from French Dudes, Leo moves in and starts kissing Rod, then Rod pulls out Leo's long uncut cock and strokes it. Rod kneels and slobbers all over this beautiful hard dick and licks Leo's balls, too.
Leo fucks Rod's face, then Leo turns his new-found fuck buddy around and begins slipping his big hard-on up the boy's ass. But they have to stop as some other cruisers happen by. When these other strangers leave, these two horny guys get down to some hard fucking against the wall.
Fearing they'll be caught again in this busy cruising spot, they fuck quickly, then Rod sits on the ground while Leo showers the bottom with his creamy load of cum. Leo squats and kisses Rod while he jacks off and shoots his load -- just in time, too, as some more cruisers start heading their way.