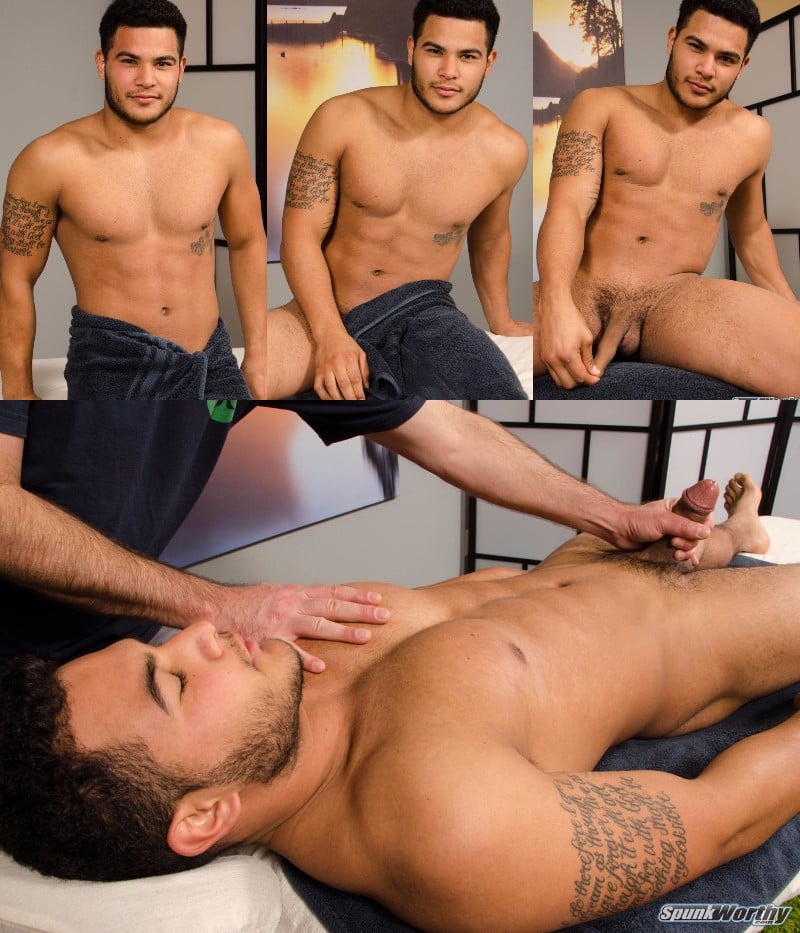 Chewy was nervous about his massage shoot with Spunkworthy. He already did his jack-off solo, but this time he's back to lie on Jason's massage table and discover what it's like having a man work him over. Jason assured Chewy that all he had to do was lie on the table and close his eyes, Jason would take care of the rest and nothing hinky going to happen..
When Jason asked Chewy about whether he'd done anything with a guy before, Chewy said, "Not even close." He's just barely finished high school, so it's not a big surprise, although don't guys have dick-measuring and jack-off contests anymore? Jason has Chewy lie face down and worked his shoulders, then his back, but Jason couldn't budge those big butt cheeks apart. Chewy had them clenched tight.
But lying on his back, Chewy was more relaxed and it only took a few tugs before Chewy's uncut cock was rock hard. In fact, Jason had to ease up because Chewy got close very fast. Chewy had saved up his load for five days, so it's no wonder that he almost blasted so quickly. But really, he's 18 years old and a guy his age can pop his load at the feeling of a slight breeze? But Chewy holds off and Jason edges him until Chewy lets loose a flyer over his head that hits also him in the beard.