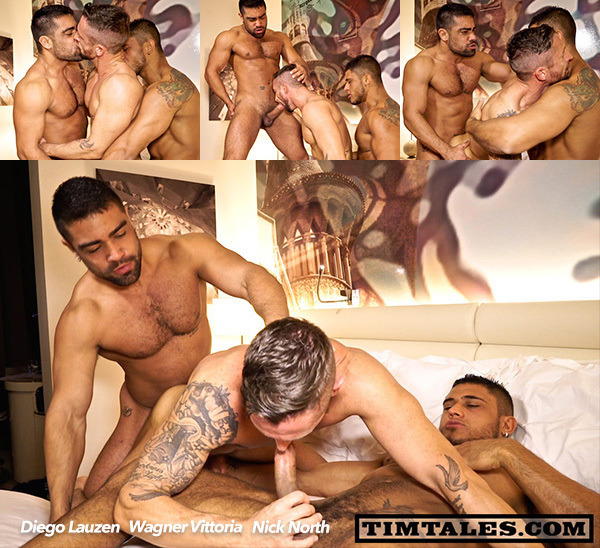 Wagner Vittoria and Diego Lauzen have made a career out of threeways. They do occasionally appear unpaired, like the time Tim Kruger fucked Diego, but more often than not, this sexy couple is spit roasting or train fucking with another guy. And what could be more fun than having a Brazilian pumping your mouth and ass at the same time? British stud Nick North found that out recently when he played with the couple on Tim Tales.
I did a double take when I first saw Nick North in this scene, I was struct by the look of him. I had vaguely seen him here or there, and he was on my list as someone I wanted to check out, but Pornland is a busy place and I don't always get to see everything I want. And in hunting for more information about North, I discovered that the Londoner is partnered with Bruno Fox, that sexy bald Spanish beard I've enjoyed over at Butch Dixon so many times, the man is a fuck machine. No wonder Nick North is in bottom heaven in this Tim Tales scene -- he loves the Latin heat, and big uncut cocks too.
I've always been more partial Wagner Vittoria. The handsome stud oozes sex. It doesn't hurt that he's got a fat brown cock. Even though North is working both Wagner's and Deigo's dicks with his mouth and ass, I can't take my eyes off Wagner. And I don't know if it's my imagination, but it seems like North spends a little more time on Wagner's dick. But I never feel as if Diego is the odd man out. In the end, after getting his holes pumped this and that way, an exhausted North lies back on the bed and the lovers shower him with jizz.