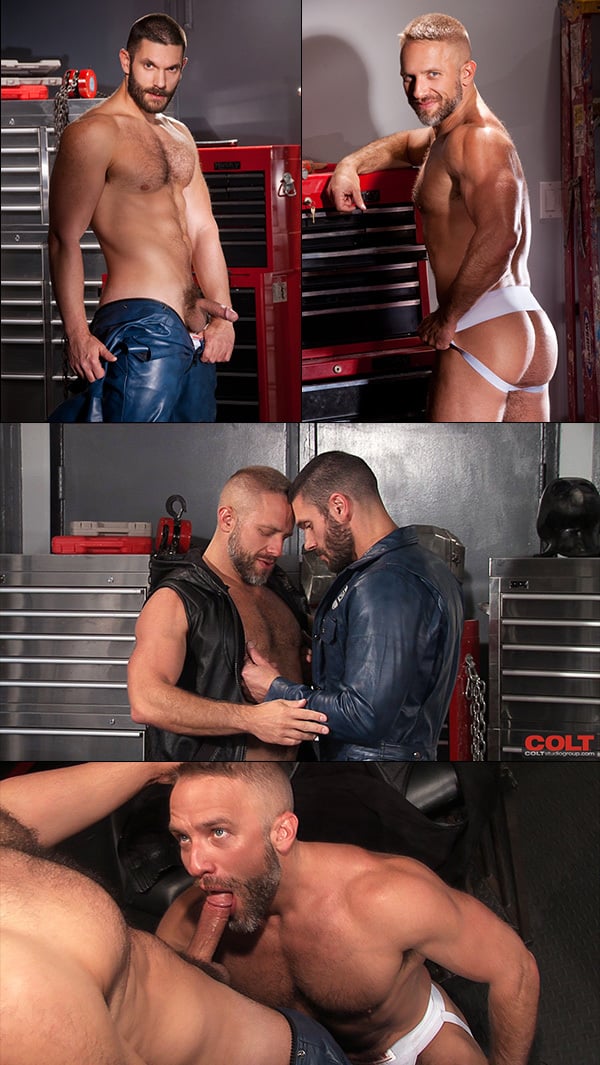 If you like bearded, hairy men then COLT Men Bob Hager and Dirk Caber are a couple of the sexiest guys working in gay porn these days. I'm not sure which man I like better, but then I don't really have to choose, do I? And with this hot scene from COLT's latest DVD called Armour, I get both men at the same time.
Hager and Caber are working in the shop, and Bob Hager is wearing a leather mechanic's suit. Meanwhile, his assistant Dirk Caber is fiddling around in the toolbox, but he can't keep his eyes off the boss. Caber puts the moves on Hager, planting a deep kiss on him and sliding his hands inside those leather pants.
Who knew that a sander could be used as a sex toy? But Dirk enjoys the vibrating tool against his stiffening cock in his jockstrap. After swapping head, these two men get down to some serious ass fucking. Lying across a work bench with his legs in the air, Dirk gets his hot butt drilled and when it's all over, Bob drains his balls all over his hairy buddy's hard muscled body.