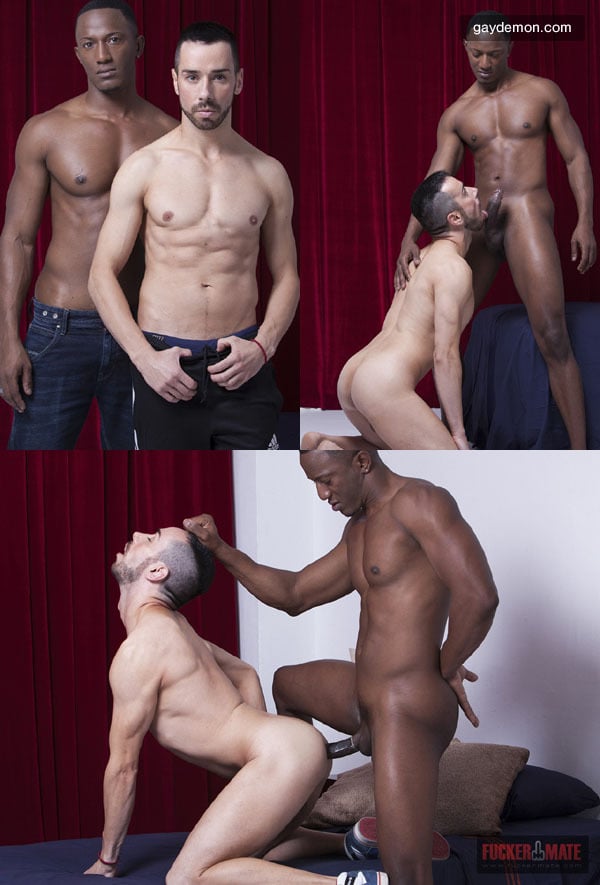 I must admit, I had never heard of Fucker Mate until I was given this post to write - seems like I have been missing out on something worth checking out - cause if this awesome interracial fuck scene with Hector Agusti and Eddie Harris is any indication of the quality of their content, it sure is intense stuff and very hot to watch!
In this video Caribbean hunk Hector Agusti and his whopping big fat black cock are paired with the cock hungry and cum thirsty white guy, Eddie Harris. Eddie is an oral aficionado, he seems capable of swallowing Hector's monster cock, banana-shaped bend and all, without any trouble! In fact, he seems to relish it, plus he also seems to be an expert at rimming too. These guys really get down and dirty when they 69 each other's cock and arseholes! Hector can give as good as he gets too - his tongue seems capable of hole-lapping at speeds I've not seen often in gay porn!
But the real fun starts when these guys start fucking. I've not seen two guys fuck so deeply, with such rapidity of thrusting, and in so many different positions for a long, long time. Hector really seems to be the perfect top, fucking his bottom-boy just the way he likes it: deep, long and most definitely hard! In fact there's one or two moments in this video when we see how awesome a top Hector really is! He really excels himself, getting his cock in that extra inch deeper, giving his bottom that extra bit of pleasure - and from the looks on Eddie's face, and the way he bites the pillow, you know he's in total bottom heaven!
The video ends off in as spectacular way as it started - with Eddie sucking and slurping down on Hector's monster cock as it spews forth squirt after squirt of cum, all over his belly, all over his abs, all over Eddie's mouth and lips, and right up to his own shoulder blades! Do yourself a favour guys - go check this site out - it's a ripper!