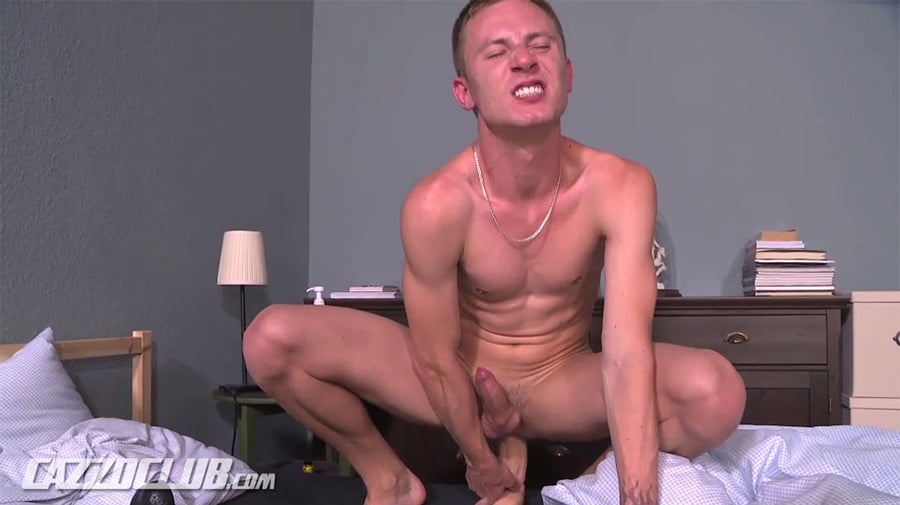 A couple of weeks ago, blond bottom Arkadius did an outdoor fuck scene for Cazzo Club. He and Marc Fisher found a derelict building with no roof and laid a blanket on the ground to fuck. While they were going at it, Dirk Berger happened by and joined them for some horny spit roasting. In this latest Cazzo Club video, Arkadius is horny but there's no one in his bed, but that doesn't deter the lad, he pulls out his three favourite dildos.
I envy a guy who can enjoy using a dildo on his ass. I've never found that they feel very good, and I'm not just talking about those monster dildos that are bigger around than your arm (I don't know how anyone sits on those missiles) even a normal cock-sized dildo doesn't feel very enjoyable to me. Maybe I just need to practice more. But it is a turn-on watching the way Arkadius plunges deeply on the biggest dildo, and he sure seems to be enjoying the hole stretching. I've seen guys take a lot bigger, but this blond is a small lad.
Arkadius is making out alright on his own, but when a stranger shows up to help him out, the he doesn't object. This grey-haired man is simply listed as "The Stranger" and he takes over fucking duty, shoving Arkadius' sex toys deep inside his gaping ass. Arkadius thanks the stranger by feeding on his uncut cock and they blow their wads together. So how about you? Do you like playing with didlos?