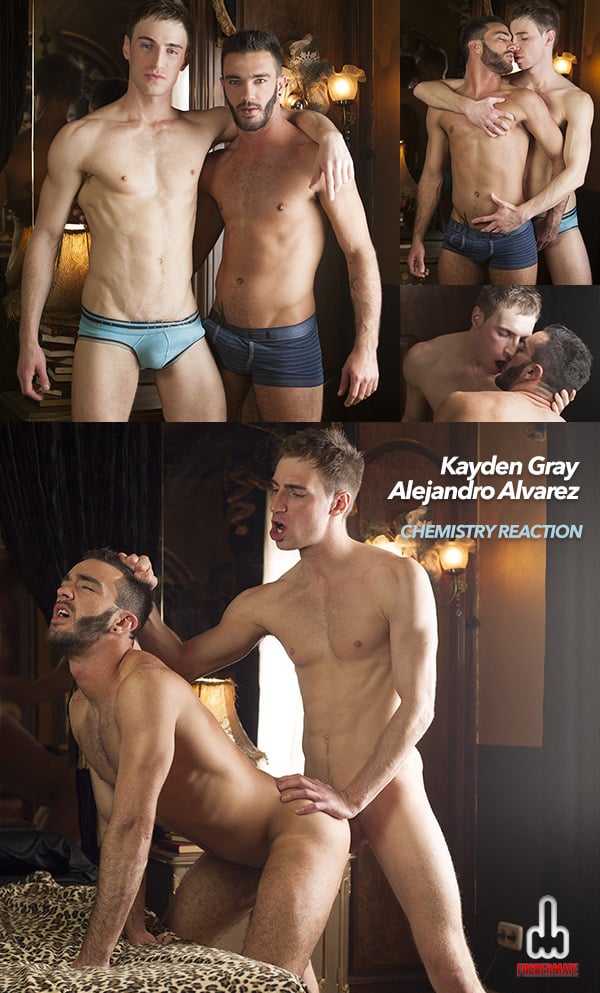 Alejandro Alvarez is the kind of bottom who keeps the tops coming back for more. When he goes down on Kayden Gray at the beginning of this Fucker Mate video, he wants to show him how much dick he can take down his throat. He opens wide and pushes his mouth forward and easily swallows most of Kayden's huge, fat dick -- there's less than an inch to spare -- then Alejandro keeps gulping and inching his lips forward. All Kayden can do is gasp with pleasure.
I've been enjoying Fucker Mate a lot lately. It's a newish site produced in Spain and they've been inviting a lot locals and other Europeans to their studio to play around. Kayden Gray is no stranger to porn hogs, but this is his first time on the site. And Alejandro Alvarez is a sexy, bearded stud who hails from Portugal. And the guys start off in their underwear and on their knees necking. "I'm horny," Alejandro pants. Kayden doesn't seem to know what to say, so he kisses him.
Kayden lets Alejandro continue having his fun gulping and swallowing his fat cock, then the top holds Alejandro's head in both hands and fucks his mouth vigorously -- no problem. There's a delicious moment when Alejandro is down on all fours, Kayden is behind him and pulls the lad's hard-on back through his legs, then starting at the tip, Kayden licks up the length of this beautiful uncut dick and keeps going until his tongue slides between Alejandro's furry butt cheeks. And if you think I was impressed with Alejandro's oral skills, wait until you see him get his hole stuffed. Like I said, he's the kind of bottom who keeps them wanting more.