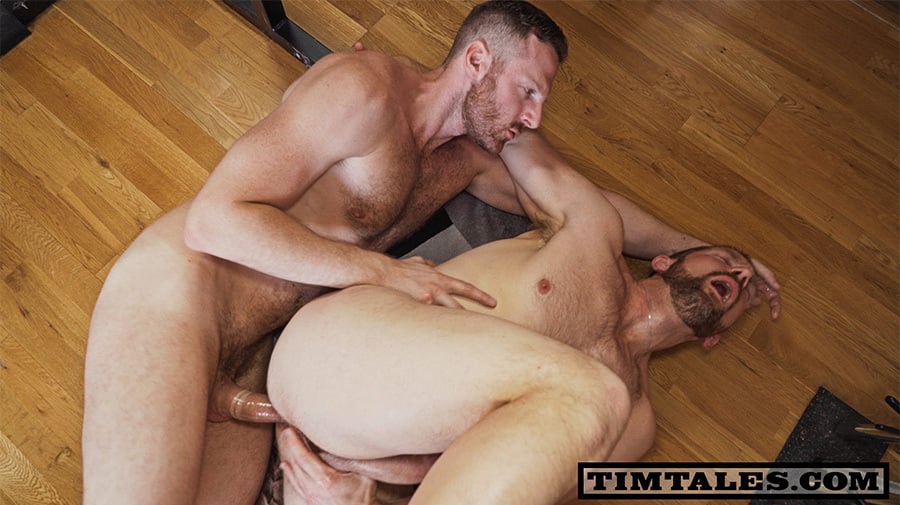 It's a turn-on seeing a hung top getting some of his own medicine. Adam Herst is well known in Pornland, and while he's versatile, he tops more than he bottoms. But when he visited Tim Tales recently, and for his first time I think, he bottomed for Tim Kruger. After chowing down on Tim's hairy armpit, he gropes Tim's bulge. Then Tim lowers the waistband of his shorts and his large erection pops out. "Wow," Adam says squatting for his first gulp.
Tim Kruger fucks Adam Herst in his home gym. I don't know about you, but I like being comfortable when getting fucked, but poor Adam takes Tim's monster cock while balancing on a stool on his back with one leg over Tim's shoulder and his arm resting on a rack of barbells. I'd likely fall flat on my ass, but I guess porn hunks are used to the gymnastics they're asked to perform. Call me boring, but I'm quite happy sticking my ass over the edge of a bed and taking my 10-inch cocks doggy style. That's enough of a workout, don't you think?
Eventually Tim and Adam head for the floor. Tim puts down a towel (you'd think he'd have a cushion on hand) and Adam lies back for some more skewering. Adam takes Tim's final thrusting on his back and Tim holds his leg and pumps deeply. This sends Adam over the edge and he cums all over his abs. Then Tim gives Adam one of his signature facials, smearing his load all over the ginger's beard. I hope while Tim Tales had Adam Herst over in Barcelona they had him fucking a lucky bottom or two, time will tell. I'll keep you posted.