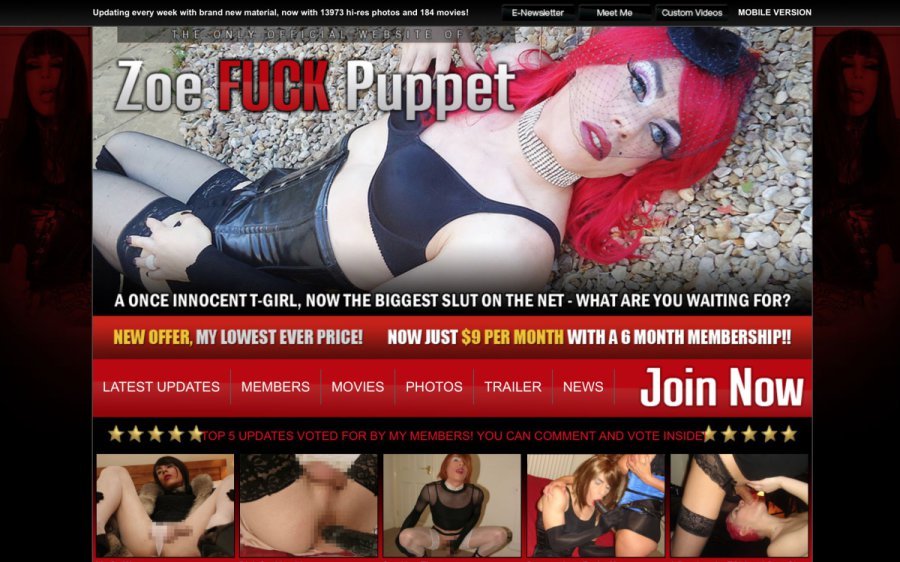 Zoe Fuck Puppet is a real amateur crossdresser with her own website all where we get to see Zoe herself in solo and hardcore action. Zoe describes herself as the hottest TV slut on the Internet, and she definitely seems to have big fun sucking her older male and t-girl friends, fucking or showing off and stroking her cock. Zoe has plenty of sexy lingerie that show off her legs and her dick to perfection, and she knows how to make herself up for the camera, aided by a variety of wigs.
About one quarter of the site is devoted to Zoe in solo action, playing with her ass and cock, giving classic covergirl poses or just showing off. The rest of the site consists of videos and pictures with and without Zoe in hardcore action with both men and women. Solo, trans-on-trans, three-way and even group action and kink. Sometimes dildos come into play, and in many instances, Zoe takes control of the action, even when she bottoms.
There are currently 126 video updates and 175 picture sets in Zoe Fuck Puppet. The videos here are DRM-free, and are offered for download in MP4 and WMV formats. The newer vids are sized at 640x480, and the MP4s are good amateur quality while the WMVs aren't quite as sharp and clear. Older videos are sized smaller. There are also streaming Flash videos for those who don't care to wait to download the videos. The MP4s here are compatible with many mobiles, and there are smaller mobile-specific vids, as well, but these are fairly low resolution for modern cell phones and players.
The pictures here are digital stills, the newer pics sized at around 1024x683, although even within a single set some pics are smaller. The oldest pics are sized at around 907x680, but for the vertical pics that size may include a wide black border, so that the actual image is smaller. All the pics can be viewed as galleries, downloaded as zip files or you can sit back and enjoy while watching each set as a hands-free slideshow.
There's a couple things you might want to know about Zoe Fuck Puppet. First, the site says that you can contact Zoe directly, and can also apply to be one of her slaves. Also the site was re-designed last year, and it's definitely easier to navigate.
Does the site have issues? Disappointingly it appears that the site has stopped adding updates. At the time of the previous review the videos were all dated, so having dateless updates is something changed since that time, and it appears that members no longer get access to a bonus site. One thing I'd have liked to see in this site is more of Zoe's personality. A blog and longer scene descriptions would be nice, as well as more about Zoe herself.
Zoe Fuck Puppet offers up Zoe herself, as well as her playmates, including daddies and other TVs and CDs. The action ranges from solo posing to hardcore threesomes, with plenty of fucking and sucking and duos. The site offers 126 downloadable videos, some of which are full scenes and others half-scenes; there are also 175 pic sets. Unfortunately the site no longer updates, but there's enough content for members to enjoy for a month or so. In the meantime, Zoe Fuck Puppet delivers if you're looking for a very slutty crossdresser who loves getting nasty in her own amateur site.
Click here to visit Zoe Fuck Puppet
---
Bookmark and Share
---