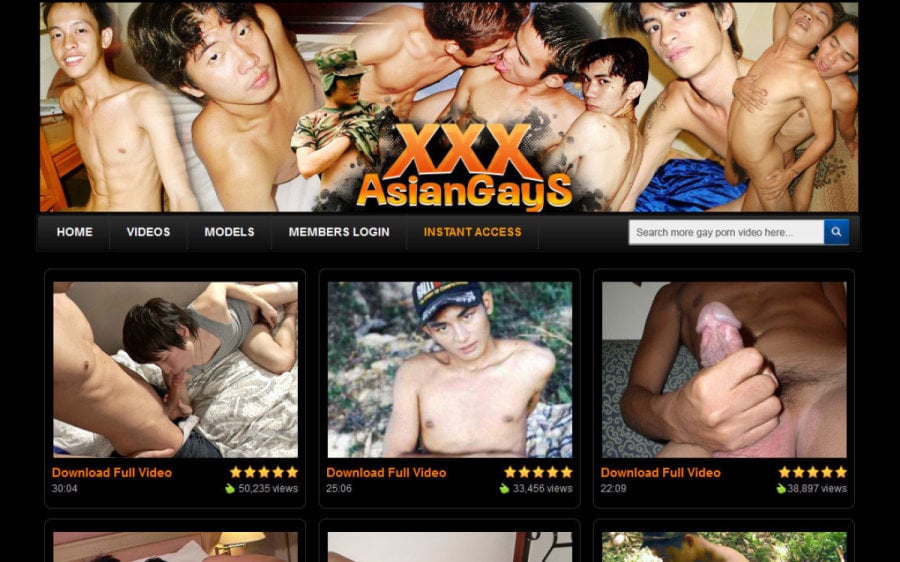 XXX Asian Gays features smooth and uncut 18- to 26-year-old guys here, cute and horny and up for all kinds of hot stuff. The site gives you plenty of Thai guys, some Japanese performers, and some hard-to-find amateurs from India. There are also a couple of white guys turning up from time to time in some of the interracial scenes, and a couple of models are older than classic twinks, too. There's no real specific focus for the types of models here; it is mainly a collection of Asian amateurs, a mix of well-built and slender performers, some bold and others demure. And there's a nice variety of cock sizes. By the way, there could be guys from other Asian countries as well as the site doesn't always specify.
Most of the performers here look like genuine amateur, up-for-it Asian guys willing to do what it takes to make a buck while having a hot time. You'll find Asian guy-on-guy duos sucking each other's rock-hard cocks, and after the oral there's plenty of fucking before the guys blow their loads. There are some threesomes with Asian guys having fun and actually getting into what they are doing and each other; there are some interracial duo scenes with older white guys and their younger Asian catches; you'll find some jerk off solos as well. The scene locations are a mix, some taking place indoors and other sessions happening outside in the wild, getting back to nature with some dick jerking, or an anal session by a stream.
XXX Asian Gays offers 85 videos in MP4 format in two resolutions for both stream and downloads. The larger size for downloads is either 720x480 for newer movies or 640x480 for older ones, and both have a smaller size, although both larger and smaller sizes should play on most mobiles. Newer movie quality ranges from average to fairly good amateur - not great, I have to say, but not terrible either. Older movies are lower quality visually, than anything more recent, and all the movies will stream in a Flash player at 640x480 where full screen is available and is just about acceptable on the higher resolution version of each scene; older and smaller versions don't fare too well at full screen.
All but the four most recent movies have screencap galleries, a total of 79 picture sets. These images are sized at either 720x480, 640x480 or 480x360, and they give you a preview of what happens in each movie. Quality isn't great, and some pics are blurred, but you can navigate through them from pic to pic easily. There are zip files for full set downloads or you can save only the pics you wish individually. There are 50 to over 100 photos per set.
XXX Asian Gays is part of Gay Hub, a porn network that offers 7,688 videos total from 66 sites in a variety of niches, and the network added 13 updates in the last week. There are sites like Asian Boys Toys with 109 scenes, Blake Mason with 1,095 videos, Homo Emo with 326 scenes, and Teach Twinks with 362 videos. Niches include twinks, Latin guys, straight dudes, barebacking, and more, and you can filter the sites to watch content from a niche by keyword, you can do a free-form search or browse by models. You can rate what you see and also leave comments. The network also has a playlist function where you can add scenes to a list to watch later.
Let's talk about what bugged me about the site. The big downer is that the site has stopped adding new content; there have been no updates since August 2014, but luckily the network updates frequently. Next is the pre-checked offer on the billing page that, if left checked, will sign you up for a second recurring site membership when you join XXX Asian Gays. The trial memberships give limited access; both three- and seven-day trial members can view the "best 12" scenes in the network. And there's this great big ad at the top of all the members pages which fills all top top of the screen. You don't even know that you have changed pages until you scroll down, as each page looks the same thanks to the ad for a particular DVD. There's also two rows of animated thumbs on the page bottoms that are actually an ad for a live cam site.
XXX Asian Gays hasn't changed much since we last reviewed it. It delivers horny Asian twinks and amateurs including some guys from India, Thailand, and Japan (among other countries) in a mix of gay suck and fuck and male masturbation action. There are 85 videos that can be streamed, downloaded or watched on most mobiles, and most episodes come with pics, but the site stopped updating some time ago. To make up for that, the network includes just over 7,000 bonus videos and adds new content pretty much every day - sometimes twice a day and includes a second Asian site. While XXX Asian Gays may not be the best Asian site out there, it's a great way to join a huge network full of tons of twink, Latino, bareback, and more porn.
Click here to visit XXX Asian Gays
---
Bookmark and Share
---