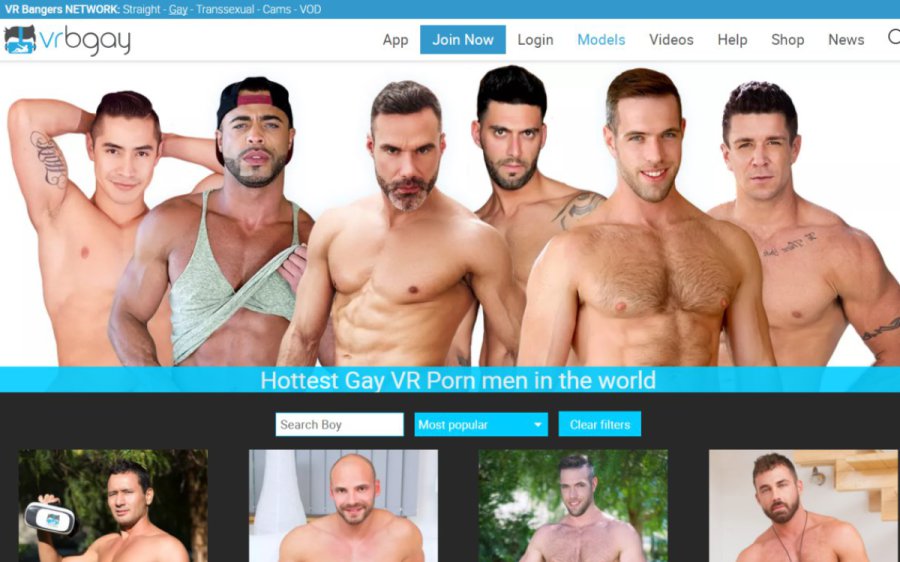 VRB Gay offers VR (virtual reality) gay porn shot in POV (point of view) starring some very familiar faces. There's Logan Moore, a bearded hunk with stunning blue eyes, a nice body and lightly furry chest, and he's packing an uncut cock. Trenton Ducati is there, as well, a hot daddy in his 40s with a handsome face and trimmed pubes highlighting eight inches of uncut dick. And there's Micah Brandt, an absolutely gorgeous light-skinned black stud with a muscled, athletic body. Well-hung porn star Alex Mecum also appears in this site showing off his eight and a half inches and lightly hairy body.
About half the performers are from the U.S. and the rest are from the Czech Republic, and not all the guys are actual porn stars, but most have worked for porn studios before. There's well-built Czech porn regular Ronny Dark and smooth tattooed Dom Ully; Jeffrey Lloyd is a bearded cutie who's worked in porn under a variety of names, and slender Zander Cole has appeared on sites for Chi Chi LaRue and Trenton Ducati. There's also a couple guys who are new to porn including bearded daddy Manuel Skye and cute smooth guy from the Czech Republic called Jamie Oliver.
The action at VRB Gay is a mix of hardcore and solos. You're the patient when "Doctor" Alex Mecum walks into the exam room. After a brief exam, his face is at your underwear and he sucks and strokes your cock before he rides it hard. Muscled Micah Brandt is the plummer you can't pay, so for payment he wants you to watch him jerk off. No problem! His muscles bulge as he plays with his nipples, stroking his dick while bent over to show off his built ass and later he stands while he jerks till he shoots his load on the counter. Micah Brandt partly appears in another video where he's serviced by his buddy Zander Cole in a tent and then fucks him, but we don't see Micah's face in this one because the video is shot from his point of view.
Now let's talk about the VR experience. The videos are shot well and give you a field of view that extends up, down and to the right and left as you turn your head; you can see much more of your surroundings and the angles than in traditional videos. In my VR headset (which is a cheaper one), they worked very well to get you into the action. Since they're shot POV-style, some show you fucking the man in the scene while others let you watch him jerk off and more but the 3D feel makes it much more like you're there in the room with him. The head tracking worked perfectly with my inexpensive goggles and Galaxy S7 phone, and by the way, the site says it's compatible with Oculus, HTC Vive, PlayStation VR, GearVR and all smartphones.
VRB Gay offers 30 exclusive VR videos in MP4 format. The videos are available in 4k (3840x1920), HD (2560x1280) and what they call HQ, which is actually another size of HD (1920x960), and while all the vids are VR, some can be downloaded in your choice of 360 degrees and 180 degrees plus two sizes of PSVR, which is PlayStation VR while others have less options. You can also stream the videos in a player sized at around 846x480, and while they look good and enlarge to full screen well, keep in mind that they're shot for VR, which means they look a little odd on your desktop monitor or any screen without VR goggles.
There are a couple things to be aware of regarding the videos. While these videos are compatible with newer mobiles, even the smallest isn't going to work on any but the newest phones, so be sure your phone can handle full HD (1920x1080) to watch the downloads. There are streaming trailers, so you can try them before joining to make sure your phone can stream the vids. Because the videos are large and good to very good quality, they're also large in file size. The 4k videos range from around 3 to over 5 GB each, so if you're on a slower connection, be aware that you'll have a wait to download the best videos. But IMO it's worth the wait.
Each of the men has his own page, and VRB Gay has made these some of the most complete model pages I've seen. They include a good-sized pic next to the model's profile that includes info on things like his cock size, cut or uncut, country of origin, birthday, astrological sign, and more. There are links to the performer's social media, a bio and his latest tweets, and these are followed by links to his videos and a set of five pics. The pics are sized at 1000x563 and good quality, and they're not VR, so you can enjoy them on pretty much any device.
Let's talk about prices. Gone is the monthly membership option; now your options are a 15-day full access trial, a quarterly membership and a yearly membership. Both the quarterly and yearly memberships have increased, and that's not obvious because the full prices aren't shown on the join page, but they are $50 and $100.
Now let's talk about issues, and we'll be starting with updates. There are two problems here. First, the most recent update was added almost two months ago. The site has added ten videos since our last visit almost a year ago, and they are currently recycling the updates, redating the older updates to make them seem like new ones. The funny thing about this is that the second-to-newest video now, dated 18 August, 2018 (Dr Mecum) is the same second-to-newest video there was on my last visit, only then it was dated 4 October, 2017. So it appears this site is no longer updating.
Are there other issues? There are two unchecked boxes on the join page below the part you fill out and the LET'S BANG! button. The first one is actually an email list signup agreement it would be easy to assume is the site terms agreement; the second one is the one where you agree to the site terms and conditions. There's a small pop-over on the tour and a larger one on the join page, but both are easy enough to close. While not exactly an issue, the videos are made for VR, so don't expect them to look great on your desktop or mobile unless you're watching through a VR headset.
VRB Gay features hot adult stars (I'm a huge fan of both Trenton Ducati and Micah Brandt) and porn regulars. The men are smokin', the action is a mix of POV sucking and fucking in 3D and virtual reality as well as some sexy solos that give you the feeling you're right there in the room. There are 30 exclusive VR videos to download and stream that are compatible with newer mobiles, each with a set of photos, and each performer has a profile and biography as well as a set of five pics. On the downside, it appears that updates are being recycled. If you'd like the virtual experience of watching a gay porn star jack off in the room with you or even fuck him POV style, VRB Gay is definitely worth a visit, and the trailers are POV so you can try them with your phone and a VR headset.
---
Bookmark and Share
---