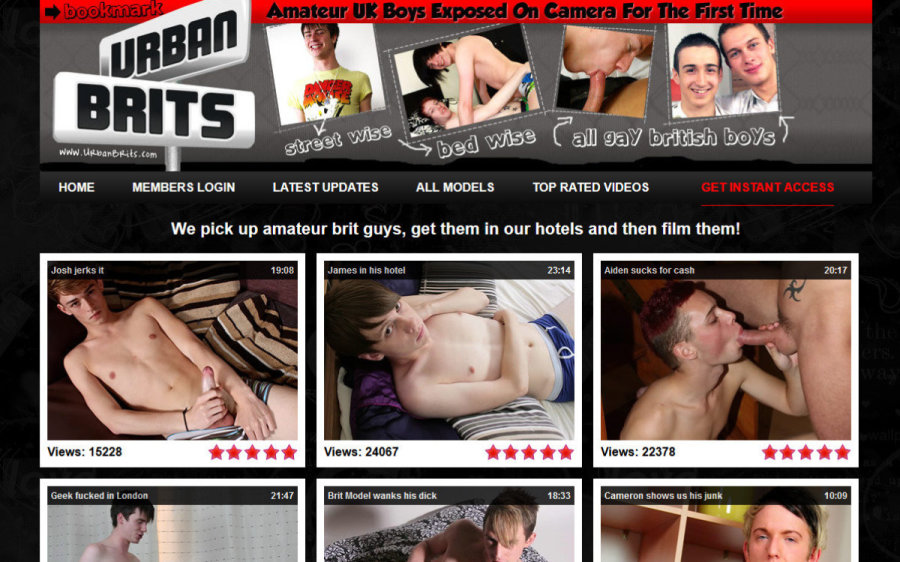 Urban Brits features guys from the UK ranging from 18 to 21ish, and the site says that this is their first times on video. With a mix of solo and hardcore videos and bonus access to 12 bonus sites, there's quite a lot to see here. It's been a while since our last review, so let's see what's new.
I'm not sure how urban these Brits are, as the only time "urban" is used is for the site name. But I can tell you that many of the guys here range from 18 to 23 years of age (a few maybe a year or two older), while some of the newer guys are amateurs of a wider age group. Expect cute, twinkish guys with lean and smooth bodies, some with trendy haircuts, a few with tongue or navel piercings and a couple wearing some tattoos. Most of the guys are regular-looking guys, but there are a few emos as well. And because we're in Britain, you'll find the guys are largely sporting uncut cocks.
About two thirds of the videos are solo jack-off videos with the guys lying back on beds and sofas, stroking their hard cocks and playing with their balls and butt holes for the camera. The other third features duo action (and I found one threesome) with horny guys horsing around in tickle fights, kissing, sucking, rimming, fucking, and squirting cum on each other. Almost all the recent updates are hardcore.
There are 45 videos in the Urban Brits members area. The videos are offered in MP4 format and sized at either 640x480 or 640x360 plus one smaller size, and both sizes play fine on most mobiles. If you prefer, you can stream the videos on the site in two qualities of MP4 sized at around 640x360. The videos are average to fairly good amateur quality at their default sizes, although some hold up better than others when enlarged to full screen. There's no DRM, so anything you download is yours to keep.
There are also 119 picture sets, one for each video plus 74 standalone sets that appear to be digital stills. The digital stills are average to good amateur quality, and these are sized at 1000x1500 while the screencaps are sized at from 480x360 to 720x480. While the screencaps aren't the sharpest pics around, they are perfect if you want to preview the action. All pic sets, both screencaps and digital stills, can be downloaded as zip files, or you can save individual pictures if you prefer. While there are no slideshows, you can navigate from pic to pic using the arrows on the left and right side of each picture.
Urban Brits is part of the Britain's Boys network which offers 12 bonus twink sites. Some of these sites, namely Beddable Boys, Teach Twinks, Lollipop Twinks, Euro Twinkin, and Euro Boy XXX, are still updating; there are four network updates per week. The other sites don't update, but they do bring more videos to the party. While the network lists a total of 2,592 videos, some of the Urban Brits picture sets were listed as videos, so I'm not sure how many vids there are exactly but definitely over 1,200. And last, members get limited access to seven additional gay porn networks.
This site has its share of issues. First, there's no new videos being added - the site stopped updating in 2014. Next, there's a pre-checked offer on the billing page that will sign you up for another site's membership when you join this site, but if you don't want it, it's easy enough to deselect. Trial members get limited access, and can only view a few videos till their memberships renew. When you select the content for this site from the network menu, it says there are 119 scenes, but 74 of these "scenes" are actually picture sets with no associated videos. And there's a great big animated ad on the top of all the members area pages with trailers for DVDs for sale, as well as animated thumbs at the bottoms of all the pages that lead to a third-party live cam site.
Urban Brits features mostly cute amateur lads (and a few blokes) from the UK, and most of the action shows them stroking their uncut cocks or kissing, sucking, fucking, and blowing their loads. The site offers 45 videos to download, stream or watch on your mobile plus 119 picture sets, but unfortunately no longer updates. Luckily members get access to a network offering 12 bonus twink sites and four weekly updates, and these bonus sites give you heaps of other guys 18 to 25 years of age to watch and enjoy. And with the bonus sites and sneak peeks at seven other networks, an Urban Brits membership with all the extras can keep members busy.
Click here to visit Urban Brits
---
Bookmark and Share
---