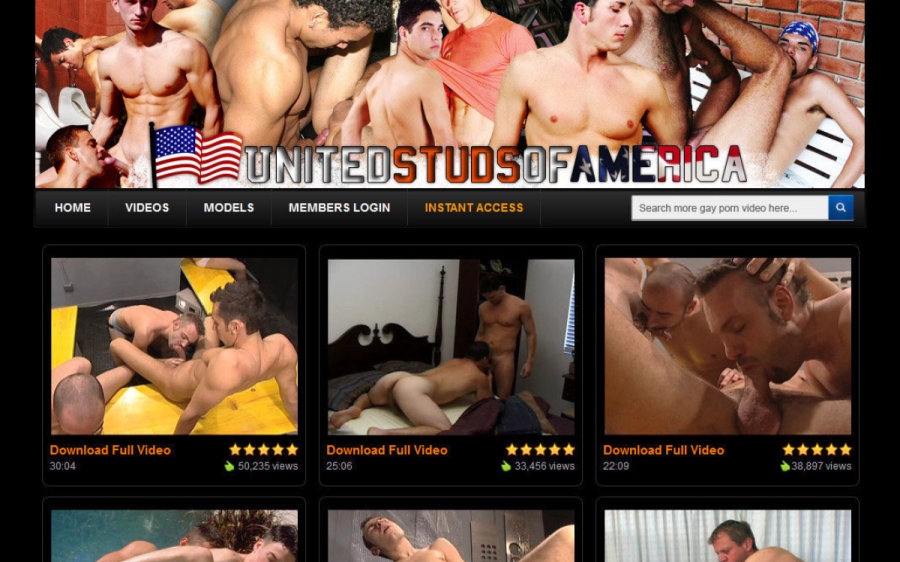 United Studs Of America is not about any one kind of guy. What makes a stud a stud is up for interpretation but it's generally considered to be someone hunky, well built, handsome, rugged, and definitely good looking. Here at the good old U.S. of A, however, it looks like they interpret stud slightly differently. The guys are amateur models, and they more of less cover every kind of look and guy you might find in the USA, stud or no stud. It's a mainly white line-up, but there are some black dudes and a couple of Asian guys, however we're mainly looking at white, Mr Average build, cute-cock and studly-ass kind of guys. There's a smattering of military men, some straight looking and acting guys and a couple of your classic hunk types. There are also a few twinks, chubs, and leather men. They've given us a mix of models and there's a mix of action as well.
Where the site doesn't have any specific kind of guy, despite its title, it doesn't have any specific action theme, either. One minute we're watching a cut amateur guy jerk one off, then we have two slim guys in a bar living out an after-hours fantasy. You might stumble on a fisting scene on page four, a glory hole scene on page three and some hot cut cock in hardcore on page one; in fact, I know you will as that's exactly what I saw. You can also add to this list of pick-and-mix dildo and anal insertion fun and duo action with guys rimming, sucking, and fucking each other in a standard progression. Some of these movies have starts and ends, storylines if you like, while others are simpler, with no build up.
There were 45 movies at United Studs Of America when I visited, and that's interesting because when we last reviewed the site in 2013, there were 70, and we commented then that there were fewer on that visit than on the one before. Is this "The incredible shrinking website" perhaps? While we can't know what happened to the videos, there have been no updates of any kind in months, but there are lots of extras we'll get to shortly.
The videos are offered in MP4 format. The downloadable vids are sized at 640x480 plus a smaller size, and both should play fine on most mobiles; they're also available to stream at around the same sizes. The quality of movies is, like the line-up of guys, a bit of a mix. The newer videos range from average quality to good amateur, and some are sharp and clear, while the older vids are a bit on the blurry side; this isn't surprising since the videos appear to be scenes from somewhat older DVD content (think 1999 to 2008). Some of the movies are slightly dark while others are just fine. I had no hassles viewing, downloading and playing the vids, which are DRM-free so you can collect them all.
Most of the videos come with galleries. There are 40 image sets total, and the pics are screencaps, usually sized at 640x480, although some were smaller. They look like screencaps too, with some dark or slightly blurred images, while others fare better in the quality department. There are between 50 and 100 per set, on average, and they come with simple through-navigation tools and zip files. The slideshows we noticed previously seem to have gone and the galleries are linked directly from the video viewing page.
I may not be painting a very rosy picture of United Studs Of America, but wait until you hear about the bonuses. Your access to this site lets you into the Massive Gay Pass network, or the Gay Hub, as the members area pages are titled. There are a total of 66 sites, including the one you are in, and the main network hub. You can click straight to the content at Blake Mason, for example, or check out the Gaylife Network. Phoenixxx has their content here, and you've got plenty of twink action to enjoy. In the mix is also barebacking, European guys, jerk off action, and ebony guys, too. In fact, there is probably a little bit of most genres included in the 7,607 videos and 2,566 photo galleries that feature 2,130 varied models. It's a big collection of bonuses, and one that looks to be updating more or less every day.
As you might have guessed, this site is not without its issues. They start with the lack of updates, moving to the billing page where there is a pre-checked offer. The trial membership lets you can grab a few cheap days but you won't be able to see everything as trials are limited. There's an ad, complete with trailer, for a new DVD for sale at the top of every main page. (Love the title, though - "The Wood In The Cabin.") The quality of the movies is not exactly up to today's standards and you get the impression that no one really cares about these United Studs anymore; it was a good idea but doesn't stick to theme or stand up well on its own.
United Studs Of America holds variety rather than focusing on studs from the U.S., and while the action can be hot, some of the content dates back ten years or more. There are 45 videos that you can download, stream, or watch on your mobile, but the lack of theme and inconsistency of quality doesn't do the site justice. Where things really kick in and get going though is with the mass of bonus content, some of it exclusive, some of it HD and all of it offering great variety and decent value for money. United Studs is what I'd consider a gateway site; it's okay as it is, though nothing special, but it's a good way in to a large gay porn network with plenty of updates.
Click here to visit United Studs of America
---
Bookmark and Share
---