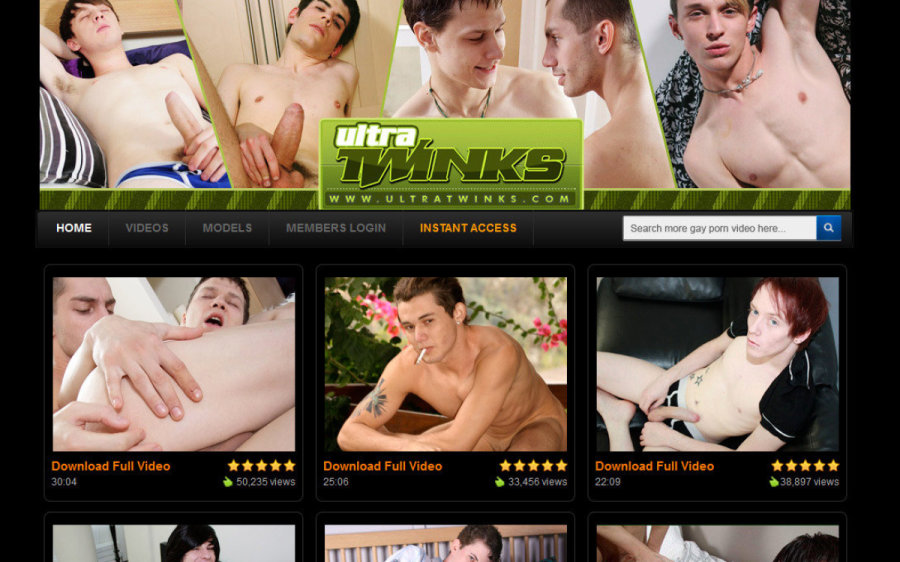 Ultra Twinks offers a mix of guys from 18 through their mid-twenties including smooth, slender twinks, athletic jocks, average guys, and a couple muscle hunks. There's more variety here than on many twink sites, partly because some of the guys aren't actually twinks. There's some tattooed bad boys, a couple guys with a few extra pounds on them, guys who are college age but not boyish or cute, the occasional guy with a more mature look, and a couple guys who are over 26 and are having sex with twinks. And there are some ethnic, college-age guys, as well. I found a few really big dicks, some average and some uncut cocks as well.
The action here is a mix of performers jerking their cocks for the cameras and hardcore dick sucking and fucking, kissing and fondling as well as twinks and jocks unloading balls full of jizz all over themselves. There's a variety of locations include couches and beds, restrooms, motel rooms, porn studios, plus a fire station, and there's a scene where the guys get it on in a sauna as well as some sexy outdoors scenes including some in the woods and others in a back yard.
Ultra Twinks offers 91 videos in MP4 format. The downloadable vids are average quality full scenes sized at either 640x480 or 720x480 plus one smaller size. The vids should play on most mobiles including iPhone, iPad and Android devices. For those who prefer to watch the videos rather than download, each video is available to stream in two qualities, although unless you're on a slow connection, I definitely recommend the higher versions, which are about the same size as the larger downloadable vids and is close to the same quality as well. While the videos look okay at their original sizes, don't expect miracles when enlarging them to full screen.
Each video comes with a set of pics. These are average-quality screencaps sized at around 640x480, and sometimes they're a little on the dark side. You can browse the pics as thumbnail galleries, watch them as hands-free slideshows and download them in zip files, plus you can easily save individual photos you like if you don't want to save the entire set.
Ultra Twinks is part of the GayHub network, and full members get access to over 60 bonus sites and video collections, more than double what there were a couple years ago. The network offers over 7,000 videos and adds 11 or more updates every week. There are some twink sites including Beddable Boys, Lollipop Twinks, and Teach Twinks that currently update and offer good quality, full HD videos; there are some non-twink updating sites that also offer HD videos as well, including My Gay Boss, Blake Mason, and Joe Schmoe Videos. Some sites offer the same size and quality vids as Ultra Twinks does, some updating and some not, but all in all there's a lot to see here.
Now let's talk about issues. First off, it's been five months since Ultra Twinks has updated, and the previous update was seven months before that. While the site may at some point decide to add another video, it's best to think of it has no longer updating. Next, is the pre-checked offer on the billing page that will sign you up for a second site membership when you join Ultra Twinks, but it's easy to untick. Trial members get limited access to what the site and network have to offer. There are large, animated ads at the top and bottom of every page. And it's worth noting that the twinks on the top part of the tour are super cute and boyish, but while there are some like that in the members area, there are lots who are slender average guys or muscle hunks. Last, the video quality here could be better.
Ultra Twinks gets a mixed review. There's some cute twinks here as well as guys who aren't twinks and some who aren't particularly cute, and the action is a mix of hardcore with plenty of sucking and fucking, as well as solos of guys jerking for the camera. There are 91 videos to download, stream, and watch on your mobile, but that's only five more vids than there were two years ago, and the site appears to have stopped updating. Full members get access to a good sized collection of bonus sites from the same network with at least 11 updates per week. In fact, I'd say getting access to the network is the best reason to consider joining Ultra Twinks.
Click here to visit Ultra Twinks
---
Bookmark and Share
---