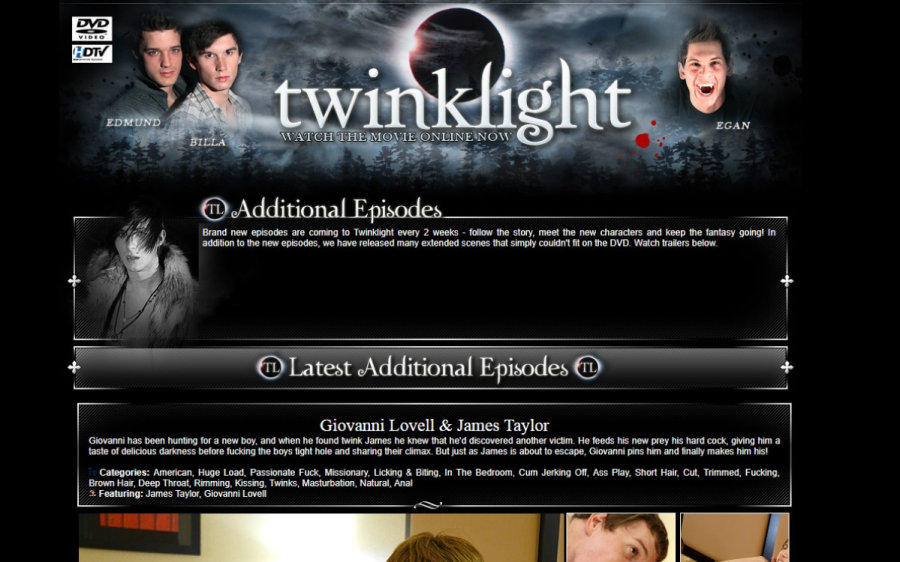 Twinklight is a site that's a little bit different in a couple ways. One, the site focuses on a single feature film plus outtakes, pics and associated content, and two, this site focuses on twink vampires, This is a parody of blockbuster hit movie Twilight, and Twinklight delivers the same dark, moody and sexy feel as the original - but with horny twinks in action. The feature film is a DVD from well-known gay porn director Afton Nills, and there are additional videos shot exclusively for the site, as well.
If you're familiar with Afton Nills' work, you already know the kind of boys his movies offer. They're slender, smooth and cute, many with that boy-next-door look, and they not only love cock and can stay hard throughout a scene, but they know how to suck and fuck on camera. All things considered, the acting isn't bad, either - a good thing since there's an actual plot here as well as plenty of hot gay sex. The feature film has very good production values and is well-lit, and has dark and moody lighting to go with the vampire theme. Expect fangs, red eyes and blood, and music that is perfect for the video. It's worth mentioning that the additional scenes aren't all as high quality when it comes to music and production values, but they're still pretty good.
Twinklight videos are available to download and stream in DRM-free MP4 format. There's the original 141-minute feature film plus 51 additional videos, 18 of which are behind-the-scenes vids. The feature film is available as a full DVD, and the rest of the videos are offered full scenes. While the feature film is sized at 640x360, the rest of the videos are available in HD - either 1080x720 plus two smaller sizes or 1980x1080 plus three smaller sizes. The HD videos look good when enlarged to full screen, although the smaller feature film doesn't are as well when enlarged due to its smaller size. Sound and production values are pretty good, and all the vids have at least one smaller version for mobiles.
The site offers 34 picture sets. The DVD offers a single picture gallery with over 800 photos while the rest of the sets are much smaller. The pictures are shown at 1000x667, and they're good amateur quality digital stills. Each set can be downloaded as a zip file or you can save individual pics, and while there's no slideshows offered, you can navigate from pic to pic using the arrows at the left and right sides of each photo. .
Twinklight is part of the Gay Life Network with 10 exclusive bonus sites and four bonus video collection. These add an addtional 2,000+ videos for members to download, stream or watch on their mobiles, and three of the sites currently still update - Undie Twinks adds a video every week, and Teach Twinks and Lollipop Twinks each update every two weeks. Members also get limited access to seven additional gay porn networks, each of which allow Twinklight members access to at least two full videos per network. While they'd love for you to pay to join the others, even if you don't want to, you'll appreciate the extra vids.
I did find a some issues worth mentioning. First, the site hasn't updated in several years. There's a pre-checked offer on the billing page, although if you're not interested, it's easy to untick. Also trial members get only streaming access, and as it says on the join page "no extras". Also there's a pre-checked offer (also called a cross sale) on the join page that you might want to read before signing up. You'll find the exact same videos in the "Twinklight" and "More Twinklight Videos" sections. Last, there's a streaming trailer plus a full description at the top of every page and rows of thumbs on the page bottoms, and these are all ads.
There's a lot to like about Twinklight including sexy vampire twinks, a unique site format that centers around a feature film and great sex scenes. These are horny vamps who suck blood as well as cocks, and while the site no longer updates, I found it hot and fun. Beside the full length DVD, there are 51 additional scenes also featuring vampire twink porn, and the videos are available to download, stream and watch on your mobiles. And then there are over 2,000 network bonus videos. Twinklight is a hot site whether you're a fan of Afton Nills, love vampires or just like watching twinks getting off; I like all three, so I definitely enjoyed what the site had to offer.
Click here to visit Twinklight
---
Bookmark and Share
---