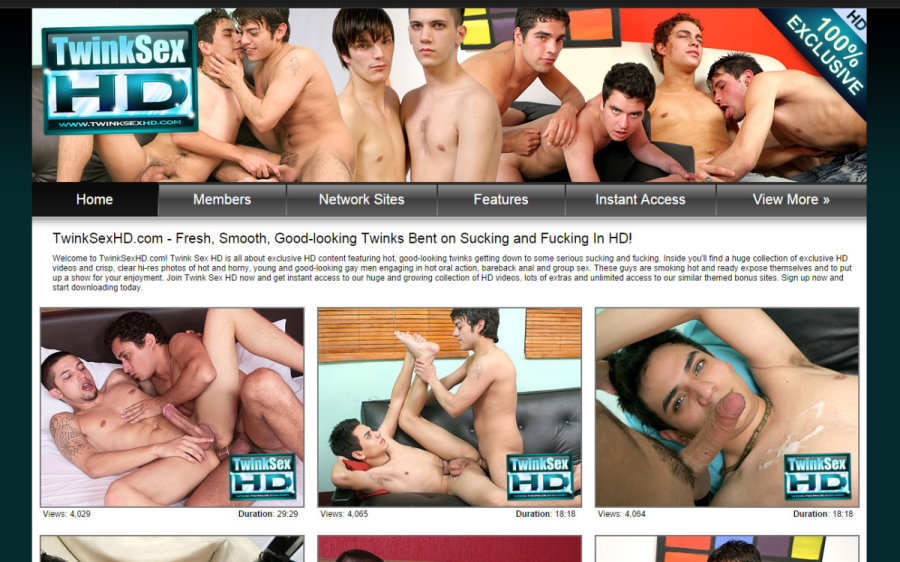 Twink Sex HD offers hot and horny twinks in hardcore action. The guys are mostly between 18 and 24 years old and many are Latin, which means uncut cocks. Some of the boys are smooth and slender, in typical twink fashion, but others have hairy chests or are a little too full-bodied to be considered twinks. Expect some tattoos, and a few of the guys have some face scruff. Many have dark hair and eyes, although there are some lighter-haired guys who don't appear to be Latin, and I'm happy to report that a lot of the performers here have natural pubic hair.
The action is all hardcore duos, with lots of kissing (don't you love watching two horny college-age guys make out?), and plenty of cock sucking and fucking, including dick riding. There's a few sets with nipple play or ass eating, and each session ends with cum-splattered chest or abs. The scenes take place indoors on couches, chairs and beds, and the guys seem very comfortable having sex on camera, and seem to be really enjoying the action and their partners.
Twink Sex HD offers 18 videos, and the site doesn't update - the most recent update was in March of 2009. The vids are DRM-free and are available in downloadable MP4 and WMV formats; the biggest videos are the large WMVs sized at 1080x720 and next are the largest MP4s sized at 768x432. There are 3 smaller sizes of WMV and a smaller MP4 for mobile users. Quality is fairly good amateur - I'd say the vids are good quality, but sometimes during motion there's some blurring or loss of focus. The larger MP4 is also available to stream for those who don't want to wait for the videos to download.
Each episode includes a set of pictures. These are digital stills sized at 682x1024, and quality ranges from good amateur to good. Overall the pics show off the action well, with plenty of shots of stripping, sucking and fucking, and some nice cumshot pics, as well. The photos can be enjoyed as a hands-free slideshow, and can be downloaded as entire sets in zip files or you can save individual photos.
This site is part of a porn network, and full members get access to 23 assorted gay, tranny and bisexual bonus sites. But wait, there's more. There are also 33 gay feeds (they call them bonus sites) and another 103 feeds that cover just about every gay porn niche from twinks to barebacking, bears to college guys, men over 30, bodybuilders, black studs and Latinos, and there are even more categories, as well.
Now let's talk about issues. The most important has already been mentioned; this site doesn't update. Also important to note are the pre-checked offers on the join page, and that trial members pay $10 more per month for recurring memberships than the cost of recurring monthly memberships. The site only offers 18 videos, and only the WMVs are actually offered in HD. Navigation can be confusing when you first log in, and most of the tour claims on the join page refer to the network, not the site itself. It's also worth mentioning that the tour displays well over 3 times the number of preview thumbs than there are videos in the member area, which could lead potential members to believe there are many more videos in the member area than there are.
Twink Sex HD focuses on hardcore guy-guy action between 18- to 24-year-old models, most of whom appear to be Latin. Expect lots of cock swallowing, ass fucking and cumshots, not to mention kissing and some uncut cocks. The 18 videos are exclusive and offered for download in WMV and MP4 (only the WMVs are HD), and there are vids for most newer mobiles as well as streaming versions. While the site doesn't update, members get access to tons of bonus sites and feeds in many gay porn niches including plenty of bonus twink material. While I wish that Twink Sex HD still updated, or at least that the site was bigger, the guys seem to enjoy sucking and fucking on camera and the action is sexy. And all that bonus material doesn't hurt.
Click here to visit Twink Sex HD
---
Bookmark and Share
---