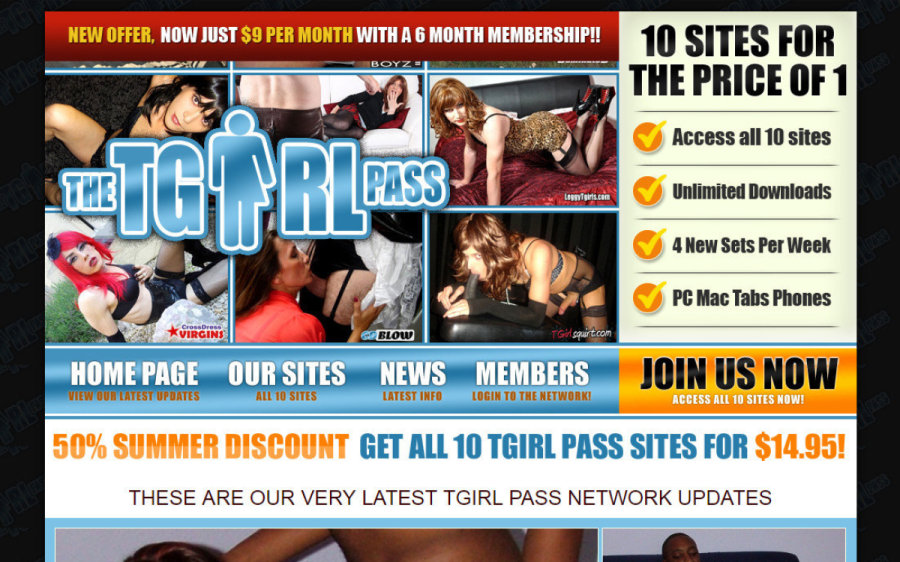 The TGirl Pass is a network of 10 crossdresser and transvestite sites featuring CD sex, kink, sex toy play and solo masturbation. The performers are mostly in their twenties and thirties, but there are also some (men and tgirls) in their forties. Expect CDs who love dressing in lingerie for the camera - you can tell from the hard cocks pressing against silky panties. The models here are mostly amateurs and types are mixed; some have slender bodies, some more full-figured with nice, round asses.
There's a nice mix of action here. There are CDs and TVs posing, showing off their dicks, sucking cock or getting sucked by men and other tgirls. Beside solos and duos, there are threesomes - my favorite features a TV named Joanna getting spit roasted by two hairy, big-bellied men - and a few foursomes as well. There's some bondage here, blowjobs and 69 action and CDs in panties or garter belts and nylon stockings. And there's tgirls getting fucked, as well as some who take control, bend their partners over and give their asses a good pounding.
The TGirl Pass network offers a total of 676 picture sets and 235 videos. The 10 sites in the network are Club Crossdresser, Tranzmania, Pantie Boyz, Leggy Tgirls, Tgirls Dominated, Crossdress Parties, CD Blow, Crossdress Virgins, Tgirl Squirt and Tgirls Behaving Badly. When it comes to site sizes, the largest are Club Crossdressser with 32 videos and 300 pic sets and PantieBoys with 225 picture sets and 45 videos. Some of the sites have as few as 15 videos or 24 pic sets.
The videos here are downloadable and DRM-free, and are available in MP4 and WMV formats. Some are sized at 1000x750 but at a guess they've been upsized from an originally smaller size, so quality isn't the best. The rest of the vids are sized at around 640x480 although some are only 320x240, and most are amateur to fairly good amateur quality, some offered as full scenes and others broken into a couple parts. There are also smaller MP4s available for mobiles, and the videos can also be streamed in the same formats and approximate sizes, although most don't look good when enlarged to full screen.
The TGirl Pass pictures are digital stills sized at around 684x1024 or 912x851, some pics cropped to other sizes. They're amateur to fairly good amateur quality. Slideshows and downloadable zip files available, and there are from 14 to over 150 pics per set.
Now let's talk about updates. There are 16 less videos and over 250 less picture sets than there were on our last visit in March 2014 (it's currently September 2017). Some sites have obviously stopped updating, others have added a few pic sets or videos. Judging by the dates, some of which are showing the current month. at least some of the sites are recycling their updates; that means they pull out existing content and then re-add it so it appears to be current updates. There may be at least one or two sites that sometimes add updates, but judging again by the dates, each still only updates once or twice a month.
Let's talk about other downsides. After you've viewed the latest upates in the network itself, you must go to each site separately to see the rest of the content, and you must log into each one separately. That means you'll be logging into 10 sites in the network, so keep your username and password handy. Many of the videos are fine, but there are at least a few that are only 320x240 while others are stretched so they're poor quality; some are also shot in less than optimal lighting. I also wish that picture quality was a little better, particularly regarding the older pics, which are also sometimes cropped into a variety of odd sizes. Newer pics have a homemade feel when it comes to lighting.
I do wish that the sites in the network told us more about the models - how long have they been cross dressing? What are they into? What got them into wearing panties or lingerie? It would also be more involving if there were longer scene and photo set descriptions.
The Tgirl Pass features crossdressers and transvestites showing off in panties or lingerie, playing with sex toys, sucking and fucking or in BDSM sessions. From men in panties to guys who feel sexy wearing women's underwear, nighties or sexy outfits, there's a nice variety of ages and types of tgirls here, some of whom get it on with other tgirls or with amateur men. The network consists of 10 sites that offer a total of 235 downloadable videos and 676 picture sets, and while it appears that at least some of the sites are recycling updates, there's enough to keep members busy. I liked the real homemade feel to the content, and I think fans of real amateur CDs and TVs will like the performers and the action.
Click here to visit The Tgirl Pass
---
Bookmark and Share
---