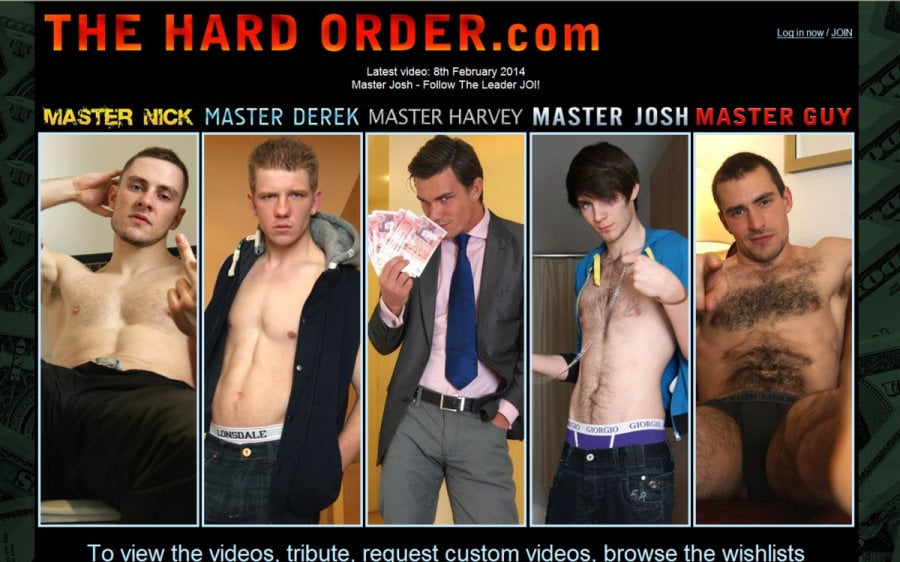 The Hard Order is probably one of the most unique gay porn sites I've ever reviewed. Get ready for a wild ride - this isn't your college roommate's kind of porn site. I see a lot of sites in my travels, and time after time I see many sites that might be hot in their own right, but there often isn't a whole lot of originality or anything that is really different. The Hard Order is not only different - it's over the top. Join me while I take a deeper look at this site.
There are five guys on The Hard Order. They're all called Master [insert guy's name], and they are a nice mix of nasty British guys. Nick is good looking with a ripped body and face scruff. Derek is blond and smooth looks like a private school boy. Harvey is blondish and looks a little like the boy next door. Josh is very hairy and a little twinkish. And Guy, my favorite, is a hairy jock and very cute. All of these guys are in their early twenties and they're pretty sexy.
The action on The Hard Order is quite different than anything I've seen before. Since Guy was my favorite, I checked out one of his videos. He stands in room wearing nothing but his underwear so you can see his nicely-built, hairy body and he talks to me. He wants me to send him an e-mail containing my mother's contact information and details of the saddest thing that has ever happened in her life. Guy orders me to divulge some perverted stuff about myself, too. Then he tells me that if I don't hit his wish list and buy him the most expensive gift on his list, he's going to call my mother and tell her what a worthless piece of shit I am.
Harvey does the same thing except he wants me to send him a nude picture of myself with the word "useless" written across my belly and an arrow point down to my cock. If I don't send him a gift, he'll forward the picture to my co-workers. And Nick is sitting on the toilet taking a pee and tells me that he wants to use my tongue like a piece of toilet paper to clean the piss off his cock. He never shows me his dick or urine.
All of the scenes play out in this way - the scenarios are varied, but there's always a big tease and nasty talk with these stud's verbally humiliating the viewer. Another of Guy's scenes had him stroking his big cock under a handkerchief. He tells us how big it is and he knows how much you want it, but he doesn't think you deserve it. He never lets the viewer see his cock, but by the end of the scene, his precum is seeping through the cloth - it drove me fucking nuts! The tour shows the guys, but doesn't offer any preview videos - if you want to see and hear these guys, you're going to have to pay for it - and you're lucky to get that because after all, you probably aren't worthy.
Each of the guys has an average of 26 scenes; Master Josh has only has 18, but Master Nick has 37 videos. There are 132 videos in total and they each run a bit over 10 minutes, some a little longer. You can download them in WMV format and they play at 960x540. You can also stream the videos in Flash and they play at 720x360. The movies are good amateur productions with decent lighting and good sound so that you can hear every nasty word. There are no picture galleries and no extras.
There wasn't much I didn't like about this site, and while the site had stopped updating for a while, it's started updating again in 2014. I'll check back and let you know how often new content is added in a few weeks. The lack of photos is irrelevant because the stuff that'll turn you on is the dirty talk and the verbal abuse; a picture of the guy standing in his underwear probably isn't going to do it. I don't know if we ever see any of these guys' cocks, I didn't watch all the videos; but in the half dozen I did see, none of the guys fully exposed himself. You'll see ass, pubic hair, perhaps a glimpse of his balls or the top of his shaft.
One thing worth mentioning is the warning at the start of each video - it says that any actions and/or suggestions are fantasy and not to be attempted under any condition. That makes sense, and it's probably best never to give out your private information.
I was very impressed with the caliber of verbal abuse, insults and the roll of nasty abuse that comes out of these guys' mouths at The Hard Order. Being a dominant top and keeping your submissive verbally turned on isn't an easy thing to do, and lots of men can't manage much more than, "Yeah, suck daddy's dick." But these five boys are naturals. Guy definitely had me thinking about sending off my blackmail e-mail and his precum-stained handkerchief got my dick very hard. The Hard Order isn't for everyone; if you need to see cocks and cumshots, this site isn't for you. But if you think you're a bad boy and you need to be verbally humiliated, told off and deprived, then you're going to want to hustle over to The Hard Order and get a dose of abuse.
Click here to visit The Hard Order
---
Bookmark and Share
---