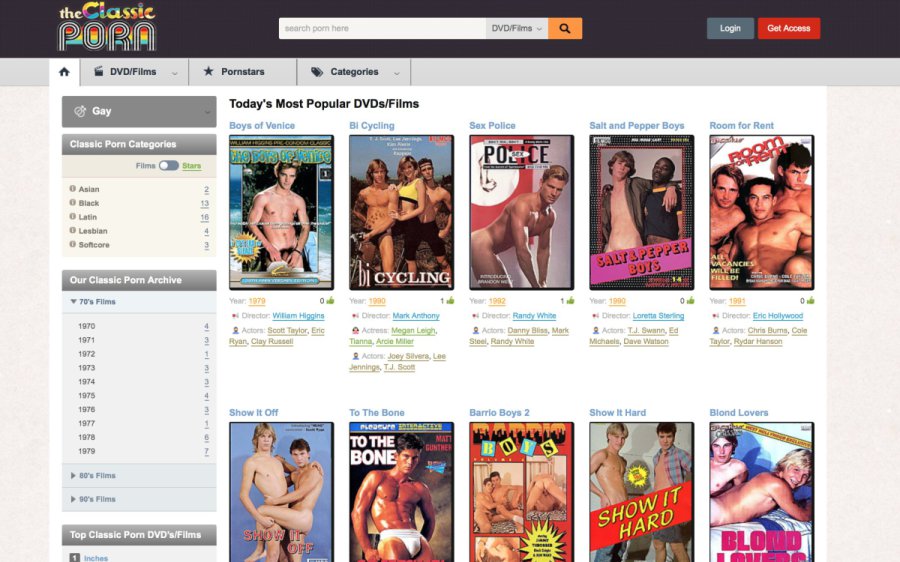 Today we're taking a look at the gay edition of a site called The Classic Porn. This site offers porn stars from the '70s, '80s and the early to mid '90s including Al Parker, Scott Taylor, Casey Donovan, Jack Wrangler and Dallas Taylor, to name a few. You'll find twinks and hunks, masculine guys and bisexual men; there are hairy men, boyish twinks from yesteryear, over-40 daddies and leather men. And for you'll also find work from directors who helped shape gay porn - directors including Steve Scott, Chi Chi LaRue, Alan Purnell and the legendary Joe Gage. And you'll find titles that take you back to when you watched your first porn video - 1979's Inches, 1984's Big And Thick, In The Name Of Leather from Joe Gage, 1980's Boots And Saddles and The Private Pleasure of John Holmes from 1983.
One of the things that vintage porn lovers appreciate is that classic porn is often a lot less formula than the modern stuff, and sometimes the plots surrounding the sex are outrageous. Expect plenty of rimming, sucking and pre-condom fucking, not to mention bondage, face-fucking, sex parties, kink and pig sex from times when men did porn not as a career but because they loved getting it on on film. There's also some bisexual titles here from the big-haired '80s where the stars are more interested in the action than in creating a fan base.
The Classic Porn offers 228 DVD titles, each around an hour or longer. These vids aren't broken into scenes - they're full DVDs that you can stream or download in MP4 format; they should play on most computers and many mobiles including iPhone and Android. The video sizes aren't as large as today's HD videos; the streaming vids here are shown at 576x432 and the downloadable versions at 472x352 to 512x384. Quality varies, but most of the videos here were shot on film, so expect good vintage quality - I've seen these videos on other sites where they didn't look quite as good as they do here. And while the videos' bitrates aren't very high, these vids were shot on film - I've seen them at higher bitrates and it didn't improve the quality; these really aren't bad.
This site doesn't offer pictures, but each video has a shot of the cover as well as lists including clickable names of the stars and director, the year of production and a nice juicy description. While there are no categories, which would have been nice, there's a search box that delivered good results, and there's also lists of the top videos on the site and most popular stars.
While there are no gay bonus sites, members do get access to several bonus sites offering up a whole lot of straight vintage porn including some films from the 1930s, 1950s and the swinging '60s - there's even some action from the '20s! As cool as these are, I would have loved to see gay sex from the 1930s.
When I went looking for update dates, the most recently added videos were from December, 2013, so the site no longer updates, which is disappointing. There's also a couple of pre-checked offers on the join page that will sign you up for additional porn site memberships if left checked. Another issue I ran into was that when logging into the member area, I found myself on the largest full page ad I've seen in 18 years in the business. Not only that, but all the sites listed were straight. I had to scroll way down to the bottom of the page to get to the link that took me to the actual site. For that matter, there are plenty of ads, and all the ads and bonuses are straight. Honestly this site is part of a larger straight vintage porn network and it shows, but there's still plenty of man-on-man action from the golden age of porn.
I had a great time reviewing the gay version of The Classic Porn. There were lots of men with pubic hair and unshaved balls, huge stars including Jack Wrangler, truly classic movies like New York Construction Company and iconic gay porn directors like Arch Brown. There are 228 full DVD titles including pre-condom movies from the 1970s and 1980s that will blow you away. Sadly the site no longer updates, but there are over 200 hours of porn, so there's enough for members to enjoy for a month or two. The Classic Porn offers the raw and raunchy sex of the 1970s, big hair and mustaches from the 1980s and stuff from the early 1990s, and while all the bonus material is straight classic porn, the gay collection kept me very happy for several nostalgic porn hours.
Click here to visit The Classic Porn
---
Bookmark and Share
---