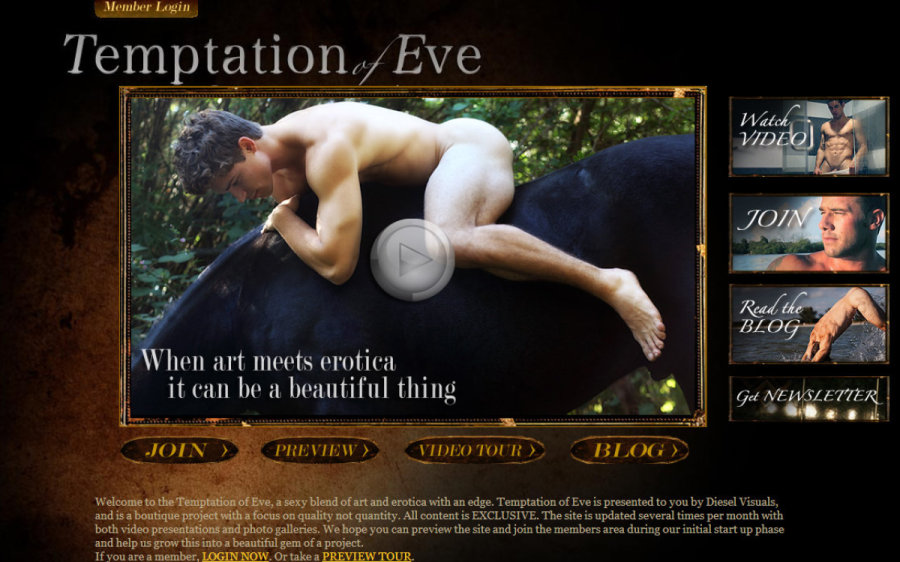 Temptation of Eve is part art project, part erotica, and a little bit porn. It's a site that we haven't reviewed before, and judging by the tour there are a lot of sexy men here, so let's head inside and take a look.
The site promises that the first few updates will focus on Eve's temptation of men. That makes it sound like there are women inside, but there aren't - just a crew of very hot men. The first video features a naked man standing in a garden with a boa constrictor wrapped around him, and later in another video, he's walking alone in the garden. Beyond that, the theme of Eve and her conquest of men flies right over my head. I'm sure it makes sense to the artist, but he's very likely alone in his illumination. Still, his videos are sexy, provocative, sensual and alluring.
The Temptation of Eve features a collection of sexy studs and well-built men in their twenties. They have athletic bodies with rock-hard abs and asses, and quite a few are muscle hunks with gorgeous physiques, although none looks like he spends too much time in the gym. The guys are good looking to handsome, and while most get naked in their videos, they don't always show their cocks. They're quite a spectacular bunch of men, and some of them appear more than once.
What you'll find at the Temptation of Eve is a collection of videos showcasing men partially or fully naked. One naked hunk stands in a doorway with his back to the camera flexing his muscles. In another scene, a cowboy stands at the rear of his pick-up truck and slips his jeans down his hips, then he went inside to tease us with his ripped body and hard cock in the shower. Another guy shares his morning shave and then lies naked on his bed playing his guitar, which covers his cock. A very well-hung blond stud strokes his thick dick while sitting on a chair and shoots his load; a handsome hunk sits in a chair and rubs his muscled body, then he dry-humps the mattress.
There are indoor and outdoor sessions, lots of shower and bedroom scenes, heaps of muscle flexing and cock bouncing, and I even saw a true hands-free cumshot. One of my favorite type of videos, and something I've never seen before, are the time-lapse videos showing a guy's cock going from completely soft to rock hard in a matter of seconds. It's sexy watching these dicks grow.
There are 118 videos inside the Temptation of Eve, and they're offered as downloadable MP4s that play at 1280x720. You can also stream the videos at 700x396 in MP4 format as well. You have to remember that this is an artistic site, so some of the videos are in black and white, others in color, and still others are filmed with filters (or enhanced in post production) to give them a certain feel like those lines and spots from 1940s films. Sometimes the videos have no treatment at all and appear with crisp picture quality.
There are also 42 picture galleries with a dozen or so digital stills in each, and again they're in black and white, sepia or color, depending on the set. You can view the pictures online or save them individually, but there are no downloadable zip files or slideshows.
There is an update roster on the homepage that shows the Temptation of Eve has been adding new photos or videos about three times a month, sometimes more often, and a few months a little less. Some months members get one video and two galleries, sometimes three videos - there's no standard. The artist aims to present artistic pieces rather than churning out an endless parade of the same old of thing.
If you're looking for a typical porn site with naked men blowing their wads, the Temptation of Eve is not for you. While there is some of that, this isn't the purpose of the site. But if you like watching naked men in natural and erotic settings showing off their bodies, flexing their muscles, and admiring their dicks, then this site will give you an eyeful of something different. It's also worth mentioning that the videos are short; while each is a full scene, they only range from two to four minutes each.
I liked the Temptation of Eve. Each video was a little different and you never know what you're going to get. And this site steers clear of hackneyed porn themes like guy after guy sitting on a couch and beating off. I enjoyed the imaginative and creative presentation of sexy males - and they certainly are a handsome and well-built bunch of men. If you think of the Garden of Eden as being a perfect place, these men fit right in. The Temptation of Eve is still getting off the ground, so the updates a bit erratic; but the site isn't expensive to join, and there's certainly enough here to keep you intrigued and entertained for the duration of your membership.
Click here to visit Temptation of Eve
---
Bookmark and Share
---