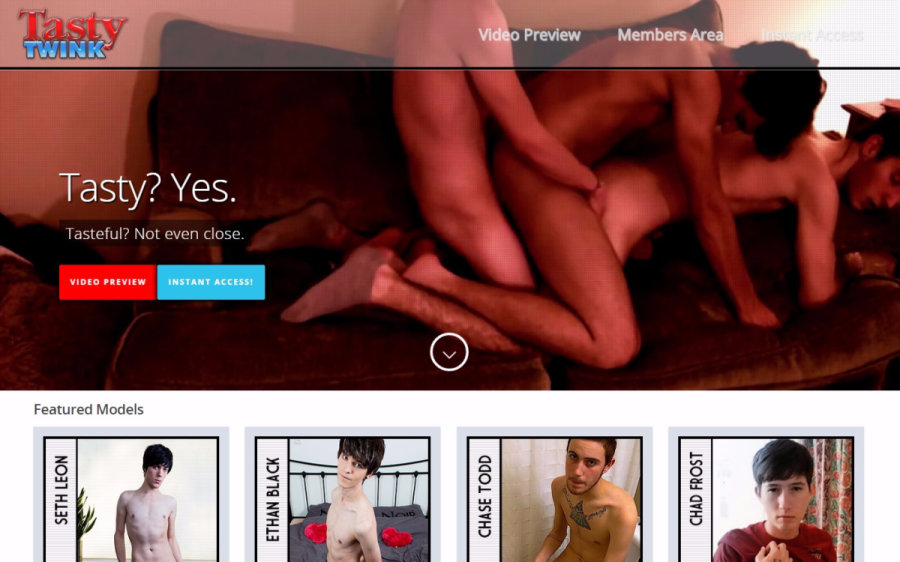 Today we're revisiting Tasty Twink, a site featuring a mix of twinks, jocks and a few college-aged guys who don't really fit either category. Most the models are slim, although some are more athletic, with smooth chests and abs, although one had a little fur patch on his chest, and some have hairy legs and asses. You'll find variety of cute average guys, emo types with dark hair and long bangs, and a few of the performers sport tattoos. While some of the guys are amateurs, I spotted Trace Van De Kamp, a cutie I've seen on other sites, as well as a couple more guys with familiar faces.
The videos here are exclusive to the site, and the action is a mix of duos, a threesome or two and some solo sessions. There's plenty of kissing, dick sucking and fucking, and you'll find some cock-riding and a number of foot fetish sessions including toe sucking and foot play. Some of the foot scenes are solos, while others have guys sucking each others feet. There are ten bareback fuck sessions, a solo shower scene and one where the guys play with handcuffs and a blindfold. There's also some sex toy play including dildos and a Flash Jack.
Tasty Twink offers 41 videos in DRM-free MP4 format. The newer videos are sized at 1920x1080 at decent to good amateur quality plus three smaller sizes that should cover mobile users and those on slower connections. The older vids are sized at 1280x720 plus two smaller sizes at good amateur quality, or in a few cases the vids are smaller, sized at 640x480 plus one smaller size, and these are below average quality. The videos are downloadable full scenes, and each can also be streamed in the same resolutions the downloads are offered in.
Each video comes with a picture set. These are below average to good amateur quality screencaps, the newer sized at 1000x563 and some of the oldest sized at 640x480. The pics can be downloaded, either individually or full sets can be saved as zip files. There are also a few sets of good amateur quality digital stills. And while there's no hands-free slideshows, you can easily navigate from picture to picture using the arrow keys to the right and left of each photo. I found most sets had a lot of repetitious shots that could easily have been left out, but it's better to have too many than too few, right?
Tasty Twink is part of a gay porn network that offers seven additional sites with 175 bonus videos plus access to HoloTwink, which offers 16 models and you create your own videos. Only one of the bonus sites is currently updating, University Crush, and it's just started adding new content after taking a several month break. One of the sites, Cos Gay, has only seven videos, another (Feet HD) has only two, and Crush Him has eight scenes, but don't panic - Boy Feast has 116 vids and University Crush has 42, so there's enough content here to help keep members busy for a month or so.
Now let's about about issues. First is that this site no longer updates, and according to the site manager, there are no future plans to start updating again. Next is the pre-checked offer (it's called a cross sale) on the billing page that will, if left checked, sign you up for a second site when joining this one. Trial members get limited access; three-day members can view "up to 3 - 4" vids during their trial, and seven-day members can watch "up to 5 - 7". Something I discovered about some of the newer videos is that there's no zooming, which means there's no closeups. The camcorder seems to be set up on a tripod, and depending on the scene, the performer or performers are either in medium shots all the way through the videos or even shown smaller in the frame, again all the way through the video.
I wasn't thrilled about the advertising on the member home page, as well as the rows of thumbs at the bottom of many pages that are actually an ad for a live cam sites. And while I often like to see returning models, sometimes there's too much returning and not enough new faces. One model, Blake Mast, appears in a whopping 22 of the 41 videos, so if you like him you're in luck; if you're not crazy about him, it leaves you with 19 videos to watch plus the bonus sites. And two other guys, Ethan and Seth, appear together in eight episodes, one right after the other, and neither appear with any other performers.
Tasty Twink features 18 to 25 year old boy-next-door types (mostly amateurs) in a mix of solo and hardcore action, with some kink, sex toys, barebacking and foot play thrown in. There are 41 DRM-free videos that can downloaded, streamed or watched on your mobiles. Unfortunately the site no longer updates, but members do get access to 175 twink bonus videos from the network bonus sites plus there's a build-your-own video site included. If you like the guys on the Tasty Twink tour, the site could be worth joining, and the bonus videos will help keep you busy for a month or maybe more.
Click here to visit Tasty Twink
---
Bookmark and Share
---