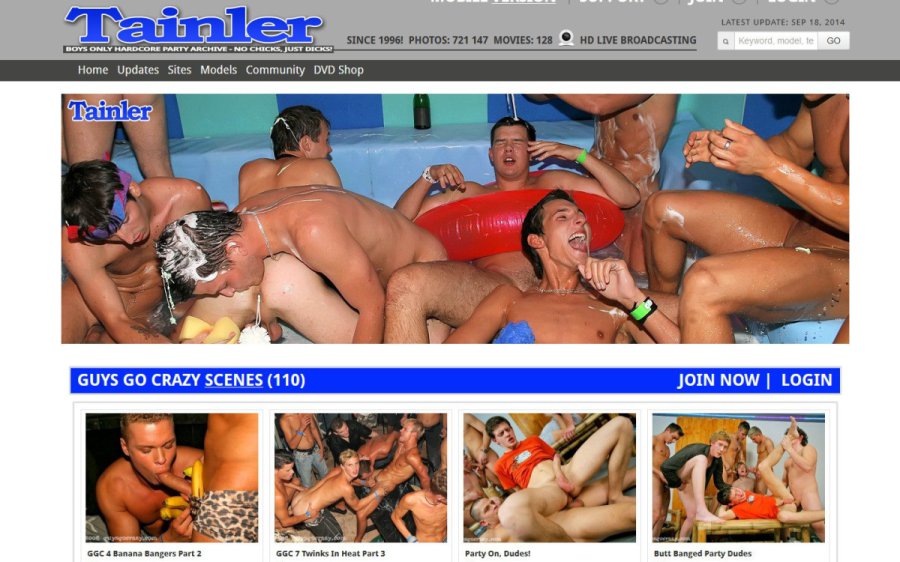 Tainler is a porn network offering access to two sites from widely divergent niches - a gay party site called Guys Go Crazy and a bisexual site called BiMaxx. Let's talk about the gay party site first. These are full on parties held mostly at clubs or other good-sized locations, and there are often over 20 people in the audience as well as central performers; the smallest session I saw included 10 guys. Expect a mix of nicely built muscle hunks, athletic college-age jocks and average guys, all horny, many drinking and all ready to get down or at least watch other guys suck and fuck in front of a group to the music.
BiMaxx focuses on bisexual threesomes, foursomes and fivesomes, with an occasional orgy thrown in. The guys are the same mix of hunks, jocks and average types found inside Guys Go Crazy, and the women are sexy with nice bodies, and some have big tits. All the guys and the gals here are ready, willing and eager to suck cock, fuck pussy and ass, and they seem as turned on to fuck a girl as a guy. These sessions take place in all sorts of locations, including a few outdoor scenes. I believe the performers in both sites are probably European, and I spotted a number of uncut cocks, but there's little to no speaking, so it's hard to be sure.
I have to admit that other than possibly being filmed by the same studio, I couldn't figure out what Tainler's two sites have in common. Guys fucking pussy and ass in groups from three guys and gals to maybe eight doesn't seem related to huge groups of gay guys dancing, drinking, partying sucking and fucking. Still, I'm sure there are those who will enjoy both - in fact, I did. I just thought the two niches are an odd combination.
Tainler currently offers 424 videos - 110 gay party videos from Guys Go Crazy and 314 bisexual vids from BiMaxx. The videos are offered in MP4 format, the downloadable versions sized at 720x540 except for the newer vids BiMaxx videos, which are shown in full HD at 1920x1080. Video quality is good, for the most part, and the vids enlarge pretty well. The downloadable videos should play on most mobiles, and members also get access to a mobile version of the site. And for those who prefer to stream, there are streaming MP4s that also look good and play well in 3 quality levels.
Each video comes with a set of pics. These are good quality digital stills, the older ones sized at about 600x900 and the newer pics from BiMaxx sized at 1280x1920. Each set has over 100 photos - usually over 150 - and these can be downloaded in zip files, although I was unable to save them individually.
Now let's talk about updates. BiMaxx's most recent update was three days ago, and the site adds a video twice monthly. Guys Go Crazy's most recent update, however, is dated November 15, 2010, so it appears we can't expect any more gay party videos, although there's enough there to keep members busy for a month, and bi sex lovers will have future content to look forward to.
Now let's talk about issues. First off, as mentioned one of the two network sites - Guys Go Crazy - does not update. I found the pages in the site slow to load, and usually had to wait a minute for a download box to appear when trying to save videos. Many of the Guys Go Crazy videos are only part of a full scenes, although the BiMaxx videos are full scenes. There are only 4 models shown in the model index, and I didn't find the site's search very helpful. The community doesn't to have any recent members, and you can only view profiles of friends; overall I found this didn't add anything for members.
There are a couple more things worth mentioning for potential members who aren't from Europe. First is that prices on the join page are only given in Euros, and second is that there are two processors you can choose from - I found that Epoch charged less for every membership option for those who want to be charged in U.S. dollars.
So there you have it. Tainler offers 424 episodes - 314 bisexual full scenes and 110 gay party videos that are each part of a full scene. The videos are good quality, downloadable, and they're also available to stream and for mobiles. Each comes with a good quality photo set, as well. The bi site updates twice a month, while the gay site stopped updating years ago. In fact, while the site has its share of issues, I enjoyed the quality of the content as well as all the group sex, from bi threesomes to parties with over 10 horny guys drinking, stripping and having a great time.
---
Bookmark and Share
---