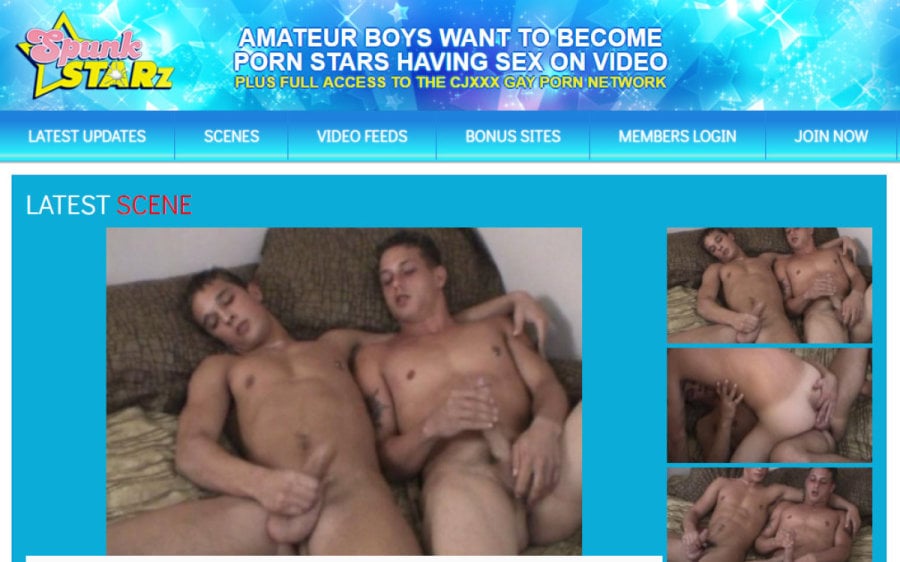 Spunk Starz features a mix of twinks and amateurs from 18 to around 24, as well as Latinos, well-built jocks, college amateurs, and a few slightly more mature guys. Most of the performers are smooth and either slender or athletic, and there are a couple with slightly furry chests, as well as even more with unshaven or trimmed pubic hair. You can expect all sorts of cock sizes from average to nice and big, and there are a fair amount of uncut cocks in the mix as well. Expect a variety of types from regular guys to boyish cuties, blonds and brunettes, many smooth shaven but some with a little face scruff or a small soul patch.
What the content here has in common is that it's all from High Drive Productions DVD titles. The site doesn't mention whether the content is exclusive, but I haven't seen these videos on other subscription websites. Some of the videos can be viewed as pay per view, but getting access to all the videos in one place is not only a better value but also much more convenient.
When it comes to action, you'll find variety from solos to group sex, and there are lots of duos. There's plenty of guys sucking cock, and they do seem to love sliding their mouths up and down those hard shafts. There's also lots of fucking, and the bottoms here really know how to take a cock in all sorts of positions. I found some guys jerking off together, riding dicks, and of course lots of cumshots. Beside sex in the shower, the kitchen, in beds and the gym, there are also lots of outdoor scenes including a few with no sex, although the guys may get sprayed down with a garden hose or get naked and show their stuff. There are camping scenes and twinks and jocks getting blowjobs in the woods.
Spunk Starz currently offers members 191 videos. The downloadable, DRM-free videos are offered in MP4 format and sized at 640x480 plus a smaller size for mobiles, although honestly the larger size is small enough for even older phones. Each video can also be streamed in a player at 604x454, and they range in quality from average to good amateur. I found that the vids didn't fare very well at full-screen mode, although some were worse than others.
There are also 276 picture sets. Some of the pics are good amateur quality digital stills sized at 854x1280, but there may be other smaller sizes as well. These are a mix of posed and action shots showing off the guys and there are a good amount of closeups. Some of the galleries contain average quality screencaps sized at 640x480. The pics can be viewed as thumbnail galleries and while there appears to be a hands-free slideshow, it didn't work for me. There are downloadable zip files, and you're better off using these because saving pictures individually is a laborious process.
Spunk Starz members get access to 31 bonus sites from the same network in niches including straight guys, twinks, amateurs, Asian guys, kink and fetish, Latin men, and more. You'll find plenty of barebacking, uncut cocks, all-American first timers, and German pig sex. While not all the sites update, there's enough that do to give members mostly multiple daily updates, although in some cases those updates are recycled, but there are new updates being added as well. And in case you want more, there's also 66 video feeds in a wide variety of porn categories as well as a good sized gay porn DVD archive.
As mentioned, Spunk Starz offers 191 videos, which is odd because there were 214 videos when we last reviewed the site in July, 2015. I had reported this issue from another site in the network a few weeks back, and the site owner said it sounded like a database issue, but it persists. The site still shows it update every Thursday, but it appears that they're simply recycling content from back to front and re-dating it, and I was told that there this producer has no new content.
The CJXXX Network has resolved most of our issues from previous reviews. They have redesigned the members area and made it easier to get around, and they also stop making daily update claims which were vague and only pertained to the network and not any individual site. But the prices still aren't shown on the join page form (you can view them in fine print at the bottom), however they are listed on the billing page. And while the site had tags on our previous visit to help you find things like rimming or uncut cocks, those are gone and there are no categories to help you find what you're looking for. There are a few "More like this" suggestions, but I didn't find them very helpful.
There are a few other things worth knowing about. First, the site's non-recurring monthly membership costs $20 more than the recurring month. On the bottom of the member home page are seven rows of thumbs (there are three rows on some other pages), and these are ads for a third-party live cam site. And I do wish that the videos were bigger or at least higher quality. I found saving individual pics to be a pain as you must rename the pics and type .jpg at the end of each one, I'd recommend grabbing the zip files. As mentioned, it seems updates are being recycled. And by the way, there's no model info or profiles - no ages or cock sizes listed, for example.
Spunk Starz features performers mostly from 18 to their mid-twenties. You'll find cute boy-next-door types and athletic college-age jocks, as well as some twink types, some guys in their late twenties, not to mention lots of Latinos. There's plenty of gay sex plus some solo masturbation in 191 videos you can download, stream, and watch on your mobiles. And while the site appears to be updating weekly, these scenes are recycled and not new. The real value with Spunk Starz lies in the 31 bonus sites, and several of these do add new videos every week. There are also 62 third-party video plugins and DVD collection that gives you more content to enjoy and makes this membership a pretty good value.
Click here to visit Spunk Starz
---
Bookmark and Share
---