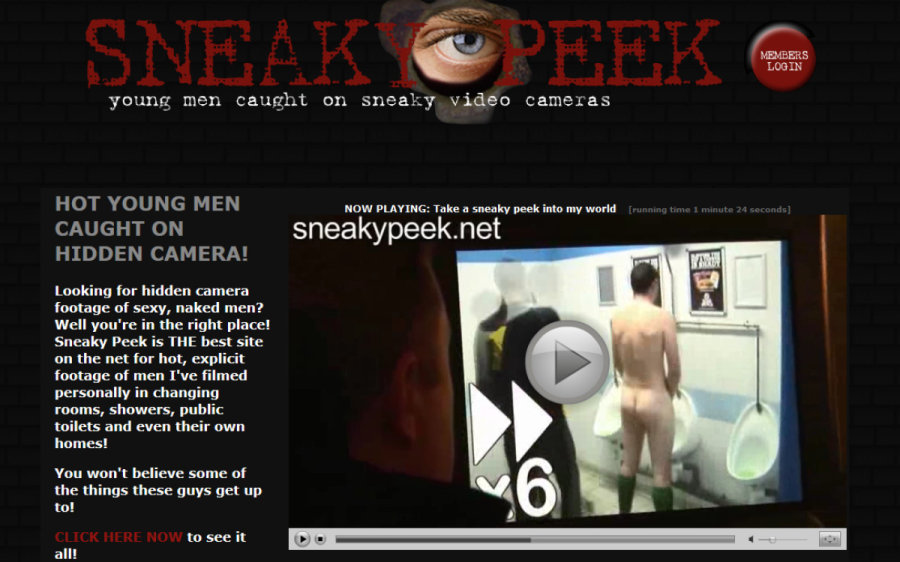 Sneaky Peek offers amateur UK guys caught on hidden camera in locker rooms, showers, fitting rooms, motel restrooms, police station locker rooms - even in a couple private homes. If you're wondering how it works, the tour has a video explaining how the spycams are hidden that makes interesting watching. There are also some videos caught with hidden hand-held cams, which adds a different dimension to these voyeur videos as it allows us to see exactly what kind of guys the undercover photographer is really into in places like a bus station restroom and some peeping at a gym locker room.
The guys here are regular everyday guys you'd meet anywhere, which is what you'd expect on a spycam site. The videos and pics probably catch a lot of straight guys and real amateurs, which means a lot of unshaved pubes, fit but normal bodies as well as some muscle hunks who are mainly found in the gym videos, and the kind of action you see when guys don't know they're being watched. What gives these videos a voyeur feeling is that the guys really don't seem to know the cameras are there - there's no attempt to stay in frame or to show off in any way. That means the men dress, undress, shower, piss and so on as one does when no one is watching, which is pretty hot.
There are 632 videos inside Sneaky Peek, 115 more than there were 17 months ago. The newer downloadable videos are offered in 3 formats - WMVs, which are sized at 720x576, MP4s at 427x240 and slightly smaller vids in Flash. Quality is decent, and I'd say even good for a hidden cam site. The older vids are offered only in WMV format, and are sized at around 640x480 at average quality. Most videos can also be streamed, and unlike some hidden cam sites, many - although not all - of the videos I watched had sound. All the vids are DRM-free, so whatever you save will keep playing after your membership has expired.
There are also 728 picture sets. Most of the videos come with picture sets, and there are some picture sets that didn't come with videos. The pics range from below amateur to good amateur quality, shown at around 800x598, and for the most part the pics aren't bad at all. Some of the pics have small issues, but a lot of these pics show that webcams have come a long way. The pics that come with the videos are screencaps shown at around 1000x750. There are no slideshows or downloadable zip files, but the pictures can be saved individually.
The site does have some issues. One is that other than the most recent update, there's no way to know when or how often content is added to the site. It's probably worth mentioning that at the time of this review the most recent update was 2 days ago. Next, the secondary credit card processor charges a fee on top of the membership fee, so stick with the primary processor if you want to avoid that. It's also worth mentioning that many vids are short - from just under 2 minutes to over 5. I was a bit surprised that the videos weren't longer. After all, if it's footage from a locker room or restroom, there should be hours of footage each day.
One last thing worth mentioning is the ads. At the bottom of the member home page are 7 huge advertising banners that take up a large amount of real estate. The thing that keeps this from being a real issue is that they are on the bottom of the page, out of the way of the content. At the top of the member home page, above the latest update, is another large banner ad. Still, it isn't easy to find male-oriented spycam content, so a lot can be forgiven here.
Sneaky Peek delivers good hidden cam voyeur content of guys in locker rooms, changing in fitting rooms, taking a piss or even in the privacy of their own homes. There's plenty of amateur cock and ass peeks but no scripted porn. All of the 632 videos are downloadable and DRM-free, and while there's no update schedule, the site has added 115 vids in 17 months. What's there is good voyeur stuff, although the videos are on the short side. The pics are often better than I'm used to seeing for spycam pics, which is nice. While membership is a bit on the pricey side, it's not prohibitively so if the content interests you. I like what Sneaky Peek has to offer, including the variety of locations and the amateur guys undressing, pissing and just hanging out without knowing they're being filmed.
Click here to visit Sneaky Peek
---
Bookmark and Share
---