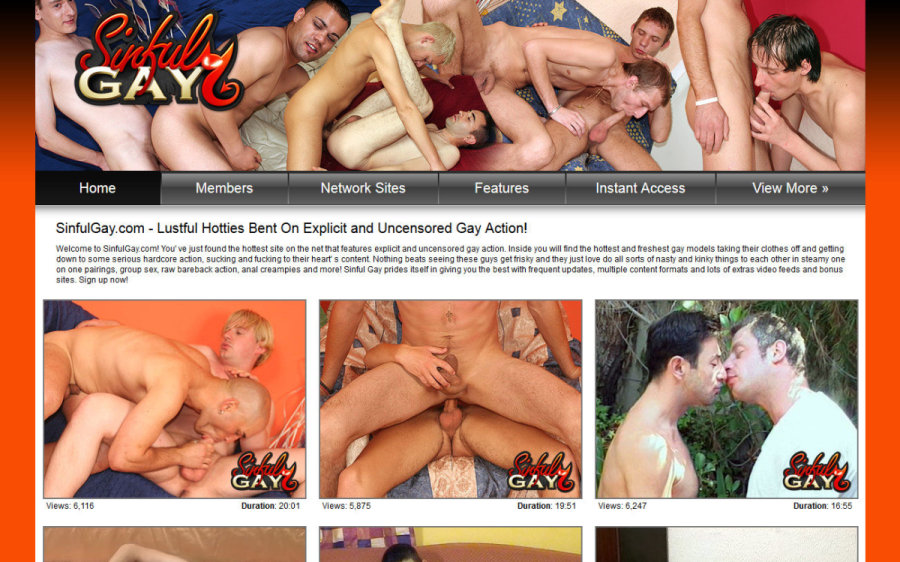 Variety is the spice of life they say, and the guys at Sinful Gay are certainly varied. It's all about horny guys here, in solo and hardcore sessions. There is a definite amateur feel to a lot of these hung hunks - some are smooth and some are hairy, some have a professional model appearance with toned muscles, while others are more guy-next-door and average looking. The further you go back in the content the more "pornstar" the guys are, and we start to find your more classic looking porn studs, guys with moustaches and some bears. Add in a few Asian guys, some ebony men, and a lot of East Europeans, and you've got a large melting pot of every kind of gay guy you could think of.
And the guys are getting up to just about every kind of gay action too. The tour speaks of many categories and niches, and yes, you are going to find great variety in this mixed bag. There's gay sex, solos and fetish from blowjobs to full on ass-fucking, barebacking, some BDSM and the occasional threesome. There are some fantasy scenes in prison cells, sex outdoors or in the cop shop, for example, and then there are more straightforward masturbation scenes with guys at home. Whether any of this is sinful or not is beside the point -- there's lots of content and lots of variety.
Sinful Gay held 269 scenes when I called in, set out over many numbered index pages. They are shown there with large sample images so it's easy to see who and what is in each scene. Only the more recently added ones showed upload dates, and the most recent scene had been added six months before my visit. So, not great news on updates, and no news telling us whether more scenes might be added, but still, there's a lot of content to check out.
The movie quality is as varied as the action. The recent videos were shown here with WMV full movie downloads and clips at 768x432 plus a full length MP4 version of the same resolution, and one for mobile devices which was smaller at 320x240. You can stream the scenes in Flash where the screen is around 650 x420 in size. Older scenes, though, have fewer viewing options with only two MP4 files available and with smaller streaming. Movies run for around 20 minutes each, and are what I'd call a decent, DVD release quality, though some older ones are not as sharp as we'd like. These are not exclusive scenes and there is no DRM in use.
Movies come with photo galleries associated with them, and once again we see variety of quality here. Some images are digital stills sized at 768x1024, and are sharp and clear, while others - the older ones - are screencaps from videos at 720x480 and aren't as sharp. Numbers of images per set varies from 10 up to well over 100 , and they come with simple navigation tools, jump-to lists and slideshow functions. You can also download zip files if you want the full sets. Galleries, like the videos, come with some basic interaction such as an "add to favorites" function, rates and comments boxes.
You do well for bonuses here, with 24 other sites included for full members as part of the All Gay Sites Pass network including 18 gay sites, a couple tranny sites, and a bi site. The tour area actually states 126 sites and over 29,000 movies, but those totals relate to the entire network, and the rest of your bonus sites are straight ones with some tranny action included too. Each site works in the same way and opens easily in the same window, and there's a drop-down list to use for access. The gay part of the network holds somewhere in excess of 3,000 scenes. You will also find 103 bonus videos that link to feed sites and 33 bonus sites which lead to even more bonus content.
I had a few issues with Sinful Gay. The tour numbers are misleading, promising thousands of scenes without actually stating that many of them are from other - and sometimes straight - sites. There are also two pre-checked offers on the join pages to watch out for, and the site has not updated for some months. I also ran into some pop-ups on the tour.
But putting those things aside for a second, you still get a lot of hardcore action to view here, and in the main, it's decent quality. That quality varies with age, of course, and the videos aren't exclusive, but there is certainly a lot of variety when it comes to types of men and sex. There are over 260 downloadable full scenes, each with pics, in this site, and over 3,000 in the gay section of the network in total. Despite the lack of updates and some average quality videos, variety is the spice of life at this site and that's what you'll find at Sinful Gay.
Click here to visit Sinful Gay
---
Bookmark and Share
---