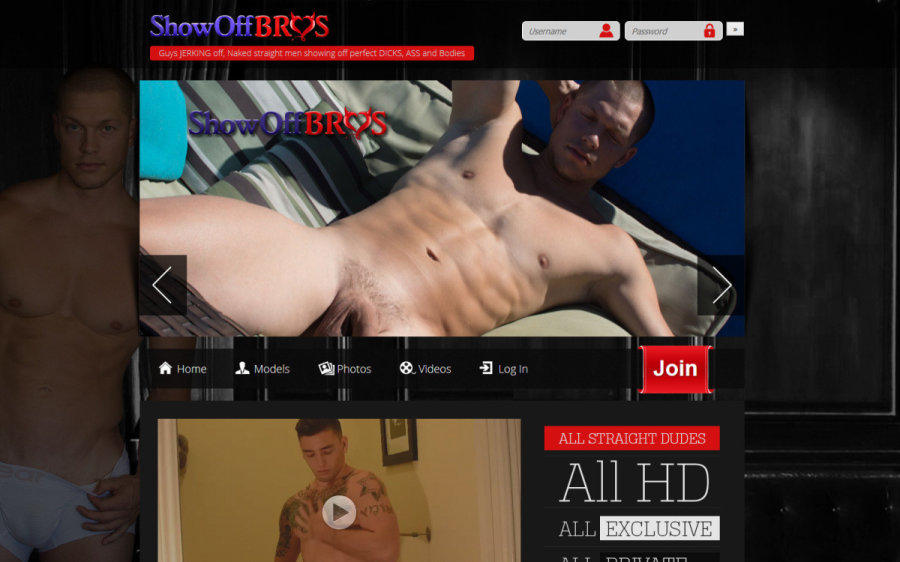 ShowOffBros is a new site featuring well-built straight guys in solo stroking adventures for what may be their first times on camera. There's a nice mix here so far - you'll find some guys with tattoos, one with a nice hairy chest, a sexy and muscled Hawaiian guy as well as a couple black hunks, and body types range from athletic to beefy. Ages range from 19 to early twenties, and while some of the guys are curious and just want to try getting off on video, some of the performers are hoping to jump start a career in nude modeling or maybe porn. Let me give you an idea of some of the guys and the action.
D Savage is the most recent model, and he's got a really nice hunky body, hairy abs and pecs and he's not shy. He talks to us about sex, then talks dirty to the camera as he handles his shaft. They have him fuck the bed, which is sexier than it sounds as we get to watch his balls bounce and his butt thrust - this is one hot guy! Jackie Black is a cute black stud with a great personality who's very comfortable on camera whether he's talking about his sex life, stripping or jerking his cock. After stroking his dick and fucking the couch, he unloads his jizz all over his belly. Donnie X has an cocky attitude, and he also fucks the couch, but in a way that allows the camera to capture his muscular legs and very hairy ass.
ShowOffBros offers members 10 exclusive videos to download or stream in MP4 format. The downloadable videos are available full HD, sized at 1920x1080 at good amateur quality, the streaming versions sized at about 674x380. You can enlarge the streaming versions to full screen, although they do lose just a little sharpness. Sound is pretty good, and most of the guys talk to us a bit at the start of the videos. There are no smaller downloads for mobiles.
All but one of the videos comes with a set of pictures. These are fairly good to good amateur quality digital stills sized at either 480x720 or 1080x720. The photos don't seem to be shot during the videos but rather just before them or perhaps right after. I didn't find a lot of closeups, but the pics show the guys off well, and there are some closer shots showing ass and face, as well as some juicy shots of each guy's body, cock and face. You can navigate from pic to pic using the arrows or view all the photos from each set as hands-free slideshow. While there are no downloadable zips, you can right click and save each pic from its thumb. There are between 10 and 20 pictures per set.
There are some issues worth mentioning. Although the site says "New Straight boys monthly!" there hasn't been an update in over two months, so it appears the site isn't going to update. Next, the non-recurring monthly membership costs $10 more than the recurring version, and all the membership options are pricey for the amount of content. When you click Videos, each page lists only a single episode; you must go from one page to the next to see each guy, and since there's no previews, you can only go through them one at a time. That's not a real problem but can be frustrating. Although there's a Models link at the top of the page, it doesn't lead to a model index; you must choose by name, and if you haven't seen the models before, that's not much help. It's also worth noting that the pages are a little sluggish to respond when you click a link.
There are a few oddities. Each guy's page says "Do you want to see how he fucks?", letting you vote yes or no. Since this is a solo site, and the guys are straight, I'm not sure why the question is there. Also the tour says in big text "These boys fuck girls", but don't be confused - they don't fuck them here. Also the director or person who writes the scene descriptions refers to the guys as porn stars even though they are, as he says, first timers. And some of the tour links don't work.
ShowOffBros offers horny straight guys in a mix of masturbation and bed-pumping action. The guys have nice bodies and there's a good variety, not only of body type, but also of looks and personality. The site is recent, currently offering 10 exclusive videos to download in full HD or stream in standard def, and there are also nine picture sets. While the site claims it updates, it's been well over two months without updates, so don't expect any new content. Still, ShowOffBros is worth visiting if you're into start-up sites or simply love watching straight guys do what they do best.
Click here to visit ShowOffBros
---
Bookmark and Share
---