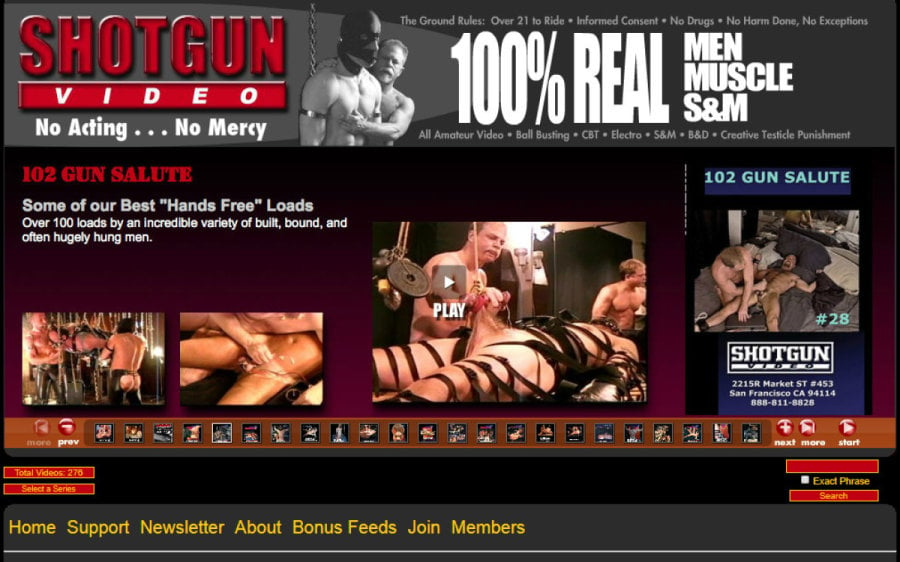 Shotgun Video was establish in 1998, and this BDSM site is run by a sadistic, dominant top who not only directs and films all the videos, but he plays in them, too. Roger is a serious dom with a lot of experience on how to take his subs on painful journeys they'll never forget. I certainly won't - some of these men endure serious amounts of pain that had even me squirming a little bit. Roger, the Master who runs this site, is in his fifties. He's confident, skilled, and he owns a huge array of BDSM gear from ropes, clips and clamps to harnesses, hoods, floggers and electrical gear. And that's just for starters. Roger really knows how to treat the men who are in his complete control and anything can happen in a session. It's been over three years since we visited his site, so let's see what's new.
The men who come to submit in Roger's dungeon and playroom are masculine studs, muscle hunks, and daddies ranging throughout their twenties to their forties, with some perhaps a little older. They're in good shape and some obviously workout very seriously. Some are smooth, others hairy, and some of the men are clean shaven while others are bearded. There are both cut and uncut cocks and pierced ones, too. I saw a few porn performers like Tony Buff and Dolan Wolf, but the subs weren't there to earn a performance fee: Shotgun Video is very much about the BDSM lifestyle.
There's so much going on here that it's difficult to encapsulate it in a paragraph. These sessions are made by and for real BDSM players, and you'll find all levels of kink and play. Regardless of how the men are restrained - ropes, chains, straps or handcuffs - almost every scene features ball crushing, cock and ball torture, nut squeezing, stomping, electro stimulation and more. Roger gets off on giving a man's nuts a seriously painful working over - I don't think I've seen so much CBT in one place. Roger had two men in a contest to see how much weigh their nuts could endure, and the loser fell to his knees at 58 pounds!
Jiri is a masked stud who is handcuffed to the bed, and Roger pulls on his nuts, clips clothes pins on his sac, then beats his slave's balls with a couple of different rubber mallets, slaps them with his open hand and punches them with his fist; finally, Roger is pulling them so hard that Jiri pushes Roger's hand with his thigh. Incredible!
But it's not all CBT. I saw men getting various types of corporal punishment by hand, with straps as well as with floggers and other implements. There's some ass play with cocks, dildos and other toys, as well as some fisting. Many of the scenes are just Roger and a sub, but many feature Roger playing with a couple of men, and I've seen a couple of scenes where Roger invites another top in to work over a bottom together.
Shotgun Video offers members 603 video updates in streaming Flash, but these take a bit of explaining. The site itself says there are 276 videos, so those 603 listings I count in the Videos Index are actually parts from those 276 full sessions (anywhere from two to six shorter clips each). The individual parts are added one at a time, so if a session has five parts, it takes five weeks to add all the parts.
The videos are available in four different speeds and stream on a pop-up page with a player and they display anywhere from 234x160 to 620x420, depending on the speed you selected, however the site usually auto-detects which one seems best for your connection. You can change this easily enough if you're not happy. The largest version on older sizes plays a little larger, but not much. The videos are good amateur quality with good sound so you can hear the men beg for mercy, ask for more, or scream their fucking lungs out. There is a full-screen mode, but I didn't find the videos fared very well.
There is a "Photo Index" section, but there are no picture galleries there. What's there is just a large thumbnail (310x204) from each movie with no way to enlarge the picture. The Photo Index is really just a different way of displaying the movies.
As a bonus, Shotgun Video members get access to a theater that features 68 DVDs from assorted gay producers, but only half a dozen of them were in keeping with the site's niche. I'm not sure if these are updated or swapped out on a regular basis, there's no information about it.
I have no idea how often Shotgun Video updates. When we last reviewed the site in August 2014 there were 268 full videos offered as 470 parts; now, over three years later, there are 276 full videos with 603 parts. That's an addition of eight full sessions and 133 parts, which works out to be three parts added as updates every month. However considering the videos can run up to six parts, you may not be getting one full session a month, but if you're brand new to the site, you can go whole hog and catch up on the over 600 videos in the archive.
When it comes to issues, there are a few things I'd like to mention. The site appears to be updating, but since there are no dates, how often and exactly when each update is added is anyone's guess. It'd be great if the videos were dated. I'm a fan of pictures, so I'm disappointed that there aren't any, but still, the videos are so damned thrilling that you may not even notice or care about missing galleries. I was disappointed that there are no downloadable videos, and because the videos are offered in Flash, they're not mobile compatible.
Shotgun Video delivers authentic gay BDSM, and Roger himself is very involved with the men who submit to him. His experience is evident as he crushes or strikes their balls, puts them in all sorts of bondage and guides through some very painful sessions. The videos are good sized but not offered for download, and the site does update regularly, although each update is only part of a full scene. And not all of the videos are actual play sessions as Roger also teaches seminars in the BDSM community, so you can watch and learn. The bottom line: if you're looking for real gay BDSM, mature men, and a very experienced dominant, Roger is impressive and his site gives you so much to enjoy.
Click here to visit Shotgun Video
---
Bookmark and Share
---