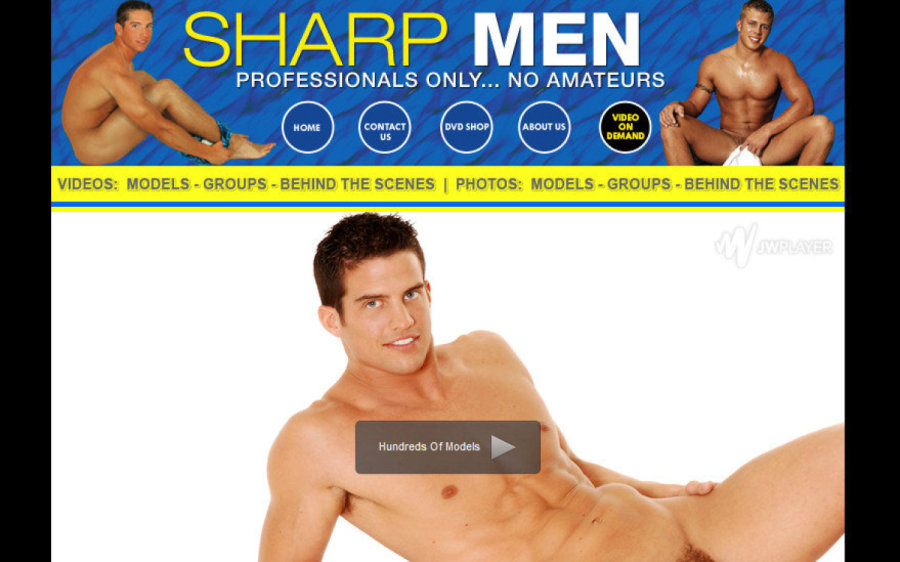 Sharp Men, also known as Sharp Video Mag, focuses on professional male models in pics and videos shot by Sharpshooter Studios over their 20+ years in production. Their guys are models from Playgirl, fitness magazines, actors, and other men who pose professionally. Most are hunks with bodies ranging from fit and athletic to big and muscular, although there are also some more slender guys. I found some truly gorgeous men here, as well as some very masculine studs, but there are also some who, while they have good camera presence, are closer to average when it comes to looks. I found a number of B actors with short listings on IMDB, porn regulars, and nude models I've seen in magazines or online a few years back.
The pictures and videos here are mostly solos that are all about showing off the men and their physiques. You can expect lots of stripping, both indoors and out, as well as guys working out with weights, showering, pumping the couch, stroking their cocks, or just about anything a solo guy could do that doesn't involve any kink. The videos each have their own flavors due to the personalities of the models, and there are usually some nice cock closeups, although a lot of the videos don't include masturbation. Most have soundtracks, and sometimes the music is a lot more energetic than the action, and since some of these video/photo shoots are over 20 years old, some of the content looks classic because it is.
Sharp Men has 352 videos and 336 picture sets. The newest videos are QuickTime files sized at 640x480 and they look good. The oldest are Real videos shown at 320x240 which look okay at their original size but I wouldn't recommend trying to enlarge them, and the vids between the newest and oldest are MP4s sized at 640x480 at average quality or a little better - they look okay, but not great. The videos don't seem to have been added in production order, so you can expect newer videos that appear to have been shot years ago and some less recent vids that are more modern. Many of the videos are under 5 minutes, although I did find some that were longer.
Now let's check out the pictures. As mentioned, the site has 336 pic sets - 199 model sets, 79 group sets, and 58 behind-the-scenes picture sets. The newer pics are sized at around 800x1184 at good amateur quality or better, while the older ones are sized at around 400x600 at fairly good amateur quality or better. There are no slideshows or zip files offered, but you can individually download the pics you'd like to keep.
Does the site have any issues? Well, there's no release dates or schedule, and I have no idea if this site updates or not or how often. We'll be checking back and will let you know what we find. While not precisely an issue, there are no model profiles or any info about the models, nor are there scene or pic set descriptions. Something else that bothered me a bit is that each pic set and each video has a link that leads offsite to Sharpshooter Studios DVD store. The site design is pretty old school, but still pretty functional so you can find your way around.
Sharp Men delivers some sexy men who you might have seen in Playgirl, on other websites, DVDs or posing in nude or fitness mags. You'll find a mix of jocks, hunks, average guys and fitness models including some gorgeous and masculine men in short posing videos, as well as stripping, flexing, working out, showering, and more - while some have jerkoff sessions, not all do. The videos are downloadable, and the newer ones should be compatible with many mobiles. We'll check back and let you know what we can find out about updates. In the meantime, if you're looking for male models showing their stuff, or if you are a fan of Sharpshooter Studios, Sharp Men is worth a visit.
---
Bookmark and Share
---