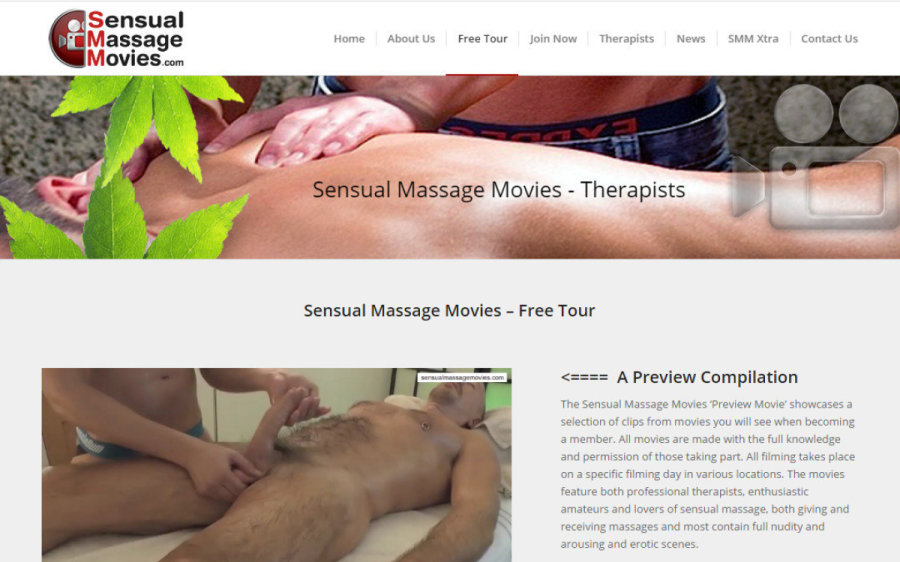 Sensual Massage Movies is filmed in the UK and offers men getting sensual and erotic massages. This isn't your average "massage" site; the action here is squarely focused on massage - all kinds of it. Most sessions feature one masseur and the man he's massaging, but there are a good number where two masseurs work on one man's body. The masseurs aren't always completely nude, but often are, and the men on the table are fully naked with genitals showing. Sometimes the masseurs have their head in the frame, sometimes not, and sometimes they tilt their heads away from the camera so we don't ever see their entire faces. The site says the guys are a mix of professional masseurs and "enthusiastic amateurs"; you could consider all of them amateurs since they're not porn performers.
The men on the site come in a variety of ages and sizes. They're mostly British, so there's plenty of uncut cock here. There are hairy men and smooth men, most with average to fit bodies, some are a little muscular and others carry a few extra pounds or are a little soft around the middle. It seems like most of the men are in the mid-twenties to forties. Some have a tattoo or two, and there are some with face scruff or light beards. I also noted that while a lot of the guys are white or possibly Latino, there are some black men in the mix, as well; there may be Asian guys, but not all the videos show faces.
There are plenty of rub-downs and massages given, including many where the man on the table gets oiled up all over his body. The guys get massaged on their backs, thighs and calves, and you'll see lots of butt cheeks getting rubbed and stroked, and often in the newer videos the masseurs may put their hands or fingers between those hot and often hair cheeks. While I did find fucking in a few of the newer videos, most most have happy endings that involve handjobs, and sometimes the guy getting the massage returns the favor by stroking his masseur's cock before they both shoot their loads.
One movie I watched featured a man getting a full-body massage from another man, and after getting every inch of his body worked, the man jacked himself off while the masseur played with his nipples. A second video had two hairy men in what was more of a frottage than massage session. Fully naked they rubbed their bodies together, fondled their cocks, and there was some kissing, although there was no oral or anal sex. Another movie had a man and a woman giving a man an erotic massage; they were both bare chested while the man was naked. And I should mention that while there are women in some videos, they are a rarity - the majority of the scenes are man-on-man massage.
There are also a series of tutorial videos. One four-part series shows you how to give a two-hand sensual massage and another eight-part series offers four-handed variation. There's a five-part series to help work through premature ejaculation issues, and one of the latest videos in 2017 is a demo of how one of the masseurs deals with his massage clients and what to expect. There are a couple of older tutorials showing various kinds of massage including a series for women.
Sensual Massage Movies offers 337 video updates, but they aren't all full scenes. Most scenes are broken into two parts, some of the oldest into four parts, and there are some shorter full scenes, as well. The newest videos are offered in M4V format at 960x540, and these can be downloaded, streamed and watched on your mobiles. The oldest videos are only available to stream in Flash, the newer of the oldest vids at 800x450 and the oldest at 320x180. These are not downloadable, and they're not mobile compatible for most Apple or Android products. Most of the videos are decent to good amateur quality at their original sizes, and only some are available to enlarge to full screen, although the oldest lose a fair amount of sharpness and clarity.
Sensual Massage Movies updates every two weeks. Sometimes an update is a full scene, but usually it's a longer scene broken into two separate parts. When a two-parter is added, both parts are added on the same day, so I'm not sure why the site doesn't just add the sessions as a single full scene, but at least we don't have to wait for part two.
Let's talk about issues. The seven-day non-recurring membership gives only partial access, and since this membership doesn't recur, you won't get to see the videos with this membership option. Also most of the membership options are given in British pounds, so I used an online calculator to figure out the prices in dollars. And the home link leads back to the tour. But my biggest issue is the lack of consistency. Some videos can be expanded to full screen while others can't. The older videos can't be downloaded nor are they mobile-compatible, but the new ones are. Sizes vary a lot between the oldest and newer vids, and some of the older vids are broken into four parts while most of the newer are broken into two.
Overall I like Sensual Massage Movies. It delivers exactly what it promises; a focus on man-to-man massages, not just for a a minute or two that lead up to a porn video, but real massages. You can see all sorts of guys getting full body rubdowns that usually do have happy endings, usually with handjobs but sometimes with oral or anal. There are 337 video updates from maybe 175 full scenes, and the newer vids can be downloaded, streamed or watched on your mobile, although the oldest vids are streaming only and not mobile compatible. This is a great site for those who love watching men with uncut cocks getting oiled up, rubbed down and more. And if you live in the UK, Sensual Massage Movies is always looking for men to lie on their table, so you can earn yourself a free membership and some cash, not to mention getting a sexy rub down.
Click here to visit Sensual Massage Movies
---
Bookmark and Share
---