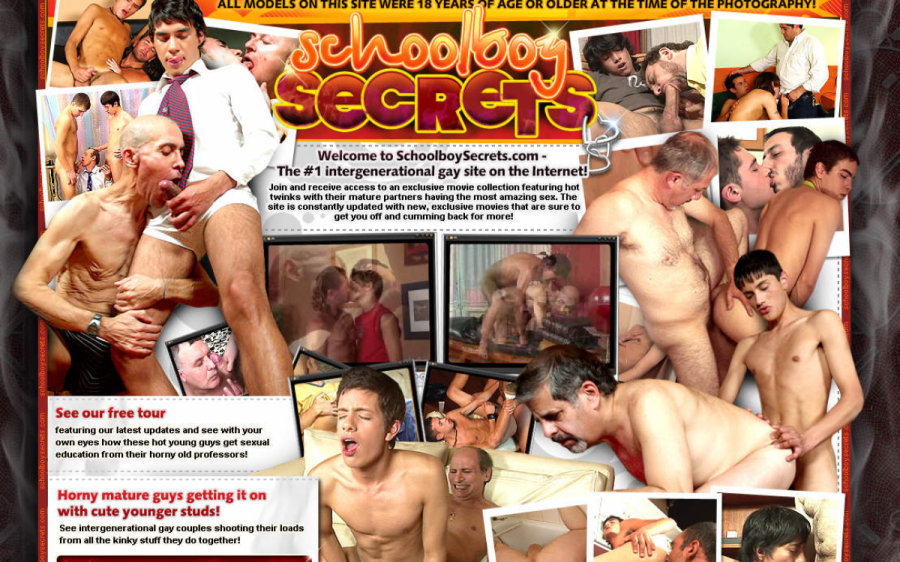 Schoolboy Secrets focuses on guys in their early twenties with older men in their thirties and forties, and even daddies in their fifties or over. The younger guys are a mix of jocks - some athletic and some actually rather muscular - plus regular guys and some twinks. Some are cute, some are actually sort of masculine and some are average. There's even more variety when it comes to the mature men as there's a spread over over 20 years when it comes to age, and there's also a mix of types. Some have thick dark hair, others have shaved heads or hair cut short or are salt and pepper. Some of the men are heavy, while others are muscular or slender. And many of the performers are European, so there's lots of uncut cocks, although I notice that many of the videos aren't shot to show off the foreskin.
When it comes to action, expect plenty of cock sucking, rimming and fucking, and of course lots of cumshots. While often the younger guys service the older men, sometimes it's the other way around and there's an aggressive twenty-something guy who takes control and tops the daddy he's with and giving his ass a serious pounding. There's also the occasional threesome, foursome or dildo play, and very occasionally there's a video with a little kink or an interracial duo. And as there's such a wide variety of ages among the older performers, there are varying age gaps between each duo or trio as sometimes sex is between a 21 year old and a guy who's around 38 while other times the action takes place between a 19 year old and a guy who's in his late fifties.
Schoolboy Secrets currently offers 449 exclusive videos and adds a new one every week. The newer videos are offered in 2 qualities of MP4 sized at 1280x720, with the lower quality version suggested for mobiles. Older vids are sized at 640x480 in both WMV format and MP4. Video quality here ranges from average to fairly good amateur, and since the site has been around since 2005, it's no surprise that the older videos aren't as sharp and clear as the newer ones. The videos are downloadable DRM-free and there are also streaming versions available. Each video comes with a set of screencaps.
There's a separate picture section offering 144 pic sets. The photos here are good amateur quality digital stills sized at around 1000x750 for the older pics or 1280x960 for the newer ones. The pics are offered in thumbnailed galleries plus a sort of unwieldy slideshow. The pics show off the guys and the action well, but there are no downloadable zip files although you can save the pictures individually.
When it comes to extras, members get access to several different types of content. First are 59 "EuroBoy Movies," which are downloadable, and while they're not sharp or clear, there's plenty of gay sex in duos, threesomes, fourways and orgies. There's also a bonus galleries, a collection of erotic stories and 3 sets of rendered 3D computer art. There are also links to personals and VOD, both of which require further payment to fully enjoy.
While the site doesn't have any issues, there are some things I'd like to see. First is personalization. While the older episodes have descriptions, the newer ones only list the performers' names. There's no model index, nor is there any info about the performers listed on the episode pages. The tour offers "high quality online video streaming," but I certainly wouldn't consider the quality to be high. At the top of the first tour page, it says "SHOT IN HI-DEFINITION," but the older videos are not HD; they're standard definition.
Schoolboy Secrets offers horny Euro twinks, jocks and amateurs getting it on with men who are often twice their age or older. The action is pretty hot, made even hotter by their age differences, and besides lots of sucking and fucking, there's some group sex sessions and a little kink. The site offers 449 downloadable videos plus pic sets and extras including bonus stories, pics and videos. Navigation is easy, and there are mobile-compatible versions of all the exclusive videos. While I would have liked better descriptions and model profiles, there's a nice collection of inter-generational gay sex videos that should please those into guys in their twenties having sex with older men.
Click here to visit Schoolboy Secrets
---
Bookmark and Share
---