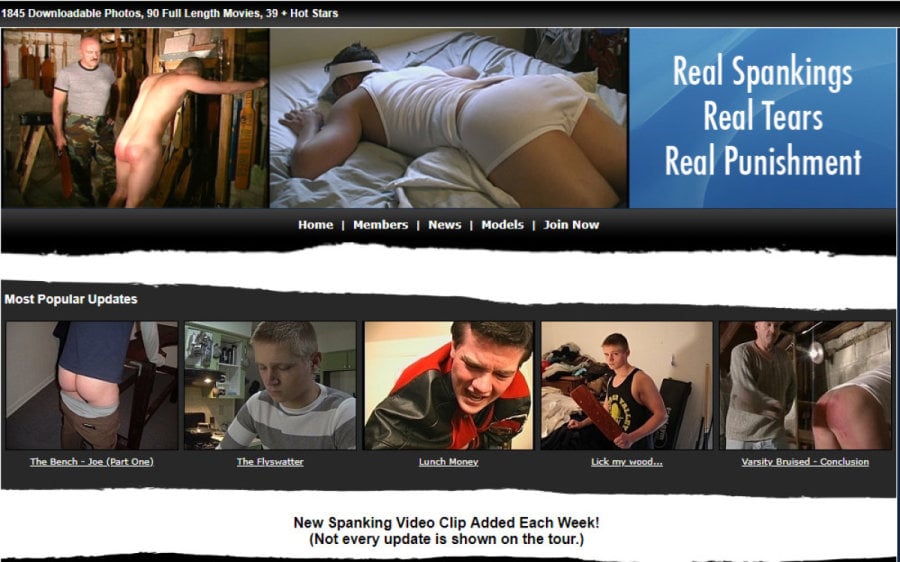 Real Male Spankings focuses on college-age guys getting serious spankings, either bare bottom or over clothes. "Real Spankings. Real Tears. Real Punishment." Those words at the top of the site caught my eye. We reviewed this site back in December 2014, so it's well overdo for another look. In fact, I should probably submit myself for a spanking for letting this one lapse so long. What do you think? Why don't we check it out before I make a commitment.
There's a mix of guys here, but they all appear to be college age. They range from surly bad boy Nick, with his smooth slender body, blond hair and bad attitude, to Alex, a jock type who's a bit of a bully and punishes his brother and one of the other boys. There's dark-haired, tattooed and scruffy Chad, who's cute with some facial hair and takes twenty swats on his bare behind. And Ryan, a fair-skinned blond who wants to try submission, doesn't do a good job, and ends up taking his punishment.
There are 36 guys on the site and they're not porn stars or male models - these are just your average guys that you'd see walking around any college campus. Some of the guys do one video, but others return to do multiple sessions. And that blond bad boy Nick, he did 24 scenes, and he cries real tears in quite a few of them.
Some of the videos include plots while others get right to the punishment and the pain. In "The Bug", Alex finds his brother and two of his friends smoking a joint in the VW parked in this parents' garage. He balls them out, then one at a time he makes them lean over the car, and he straps their bare asses. He orders them into the house and offers them a choice: submit to a spanking from him or he'll inform their parents. Joe goes over his brother's knee while the other two are stand in the corner facing the wall. While they wait their turns, they cringe at the walloping Joe's getting. At 28 minutes, this is one of the longest videos, and it's split into two parts.
With 24 videos under his belt, I had to check out Nick. He's a cute blond guy, and in one video lean over the kitchen sink and gets smacked with a wooden paddle."F*ck" is under four minutes, but it's intense. "Stick your ass out", the spanker orders. He delivers 10 swats with the Jakori paddle over Nick's jeans. "Pull down your jeans", he says - then Nick gets 10 more swats over his underwear. Nick's trying to hold back the tears, but they're close. He gets another ten like this before he's ordered to pull his underwear down. He gets 20 quick swats on his bare flesh, and not only does this bring the tears, but Nick yells, "Fuck!" The spanker stops. "Fuck? Do we need to wash your mouth out with soap?" Nick says he's sorry. The spanker gives him four more harsh swats before saying, "Stand there a minute and think about it". We get about half a minute to stare at Nick's red, sore ass.
The spankings are doled out with a variety of implements. Many are plain old over-the-knee spankings with a man's bare hand. But many other guys get spanked with paddles, hair brushes, belts and straps, wooden paddles, a cane, a yard stick, a flyswatter, and even a hockey stick is used in one session. These are hard spankings that leave tender buttocks red and swollen, and sometimes the guys can't hold back tears. After seeing those sore asses, it's hard to blame them.
Some of the sessions follow a hazing style where two or three guys endure a spanking from one guy. Some of the scenes are more of a BDSM type with a bald daddy training boy butts in his fully equipped basement. What almost all of the videos have in common is that we don't see the guys' genitals. But in at least four scenes, the guys who get spanked actually jack off and blow their loads.
Real Male Spankings offers 87 videos for download in MP4 format. Most are sized at 640x480, although some are a bit larger at 854x480, or even 1280x720, but these are rare. Most are fairly good quality, but "The Bug" wasn't great and had artifacting and interlacing throughout the video. This isn't commonplace, though. While some of the videos have a runtime of nine or more minutes, some are under four minutes, but likewise a few run as long as 30 minutes. Each video can be downloaded and streamed. I had no problem playing the vids on my Android phone.
A nice feature is that many of the video offer more than one camera angle so you get to see the guy's reaction to his spanking as well as how red his ass is getting. And some of the scenes have a facial inset in the corner of the movie, so we can see both at the same time.
There are also 83 picture sets. These sets contain decent quality screencaps sized at 640x480, although expect to see some scanlines in areas with motion. There are also a few sets of digital still offered at 1024x682 and 1280x853, and they're pretty good quality. Unfortunately, you can only see which is offered by clicking into the gallery and enlarging a picture. About half the sets offer one to six pics, while the rest offer from 20 to as many as 50 pics. The pics can be individually downloaded, saved in zip files, and enjoyed as hands-free slideshows.
There's one big issue here. Real Male Spankings isn't producing new content as far as I can tell, although they are adding recycled updates weekly. Let me explain. The site did add another 52 videos after December 2014, but at some point, perhaps eight months later, they stopped adding new scenes. Now the date of the oldest scene is August 2015, so what happened to everything we saw in 2014? It's still there; it's just been re-dated and re-added to appear to be new weekly updates. And for this reason, the price tag is a bit expensive, but in my opinion, still worth it if you haven't been a member here before.
While the videos are mobile compatible, the site doesn't have a mobile menu, so I had to fiddle a bit to enlarge the navbar menu to make my selections. And when flipping to landscape orientation, I had to adjust the video to get it positioned on my screen. The site says there are 90 videos, but I only counted 87 in one area and 86 in another. And you can't count on accuracy where the sites lists sizes of the videos in the video link sections. Some of the videos are quite short, from just under a minute to well under five, although many are longer. There are a couple videos that are auditions for another site and others are watermarked with that site's name without a reason for their inclusion here. Finally, there is a link to a blog, but it's empty.
Real Male Spankings offers us college-aged boys getting attitude adjustments. And most of these all-too-real spankings are hard, some even bring real tears. There are 87 videos and 83 pic sets, most of which contain hand, belt or paddle spankings, as well as some other punishments. I'm sorry this site stopped producing new scenes because I enjoyed what I watched. But I guess this lets me off the hook as far as heading in for my own spanking. Whew! If you haven't been a member and you're a spanking fan, you should be pretty happy with what's here.
Click here to visit Real Male Spankings
---
Bookmark and Share
---