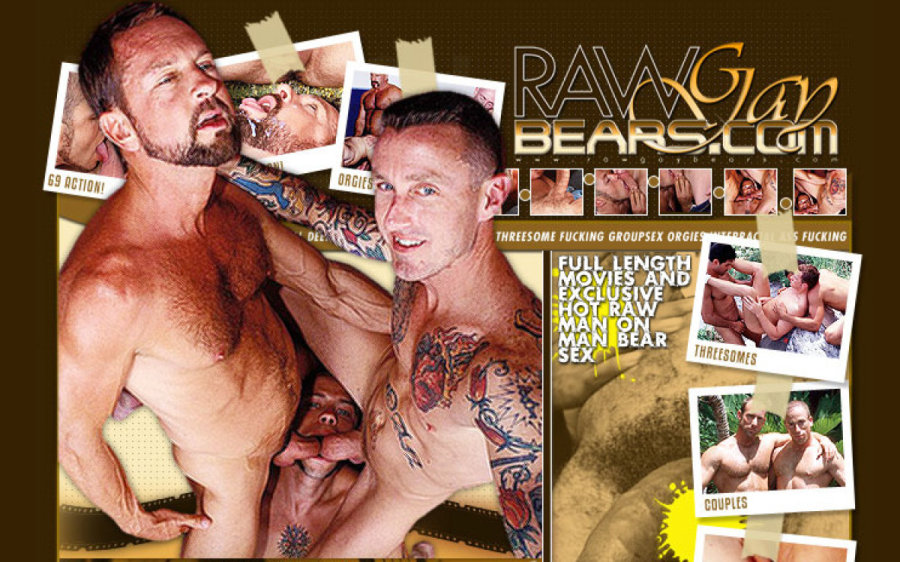 Raw Gay Bears offers a mix of hardcore and solo action videos with a varied cast of characters. Although the title suggests this is a bear site, it actually has all kinds of guys appearing in the videos and galleries. You'll see that the more recent content features smooth jocks, guys aged 18 to 25 and East European amateur models of all ages, but the older content brings you older men, hairy and chubby at times, some studly guys, cowboys, cops, and your more classic looking bears. So membership to this site isn't exactly accessing a bears-only cave.
The action here ranges from masturbation scenes to threesomes and the occasional group scene, and there are plenty of duos in the middle. Once again, the title might be slightly misleading. It mentions 'raw' which might lead to you to expect bareback action, and there may be some bareback fuck scenes here, but there is definitely a lot of condoms in use, too. You can also add in slings and leather guys, dungeons and chains, harness-wearing masters, and some hardcore role-playing scenes that take place both indoors and outside. This site is a great big mix of everything from blowjobs to kink - it's not just about bears.
The more recent scenes showed me lots of smooth guys in their twenties, in what looked to be Eastern European style simple sex scenes; the guys are already kissing and stripping when the scene starts, and there is not a lot of atmosphere. The older scenes showed me your more typical bear movies with cops and hairy studs, and these had the appearance of coming from released DVDs.
Raw Gay Bears currently offers 179 scenes in the member's area, and the most recently added scene was uploaded five months prior to my visit with only one added six months before; the earliest dated scene is 2005. Movies are available as streams and downloads. The more recent scenes are offered in streaming Flash at 640x480 at mid-quality, so these look okay but will lose some sharpness at full screen. There are also DRM-free downloads in WMV format, where you have the top quality at 768x432 plus 2 smaller sizes; these are offered as both full scenes and clips. The are also MP4 versions at 768x432 plus a mobile version.
The older scenes don't offer the same choices for downloads, with only the MP4 options available. The general quality of movies is average, studio-made, DVD or video release quality with good lighting and usually good natural sound. Some of the older scenes may not have classic bears in them but they do have classic porn music soundtracks.
Raw Gay Bears also offers 222 galleries, which contain a mix of screencaps and studio shots. Some images open up at 638x1024 and pretty good quality; these tend to be the more pic content. Others are screencaps that at 720x480 in size and have that slightly blurred effect that you often get with video captures. The galleries can be easily viewed online with simple navigation; slideshows and are zip files are available as well. There are between 6 and 150 pics per set, though numbers vary wildly. Some of the sets show poses from the main models, and others are shots captured from the movies.
As for bonus content, you do get a lot of varied, non-exclusive content. Full membership includes all the sites in the All Gay Sites Pass Network, so there are 16 bonus sites. These cover niches such as muscles, big dicks, group sex and Latinos, and also contain a fair number of bisexual and transsexual sites - nine out of the 16 are bi or tranny sites, plus there are loads more straight sites if you are interested. The network contains a lot of non-exclusive videos, some of which may be shared across sites. Add on the bonus sites and 103 feeds and you have a lot of extra content.
The site has some issues. As mentioned, the most recent update was 5 months ago, so I doubt we can expect any updates anytime soon. There are 2 pre-checked offers on the join page that, if left ticked, will sign you for 2 additional site memberships. Trial members recur at $10 more per month than a regular monthly membership, and trial members may get limited access to the site's content and features.
My other issues with this site have to do with the content. The site sells us bears, and yet what we have is a mix of guys only some of whom are what I'd call bears. The more recent content, for example, is more jock-themed. The tour also sells us the idea of free live chat with bears, but the chat is via a third-party site where you need to pay up to go private. And while the title of the site suggests raw, which usually refers to bareback, this is not 100% a bareback site.
Don't get too hot under the studded collar expecting the "bear" and in the site's title and you won't be disappointed with this easy to use, mid-quality hardcore site. Raw Gay Bears offers non-exclusive content with downloads, streams and galleries, and while it no longer seems to update, it lets full members into a large network that covers just about every kind of gay porn you can imagine. Yes, there are some nice bear movies from older DVDs, but no, this is not a bear site. But Raw Gay Bears offers a bit of everything and plenty of extras.
Click here to visit Raw Gay Bears
---
Bookmark and Share
---