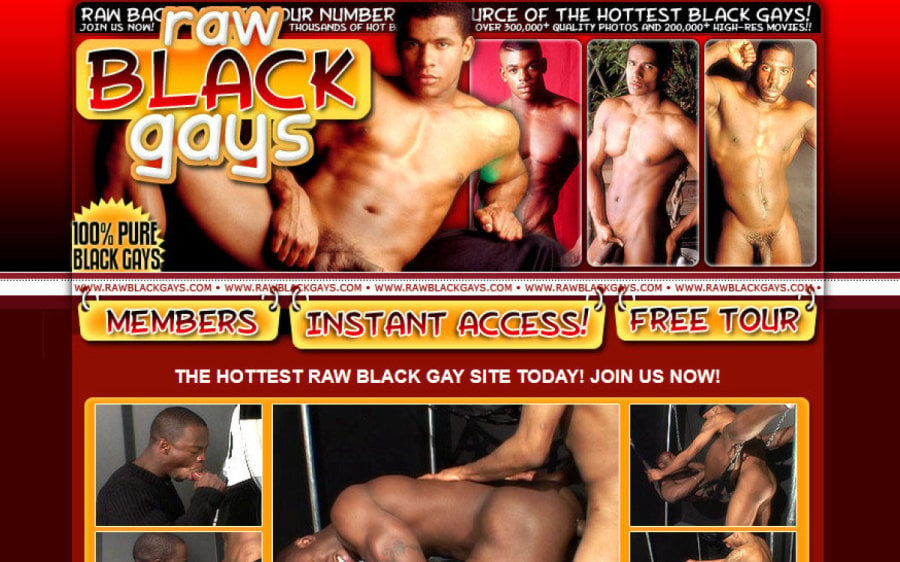 Raw Black Gays black men having hot sex together. Those who enjoy watching a combination of different types of black men, mostly appearing amateur in nature, will appreciate the performers as there are many different types of black men under one roof. There is no standard "type" when it comes to choosing their talent - while the models' ages are not provided, if I had to guess, they are between 20 and 40. As for their hair, you're going to find some men have bald or shaven heads, some have cornrows, and others wear do-rags in these scenes. In terms of body type and size, the site offers a mix of built, chubby and skinny black men in the scenes. Some of these guys can pass off as gangster while the others appear more like family men, and some look like they work out a lot. Whether you prefer men with shaved chests or hairy chests, pubes or no pubes, you've got choices here. Cocks also come in both cut and uncut variations too.
The action here is pretty diverse. There's anal sex, and the scenes include blowjobs and handjobs as well as solo masturbation sessions. You're going to find some threesome and group sex scenes which appear unscripted. The men in the scenes sometimes wear condoms, and all the videos I have watched ended with a hot cumshot (or more). Video shooting locations branched out from the typical sofa fuck scenes to outdoor locations (mostly backyards) and one particular video showed gay sex in a cave or dungeon-like setting. The majority of scenes do seem to happen on the couch or in a living room.
Raw Black Gays offers 133 videos in the member's area; the site doesn't appear to be updating though - I found in my research that the dates have been stripped from each video landing page. Some of the other sites within the network have dates, but only if they update.
Videos are offered in WMV and MP4 formats, and for those techies out there is shot at 640x480 resolution. You can watch scenes by streaming or downloading them. Streaming is done through the Flash player, whilst downloads are saved to your computer or mobile device. The best way to describe video quality is average; it's a little grainy or lacks sharpness. You aren't getting a premium experience.
Raw Black Gays offers 109 photo sets. These pics are sized at an average resolution of 1024x680 and are fairly clear; I'd say most are good amateur quality. You can enjoy browsing pics individually or by downloading them in a zip file, and there's also a slideshow option offered.
Anyone who likes extras will appreciate the 19 gay sites included with this membership. If you happen to enjoy straight porn, too, you'll find the total count of all bonus sites included reaches the 124 site mark.
Site issues include pre-checked offers on the join page. As mentioned, the site is potentially not updating and the price of the trial (when it rolls over to a monthly membership) is higher than a normal monthly membership. Additional concerns include video quality that is average and kind of grainy. One last concern is that the content inside this site is the exact same content offered from Black Gays Hardcore, another site from the same company.
Raw Black Gays offers horny black studs and amateurs in a mix of hardcore man-on-man sex and masturbation sessions. While the 124 scenes and 109 photo sets deliver plenty of ebony cock, the quality is weak, the updates do not seem to be occurring, and the content is non-exclusive. The 19 gay and over 100 straight bonus sites included might increase your appetite to join, but they don't offer much of what you originally came here for - hot black-on-black gay action. While Raw Black Gays has ample room for improvement, they do deliver ebony men getting it on and jerking off.
Click here to visit Raw Black Gays
---
Bookmark and Share
---