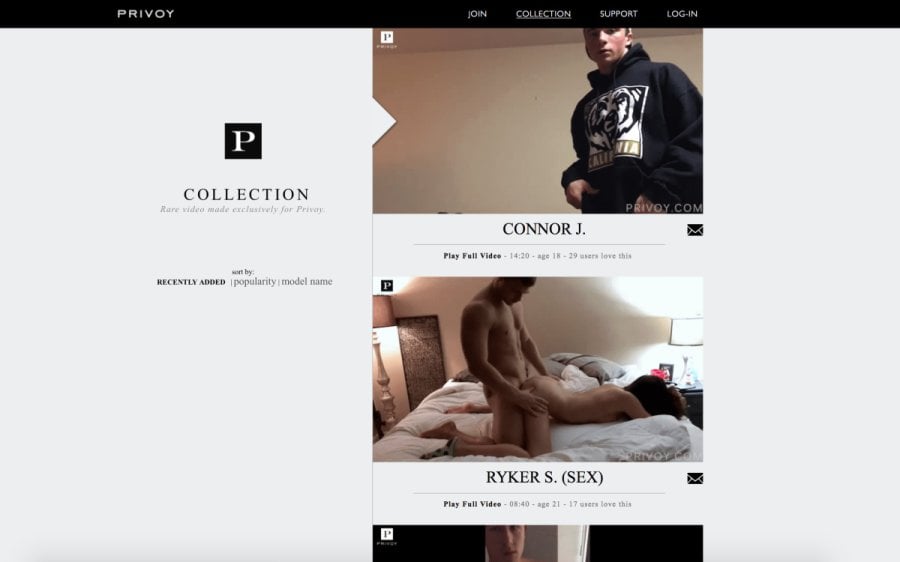 Privoy offers all sorts of amateur guys including twinks, regular guys, jocks and some hunks. Ages range from 18 to 21 - well, they say 21, but I'd guess some might be a few years older. Some of the guys are quite slender, some are nicely built, you'll find average bodies and athletic guys, and there's Tyler T, who's a 19 year who's packed with muscle, considering his age, and I only wish I could have watched more of him. All in all, the site has quite a mix, sort of like if you went shopping and got to see 80 of the college-aged guys at the store naked, horned up and masturbating.
The videos appear to be homemade, and the guys do their stuff all over the place; in bathrooms, on beds, couches, in the shower, and one of my favorite guys - Joshua - ends up jerking off in his car. There's also one nicely built model who strokes his cock in the garage, finishing as he lies back on his motorcycle. And while most of the videos are solos, there's a few that aren't. There are a couple buddy videos, including one with two friends camping in the woods who end up stroking each other and fucking on camera in the dark - it's pretty hot. There are also a few videos featuring the guys fucking girls.
Privoy currently offers 84 videos, and while there is no update schedule or dates shown, the site has added 4 videos in the past month. The videos are offered in streaming MP4 format, and while some are sized at 680x510, most are larger, shown at about 906x512. Quality ranges, but expect a lot of amateur-quality vids, which makes sense since it appears many are homemade. Some have less than ideal lighting or a little smeared look, but overall these are good watching if you love amateur guys. I found a couple videos that had no sound - or the sound was very quiet, as I turned up my speakers all the way. At least 1 video had a soundtrack during the stripping, but most vids I watched did have sound, about what you'd expect from your average webcam or inexpensive digital camera.
Let me tell you about a little more about the site. There's a single page listing all 84 videos, and it only loads a few at a time, so when you scroll to the bottom of the page, wait a few seconds and more listings should appear. The site does mention that their content is exclusive. I was disappointed to discover that there's no real info about the models except for their names, ages and how many viewers have favorited them. A profile of each guy would be nice. Some models do let you send them emails, however, through a form on the page. On another note, the videos sometimes start after the guy has started jerking off, where others start with the guys fully clothed and stripping.
Does the site have issues? Beside listing all the videos on a single loooong page, there is something I'd like to mention. The prices for this site are high - there are very few sites listed here that are this expensive - and yet they have a processing fee not included in their membership prices. It's not high, but considering the memberships are already pricey, it would have been nice not to have to have pay the extra fee. And while not an issue, it would have been nice to be able to download the videos.
Privoy offers an exclusive collection of real amateur guys stripping and jerking off in all sorts of locations, not to mention a couple buddy videos and a few straight sex videos. The 84 videos appear to be homemade, and while they're not offered for download, they are DRM-free and some are smoking hot. The site is fairly minimalist, with no advertising, descriptions or profiles, and all vids are listed on 1 page, which means navigation is a piece of cake. There's no dates on the updates, but the site has added 4 updates in the past 30 days. What I really liked about Privoy are the nice mix of horny 18 to 21 year old amateurs and the voyeuristic feel to a lot of the videos, which make me look forward to visiting the site again.
---
Bookmark and Share
---