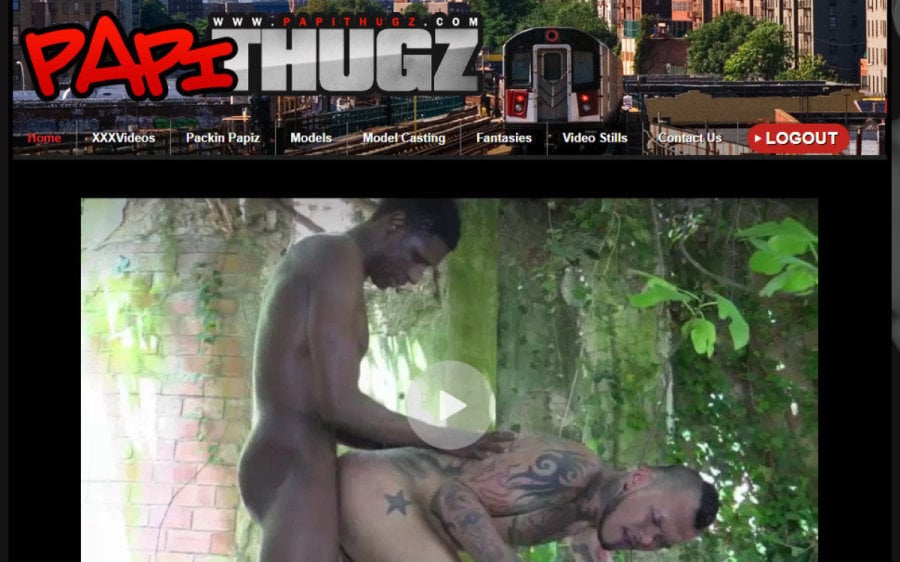 Papi Thugz features hot Latinos and big-dicked black men who hail from Central and South America, as well as some African Americans. Some of the guys are handsome and some average, but they are definitely horny, well built and many are rough looking. They're the types that fuck you silly, and that's what we're looking for, right? Most of the performers are in their twenties and maybe early thirties with great bodies ranging from defined and athletic to muscular, sometimes very muscular. You'll find many of the guys sport tattoos, and some are quite inked. A number of the performers are very well hung, and since many of the of come from outside the United States, you'll find plenty of uncut cocks, too.

Much of the action here is hardcore, although there are some solo masturbation sessions as well. There are plenty of duos and some threesomes kissing and enthusiastic cock sucking with long and wet rimming sessions and fucking in a variety of angles. While most of the action isn't too kinky, it is passionate; these guys love fucking and getting fucked on camera. And I did find a few scenes where a guy sucked another guy's feet or spat in his asshole. I'm also happy to report that the newer updates include plenty of outdoor sex scenes by the pool or in the woods. There are two video sections, and the second - called "Packin Papis" is where most of the solos are found.

Papi Thugz now offers 426 exclusive videos, 371 in "XXXVideos" and 53 in the "Packin Papis" section. The videos are MP4s that stream in a player sized at 920x512. The newer vids are offered in three qualities (although all are the same size), the highest at average to good amateur quality that enlarges to full screen pretty well. The oldest vids are low amateur to amateur quality, and they're sized in the player at about 690x518, and are probably smaller videos stretched to fit a larger screen, so I don't recommend enlarging them. While the videos are DRM-free, they're not offered for download.

There are also 239 picture sets. These are better-than-average to good amateur quality sized at about 700x395 or smaller; some sets contain screencaps and others have digital stills. They're offered in a gallery that's almost like a film strip, with all the tiny thumbs below the larger picture you're currently looking at. Being screencaps, they obviously preview the action well, but there are no slideshows or downloadable zip files, and since you can't right-click on the pages, there's no way to save the photos individually. A large watermark has been added to all the pics, sometimes extending past the actual photo on the right side.

In addition to the pics and videos, there's a section where you can read other member fantasies about the models or leave a fantasy yourself. Some of these make for hot reading, although others are short. While there's a form to submit your own fantasy, when I tried to submit a fantasy, I got an error.

Good news is that the site is available for mobiles. I tried it on my Android phone and tablet, and both worked very well. The videos played with no issues, and the site looked and functioned better than a lot of mobile sites I've visited over the years.

Each model has his own page, but while it's a great way to find more videos from your favorite guys, the pages could use some improvement. There's a brief paragraph with info about most of the performers, although there's a big empty space where the profile should be. Some model pages have links above his videos to buy DVDs the models appear on, and below his videos are links to other sites from the studio that the models appears on, but these sites require you pay to join. Below that you'll find comments and fantasies about the models from other members.

Now let's talk about issues starting with updates. There are no dates or update schedule listed, and after checking back, it appears that the site is updating with a new video twice a month and one new photo set. When I clicked the "Member favorites" link in the video section, I got an error that said "Error Occurred While Processing Request," the same error I got when I tried to leave a model fantasy. Also when I tried to view the 14 oldest picture sets, I got this message: "This Gallery Not Ready Yet" rather than the galleries - the newer galleries worked fine. Last are the ads, there are several large ones on the members home page.

Papi Thugz delivers horny and well-hung Latinos and black studs, many of whom are thugs or rough dudes with bad attitudes as well as athletic or built bodies. The action is a mix, but there's a lot of sucking, fucking and rimming in duos and some threesomes, as well as some solo jerking sessions. There are 426 exclusive streaming videos to download, stream and watch on your mobile, as well as 239 picture sets, and the site is averaging two video updates per month. I enjoyed reading the member fantasies, and the site worked well on my desktop and mobiles - except for the 14 missing picture sets and non-working favorites. While there are issues, Papi Thugz is more than the sum of its parts, with some of the hottest, best-hung Latin guys, Blatinos and black men around, not to mention smoking hot action.
Click here to visit Papi Thugz
---
Bookmark and Share
---