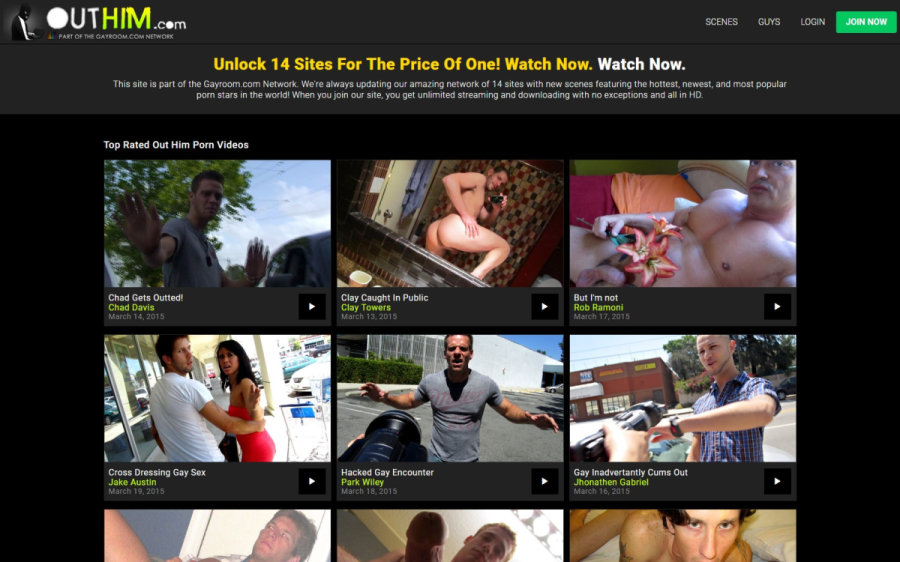 Out Him promises reality porn featuring straight guys who have secret gay sex lives on the side. That's the fantasy - the reality is that you'll find hunks, studs, and average-looking guys inside the site, but many of them are actually gay porn stars or porn regulars. I found Dylan Knight, Blue Bailey, Ethan Slade, and Parker London, to name a few, and in only in a parallel gay porn dimension is Parker London a straight amateur. Some of the older videos do include some more amateur types, although in reality the ones I looked up were not only gay but have gone on to do more porn.
The action and scenarios here vary. You'll find a guy getting a massage from another guy, and there are no protests when the masseuse pulls down the towel and goes down on his hard cock. There are men sucking and fucking at the office (the boss apparently expects some perks), as well as an outdoor scene starting with two horn dogs making out, then fucking right there on the mountain. Some of the older videos do deliver the gay reality porn thing, including guys driving around to find a straight guy to bang on camera, but the newer episodes I watched are regular gay sucking and fucking, sixty-nining, a gay foursome or two, a guy in a sex swing and guys shooting their loads. And there's nothing wrong with that, but the newer videos don't deliver on the site's described theme.
Out Him delivers 64 exclusive videos. The newer videos are offered in MPG format, many offered in a single size of MPG at 720x416 and the older at 1248x700, although I found some older videos in WMV at 1248x704. Sometimes you'll find a different size or sizes for any age video, and a couple of the oldest videos didn't seem to have downloadable versions. For those who prefer to watch rather than download, the videos can also be streamed. Video quality ranges - the older vids are average quality while the newer are good amateur. All videos are DRM-free full scenes. By the way, the videos listed as MP4s that I downloaded were MP4s, so it appears the site doesn't offer mobile-compatible videos.
Most episodes offer two sets of pictures. The newer digital stills are sized at 1500x1000 at good quality, while the older ones are fair quality or better and a little smaller or sometimes much larger at 2250x3000. The screencaps are average to good amateur quality, most sized at around 1280x720, although they're sometimes smaller. Oddly, I found the digital stills sets were often more repetitious than the screencaps. A downloadable zip file is available for the digital stills only.
In addition to the content from Out Him, full members get access to the entire Gay Room network which has grown to over 1,200 videos, and the network adds a video once a week. There are 12 bonus network sites total, including a couple of sites dedicated to really big dicks, another with massages turning sexual with happy endings, action in a bath house, an office sex site along with a couple of other themed sites. It's a nice collection of hot guys in action.
There are some issues. First off, the site hasn't updated in several years, although they have added bonus sites and changed prices; they've even made a few improvements, but no videos have been added since 2014. There's a pre-checked offer on the right side of the billing page that's small and easy to miss. Trial members get limited access, although those limitations are not specified, and trial memberships recur at about $10 more than the recurring monthly membership. There's a small pop-over on the lower right corner of the tour. You'll also find a variety of ads in the members area, and some could easily be mistaken for content including a row of thumbs above the video player that are actually ads for a live cam site.
There are a couple other things worth mentioning. There's a network model index, but there are no profiles or any kind of info given about the performers - not even the famous porn stars. There are also no scene descriptions. The gallery thumbs are small: you can make out what's happening in each pic, but they really are as small as postage stamps. And there are less videos than there were on our last visit; there are now 64 videos while there were 129 in December of 2014. At a guess, they removed some of the newer videos - the ones that don't fit the site theme - and used them in their other sites, but that's only a guess.
Out Him gets a mixed review. On the one hand, the theme is interesting, but many of the newer videos don't out anyone - they just show hot guys sucking and fucking. The older videos were filmed in a style that at least supports the amateur, homemade theme, but many of the newer videos star fairly well-known gay porn performers. The site offers 64 videos that can be streamed and most can be downloaded. I was disappointed at the lack of updates, but there are over 1,100 bonus videos from exclusive sites in the GayRoom network. If you're looking for videos where guys are outed by doing amateur gay porn videos, you may be disappointed, but if you're looking for a network of gay videos with different scenarios, Out Him may be worth checking out.
---
Bookmark and Share
---