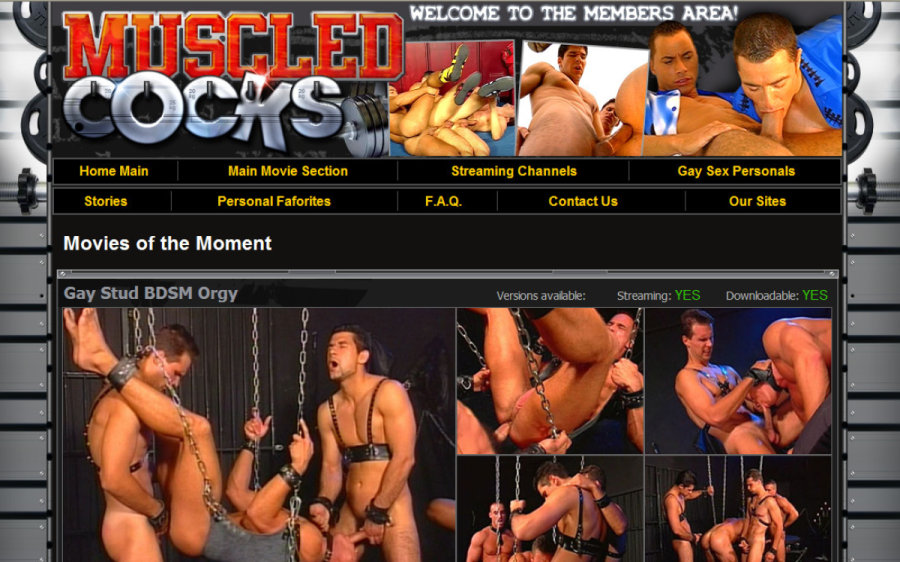 Muscled Cocks puts the focus on well-muscled men in hardcore sucking, fucking action. Some of the performers are big and beefy, with huge and powerful muscular physiques, others are ripped and athletic, with six-pack abs and bulging biceps. Most of the models are handsome, in their twenties or early thirties, some with tattoos and others with a more clean-cut look. There are a few guys here who are less than muscular, but for the most part, the men here are built.
There are some duos, but there's also lots of group sex including 3, 4, 5 or even more guys giving blowjobs, plowing ass and spit roasting. Expect some dildo play, fingering, kissing, stroking and more. And there's men fucking while also getting fucked. There's some outdoor sex, including several scenes where the action is on a boat, plus guys getting it on in the gym, including the locker rooms, some porn sets and there's 1 guy jerking off in the restroom.
Muscled Cocks offers 56 videos in the member's area, the same number they had in 2010, so the site doesn't update. The downloadable videos here are offered in WMV and are sized at 720x540; there are also streaming Flash versions at a similar size. Quality here is average or a little below, but while this is common when content is taken from DVDs, some of the videos here could be sharper and clearer. All the videos are DRM-free, which means they'll continue to play even after your membership has expired, and play for Mac users using Flip4Mac or something similar, but they won't play for most mobile users.
Each Muscled Cocks episode includes a link to a picture gallery. These are screencaps shown at 640x480, and are fairly low quality even for screencaps. Expect blurring, a lack of sharpness and other issues. Still, you can always tell what's going on and who's doing what to whom, so the pics are a great way to preview a video, and each set can be browsed or can be viewed as a hands-free slideshow. BTW, if you find a set you like you can download it as a zipped file.
Muscled Cocks is part of a network that includes 8 additional sites - a cop site, 2 hairy men sites, a medical site, 2 daddy sites, and a site featuring anal double penetration. Each of these sites offers downloadable videos in the same size and quality similar to Muscled Cocks - sometimes better. Members also get access to a story collection and 15 assorted gay feeds.
Does the site have any issues? As mentioned, and probably the most important issue, is that the site no longer adds new content. Something I really didn't care for here is that each page in the video section contains only a single episode. Because you can only see one preview at a time, it takes some clicking to get a good idea of the kind of action the site has to offer since each page is listed only by a number. And while the guys here are hot, and they obviously spend plenty of time in the gym, the content is from DVDs, and these DVDs aren't the freshest, newest ones around, so don't expect the kind of bodybuilders and fitness models who appear on modern porn sites.
Muscled Cocks offers athletic or muscular men in hardcore man-on-man action. There's lots of group sex here, plenty of cock sucking and fucking in the gym, outdoors or in other masculine locations. There are 56 downloadable DRM-free videos that can also be streamed, and each vid comes with a set of pics. Navigation isn't great, but it's pretty easy to use, which is a plus. The site doesn't update, but members do get access to 8 more sites, some stories and feeds. While I'd be happier if the site still updated and the content was better quality, I like the muscled men, the action and especially all the group hunk sex at Muscled Cocks.
Click here to visit Muscled Cocks
---
Bookmark and Share
---