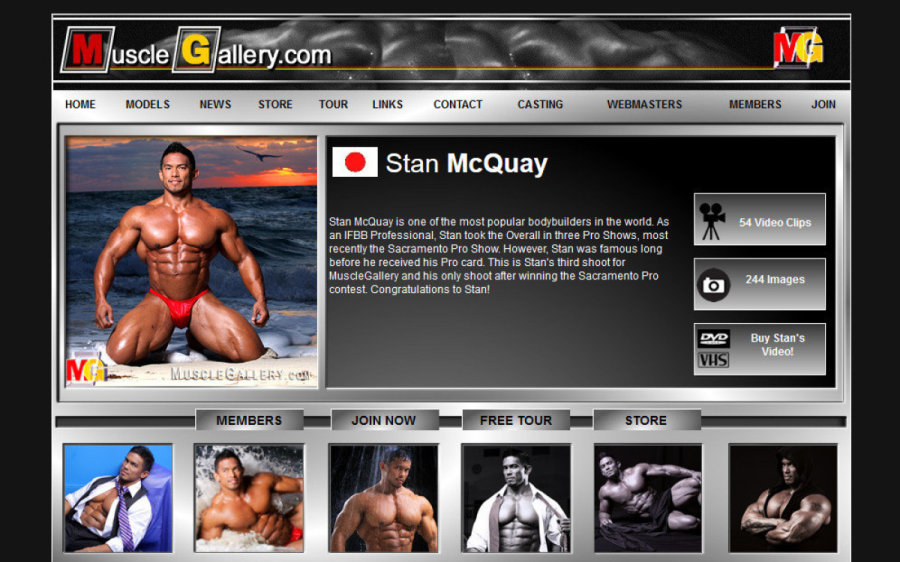 Muscle Gallery features some of the biggest bodybuilders around. We're talking about men whose chests, arms, and legs literally bulge with muscle, the kind of guys who make jaws drop when they walk by. The men at Muscle Gallery aren't your average hunky porn models - some of these are IFBB pro bodybuilders including Daniel Toth, Con Demetriou, Sami Al-Haddad, Frederick Sauvage, and bodybuilding legend Chris Cormier, and every one of the men here is a muscle god. And many of the performers here are in contest-shape, so not only are they huge - they're cut, so expect six-pack abs as well as powerful tree trunk thighs, flaring lats, and huge chests.
The impact and masculine presence of the men here is enormous. The guys here aren't porn actors, nude models, or fitness guys - these are massive muscle men who have spent hundreds of hours sweating and working to sculpt and mold their bodies to legendary proportions. There are also some shots of the guys competing on stage. The site offers videos of these huge men working out at the gym, posing, showing off their amazing physiques, and some sexier stuff. One thing the men of Muscle Gallery are not, however, is fully nude. While you will see plenty of rock-hard asses and thighs, there's no full frontal nudity or masturbation here.
Muscle Gallery offers over 200 models, some of whom have done only one shoot for the site while others have done as many as 14, so while there's no way to get an exact count, I'm going to say there's over 450 videos, each broken into clips, and each model has a gallery composed of photos from one or more of his shoots. Unfortunately the site stopped updating in 2013, but there's still enough to keep members busy for a month or two.
The DRM-free videos are offered in downloadable WMV format plus streaming QuickTime, the newer vids also offered in Flash. The WMVs are shown at between 400x300 and 640x480 at good amateur quality or better, and there is a smaller version available. The QuickTime and Flash streams are shown at between 400x300 and 960x540, quality varying from decent to quite good. All the videos are offered in clips rather than full scenes, have good sound and play smoothly. Some models have pages and pages of clips while others have only a single page worth.
Muscle Gallery also offers photos. The pics aren't presented in sets but rather by the page. Some shoots may have multiple pages where other pages might have pics from three different shoots. There are all sorts of photos here - guys posing in pools, flexing outdoors, in sexy centerfold pictorials, riding horses, competing and doing on-stage posing at IFBB events. The galleries are odd interactive Flash galleries where the pics aren't shown all that big when you click a thumb, but you can zoom in on them and do other things. Personally I prefer to click a thumb and simply get a big pic, but you may feel differently.
Now let's talk about the negatives. As mentioned, the site hasn't updated in some time, and we're not expecting any updates in the future. The LIVE MUSCLE SHOW link in the navigation leads away to a live cam site where you must pay by the minute for full nudity or action. Also I really wish that it was possible to browse either the pic sets or the vids instead of having to browse only by update or model. And last isn't exactly an issue, but I would love to see full profiles and bios of the men rather than a brief description that usually includes his bodybuilding credentials.
Muscle Gallery stands out due to the quality of their models. Because the site doesn't offer full nudity, they get some very hot shoots with a good number of card-carrying IFBB pro bodybuilders, but you won't find any sessions that offer cock. Not only are these the kind of men you find in bodybuilding magazines; many have actually appeared in them. There are over 450 full scenes (although each scene is broken into clips) and the DRM-free WMV versions are downloadable plus there are streaming vids, not to mention plenty of pics. And although the site no longer updates, there are over 200 models for male muscle lovers to enjoy.
Click here to visit Muscle Gallery
---
Bookmark and Share
---