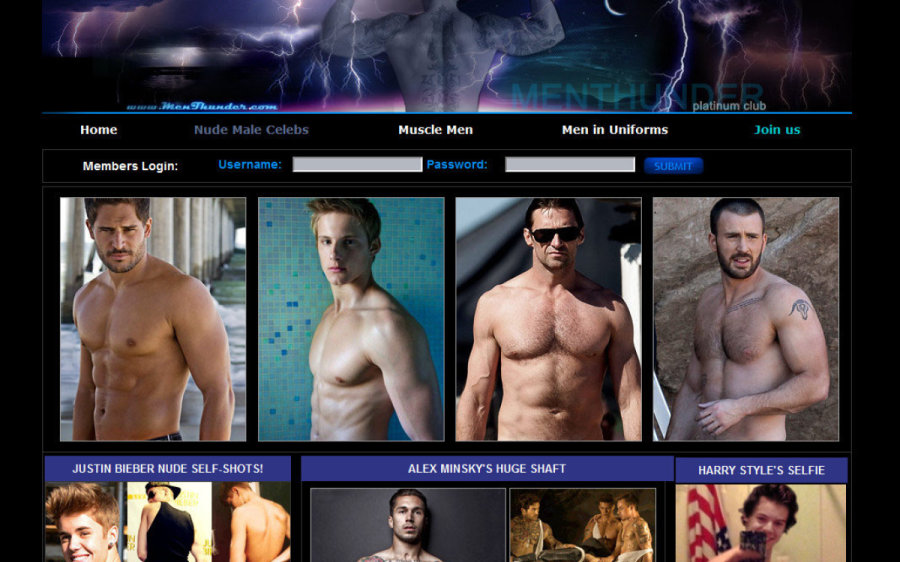 Men Thunder shares the same database as a couple of other male celebrity sites (including Male Stars) that have been around for 20 years, so there's a huge collection to explore. The site's tour teases us with underwear model Alex Minsky, Taylor Lautner, Harry Styles, Olympic athlete Tom Daley, rock star Adam Levine, Channing Tatum, Mario Lopez, Gerard Butler and One Direction's Zayn Malik, as well as so many others. We haven't reviewed this site before, but it's not new. It has a huge collection of pictures and video clips of your favorite movie and television celebrities, musicians, rockers, and athletes, and it updates daily. There's a lot to see here, so let's get started.
The site's homepage lists some of the most recent updates as well as a Top 20 Celebrities section on the sidebar, but I found two other sections that give a more comprehensive look at the latest additions. On the top navigation bar you'll find Latest Celebs and Latest Movies and each lists what celebrities and movies have been added from newest to oldest. It's not even noon yet on March 1 and already they've added ten celebrity galleries featuring Jamie Bell, Josh Hutcherson, Danny Lopes, Jared Leto, James Spader, Matt LeBlanc, Christian Slater, Sam Upton, Aaron Eckhart, and Ramon Rodriquez. (They even added two more while I was writing this review.) Not all of the additions are from recent productions, however, and most of today's offerings feature the men bare chested, although there's full nudes of Jamie Bell showing off his cute butt and Danny Lopes bearing his hairy bush and big cock.
Latest Movies also lists the latest additions to the site from newest to oldest, although again, they aren't necessarily new productions. Today there have been clips added from "Flesh and Bone" and Hugh Jackman in "Scoop," and yesterday we saw Colin Donnell's bedroom scene from last week's "Chicago Med," and Jason Statham in "Crank," and there were others from "How to Get Away with Murder," Tony Goldwyn in a bedroom scene from "Scandal," and clips from "Girls" and "The Mysteries of Laura."
If you're looking for a specific celebrity you can use the free-form search or the alphabetical listing using either first or last name. Each celebrity has a profile page with varying amounts of bio information (some have very little or none, others have complete bios) as well as a listing of their pictures or videos featured on the site. And you can also browse through the members homepage, but as I mentioned, it's not always the best place to start if you're looking for the newest additions.
It's hard giving you a precise video count since the site isn't organized in a way that the clips can be easily counted. The site claims to have 11,228 video clips and 1,133,548 pictures featuring 12,545 male celebs and I don't think this is an exaggeration. The video clips are generally fairly short from a few seconds to a couple of minutes. The videos are offered as downloadable MPGs, although there are a some WMVs, too. And because the videos come from many different sources from cellphones to grabs from television shows and movies, there's a lot of variety in size and quality. Most videos play at 640x480, but many of the newest ones play at 900x505 in a pop-up window. You can also stream the videos in WebM format, which is a relatively new video format from Google, and I didn't have any problem watching these on my computer or two mobiles that I own.
As I mentioned, there are probably over a million photos on Men Thunder, and you can expect to find a wide variety of sizes and picture quality. Many of the celebrity profiles contain as few as 10 images and others offer hundreds. And again, these come from many different sources like cellphones, paparazzi, screencaps from movies and television shows, and more sources, so expect everything from poor to crystal clear images. You can view and save the pictures one at a time, but there's no hands-free slideshows or downloadable zip files.
Men Thunder offers you bonus access to another male celebrity site and a gay military porn site. In reality, this site shares its members area with a number of other male and female celebrity sites, so that bonus male celeb site isn't giving you anything new or different, although the female celebrity site may interest you. On the gay porn front, you'll find heaps of movies offered from twinks to daddies and from Asian guys to hairy bears. I counted over 2,000 videos, but there could very well be a lot more.
There are some issues. The trial memberships recur at $10 more than the monthly recurring membership. Also this male celebrity network could stand with a navigation overhaul that organizes the content better. The members area is messy, and there are lots of different sections to browse through. However that also makes the site fun to explore. There are tons of ads in the members area and some of it is designed to look like content. The site logged me out about every ten minutes even when I was actively browsing, which I found annoying. And, as mentioned, some of the videos are poor quality, although this is common with celeb sites because of the variety of sources.
Men Thunder takes us into the world of male celebrities and offers us heaps of television and Hollywood hunks from the past 20 years, and there are lots of rock stars and athletes, too. You'll find your favorite stars and hunks shirtless or showing off their bare asses, underwear bulges, and yes, even lots of cocks - there's even a Best Cocks section. The site adds new pictures and video clips every day, so there's always new stuff to check out. And you can download the clips or view them online. While the site could be better organized, I didn't find the tour made any outlandish claims and pretty much offers what it promises. You should have fun exploring this truly massive male celeb site.
Click here to visit Men Thunder
---
Bookmark and Share
---