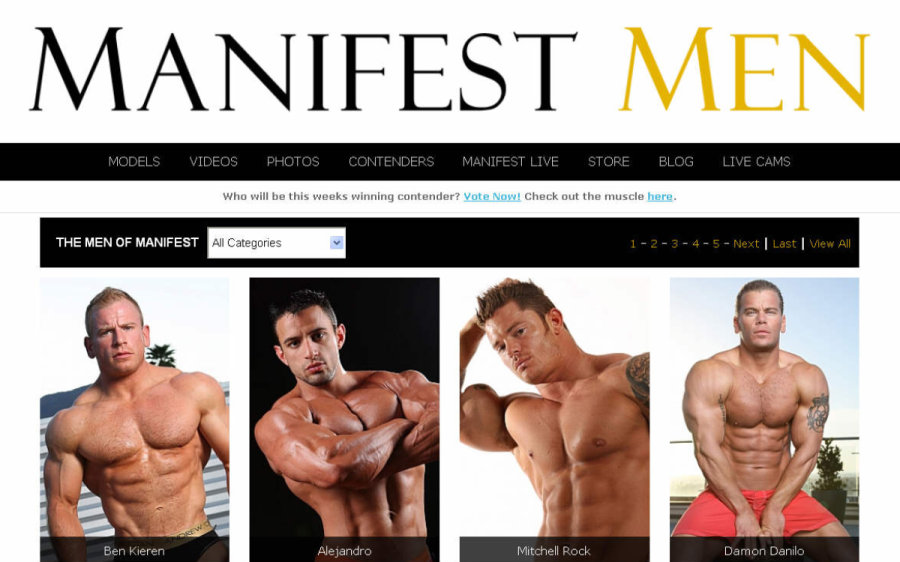 The performers at Manifest Men are REAL men - masculine with rock-hard bodies and often handsome faces; some are pretty well hung, too. You will find guys in all colors and ages; from jocks to muscle daddies there are impressive black, white and Latin studs. The one thing they all have in common is that they are big - some are huge - and very well built. These are men who have been working on their physiques for years and sport some serious muscle. Expect bodybuilder porn stars like Zeb Atlas, Rogan Richards, Mitchell Rock, Trenton Ducati, Jake Genesis and Matthew Rush, as well as fitness models and some professional bodybuilders.
The performers really know how to give a good show as they flex their muscles and show off their hard naked bodies in solo videos and photo sets. The models have been filmed in a variety of surroundings and locations such as in gyms, hotel rooms, showers, and even outdoors. These muscle gods display themselves off in all their naked glory, do some incredible muscle posing and play with their bodies and cocks before they shoot a load.
Manifest Men offers 322 exclusive videos inside the member area. The videos are available as streaming MP4s that open in a pop-up window, and you can play them in four different qualities. The action is captured well with lots of close-ups, although some of the videos are a bit dark or grainy. The videos come in a variety of sizes; I found different videos sized at 840x630, 940x530 and 1190x670. All videos can also be downloaded for an additional price, and they also come in MP4 format. They are of average to good amateur quality and the newer vids are offered in full HD at 1920x1080, the older ones at 1080x720.
The site offers 251 photo sets, as well. Each gallery contains between 30 and 120 high quality photographs. The photos are sharp, well focused and have bright colors. The images open in a Flash based gallery viewer and show at a size of 530x800. While you can navigate from one photo to the next, there's no hands-free slideshow. The galleries are also offered as downloadable zip files.
Manifest Men is quite interactive, as you can rate and comment on all updates, plus you can upload your own photos or videos, and write a personal blog. You can add other members as a friend, too. Besides videos and photos, there are some more sections to explore. There is also a section called Contenders where they offer four different previews and the video or photo set, but alas the site doesn't update any longer so votes won't count for future updates.
There are 102 recorded live shows for you to enjoy. They come at a size of 710x540 and are available as downloads or online stream. As is common for live shows, the quality of the recorded show is average but the men are definitely hot. The site also offers a live chat, which is actually a third-party service and you would need to buy additional credits to make full use of this service. Then there is a web store where you can purchase calenders and DVDs, and a blog where you will find some more information about models, scenes and live shows as well as reviews of other gay porn sites. There's a blog that is accessible from outside the members area, but it no longer updates.
Manifest Men is one of my favorite sites, but sadly the site has stopped updating. Luckily it's big enough for members to enjoy for a couple months. Also while video quality is pretty good, the pictures are excellent; I wish the videos were up to the same standard. Also worth mentioning is the pre-checked email offer on the join page.
Manifest Men is all about masculine men with impressive physiques. The site offers bodybuilders, fitness models and very well-built porn stars who flex their muscles, show off their hard bodies or play with their hard cocks and rub out a load. There are 322 exclusive streaming videos and 251 photo sets inside the member area, and while the site no longer updates, your membership comes with some extras such as recorded live shows, model profiles, and some interactive features. After spending some time there, I'd say that Manifest Men has all the ingredients for a great muscle site.
Click here to visit Manifest Men
---
Bookmark and Share
---