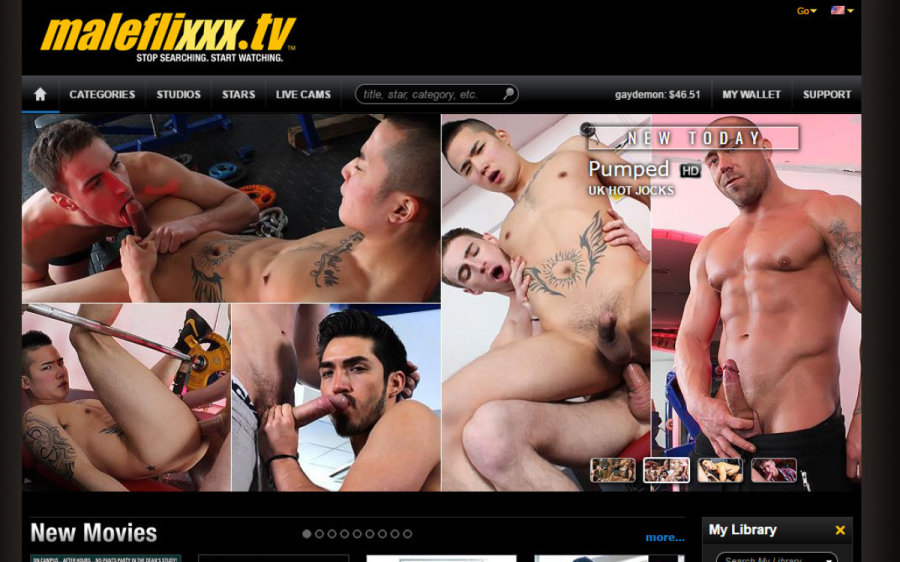 Maleflixxx is one of the original pay-per-view networks, and they offer a huge collection of gay porn in every category imaginable from fucking and sucking to hardcore BDSM and from masturbation to fisting and watersports. There's so much gay sex, and you will find some bisexual and transsexual videos, as well. The site's library contains movies from over 280 gay porn studios from well-known producers like BelAmi, Cadinot, Falcon, Cazzo, Hot House, Lucas Entertainment and Raging Stallion to lesser-known studios like Pirate Fetish, Prime Pork, Tainted Twinx, plus many others I've never heard of before. Even fans of vintage porn are well-served here with legendary movies from Bijou, Ray Dragon and L.A. Heat; incidentally, the oldest movie on the site was produced in 1970.
Whether you are into cute twinks, muscular jocks, massive bodybuilders, hairy bears or older males, this site has something to offer. The performers hail from all over the world, so aside from lots of performers from North America and Europe, you'll find plenty of Asian guys, Latinos, Arabs and black studs. And among all those men you'll find average dudes, big-bellied bears, bodybuilders, butch guys, college guys, daddies, first-timers, jocks, muscle men, straight guys and so much more. Big cocks, small cocks, both cut and uncut cocks - they're all here.
Not only can you browse the Maleflixxx library by studio name and category, it's also possible to search and filter the results by performer names. There are legendary porn stars from the past like Bill Henson and Joey Stefano as well as popular performers from today's porn such as Matthew Bosch, Calvin Banks, Devin Franco, Griffin Barows, Jordan Levine, Hector de Silva, and there are so many more. You probably get the idea by now - the amount of gay porn this site offers is massive and there is much to see from deep-throat cock sucking to hardcore ass slamming and also a lot of more extreme stuff.
Maleflixxx now offers a whopping 46,962 scenes from 10,564 DVD titles, and they add new scenes and DVDs all the time. In fact, in the 16 months since our last review they have added 3,902 new scenes from 962 newly added DVDs. As soon as you have rented a scene or DVD, it appears in your library for a period of 24 hours and you can watch it as many times as you like within this period. The videos cannot be downloaded to your computer, but if you really like a video you can pay an extra fee under their stream-to-own program to keep it in your library permanently, well - sort of. More about that shortly.
The videos play in a streaming player; you'll need Silverlight to watch them, which is available for both Windows and Mac and is easy to install. You can watch each video, which is offered in several bitrates/qualities, and there is also film-strip navigation. Since the videos have been produced by different studios and in different eras, the size of the videos varies a bit. Most videos play at a default size of 640x480 in the pop-up player, although you can enlarge the videos to play at around 1384x784 or smaller, and there's a full-screen mode, too. Newer videos and HD versions fare best in these enlarged versions while older videos of lesser quality tend to look blurry and unfocused.
Maleflixxx does not offer any picture sets or extras, but each scene has three small pictures that let you preview the guys and action. There are several ways to filter, sort and search the entire library; there are several dozen categories, you can click performer names to find more of their scenes, there's list of clickable studios, and you can also use the free-form search.
I want to talk for a minute about the rental process in more detail because it can be a bit confusing. I found a movie that I wanted to watch and clicked the "Rent Scene" link, the screen refreshed, but there was no video player. What happens is that Maleflixxx acknowledges that you want to rent a scene and deducts the charge from you wallet, then you have to mouse over your account name on the navbar at the top of the page and a drop down will appear. Find the "Rentals" section and click that, and you'll be taken to My Library, which shows past and current rentals. You have to mouse over the scene you want to watch and click Play in the resulting pop-up; by the way, if you click the scene's thumbnail, you'll go that the movies detail page – it's a bit cumbersome, but it's easy to use once you're used to the process.
There are a few issues worth mentioning. First, and most important, you need to use purchased credits within six months or you lose them. Second, there's a pre-checked option on the join page that automatically bills your credit card refills your wallet whenever it's empty, which can get expensive if you're not paying attention. The join page also has two pre-checked email offers. Next, if you to buy any videos in Maleflixxx's stream-to-own program, you're really leasing them as you need to make at least one purchase every six month to keep them active. Also it would be nice if they dated each DVD or scene update as they added them.
Maleflixxx is a very complete site, and everything works as it should. Compared to a traditional membership sites, this rental setup could be perfect for those who only watch a few scenes a month or treat themselves to a DVD or two each month. This could, however, be quite expensive for those who want to watch lots of porn as it costs from $2.99 to $4.99 to rent a scene for 24 hours. Of course, if you buy a DVD or scene, you can watch it forever (as long as you keep making purchases every six months or less), so if you like to watch videos repeatedly over time this might be buying a better option.
Maleflixxx is a truly enormous collection of gay porn videos offering all sorts of guys from twinks to muscle daddies and every type of man in between. You'll find guys jacking off, lots of sucking and fucking in duos, threeways and groups, and there's also kinky stuff like bondage, fisting and humiliation. I am sure that any porn fan can find what he's looking for as they offer films in any category you can think of. While there are no dates or schedule to show how often new content is added, the site has added 3,902 scenes in 16 months. There are over 46,962 scenes from 10,564 DVDs, which means that this site can keep you busy for a very long time, and by the way, the site has regular specials and bonuses that help keep the cost down. And with such a massive library of porn, you have the luxury of paying to watch only the stuff you're really into.
Click here to visit Maleflixxx
---
Bookmark and Share
---