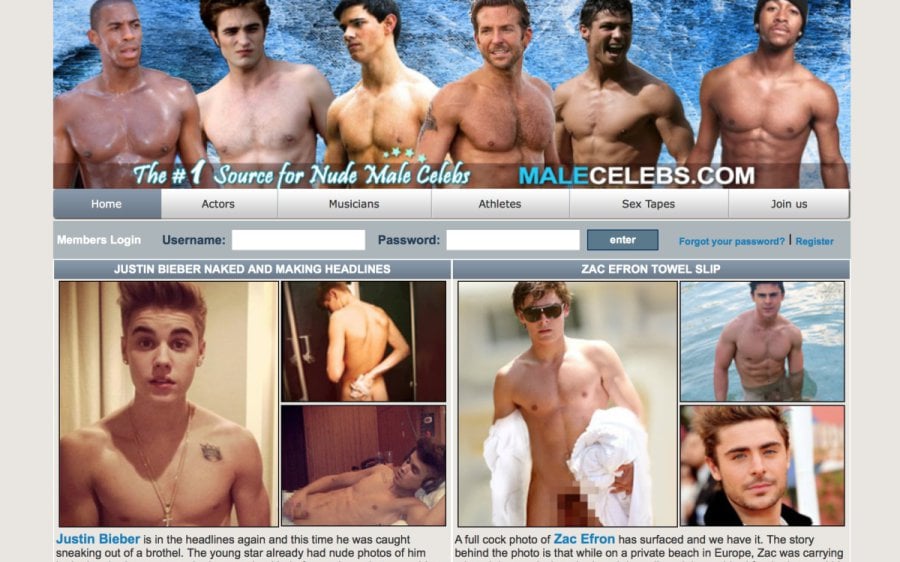 Male Celebs puts the focus on famous singers, TV and movie stars and all those celebrities who we tend to fantasize about. I found some of the men I'd most like to see naked, including Ricky Martin, Taylor Lautner, Channing Tatum, Daniel Craig (James Bond naked!) and Dwayne Johnson AKA The Rock, and that's just the beginning. From Harry POtter's Daniel Radcliffe uncut to Hugh Jackman exposed, boxer Oscar De La Hoya stripping and Leo Dicaprio (who knew he had a big dick?)
Sometimes the guys are naked, which means cock and ass - sometimes they're partly naked or stripped but not showing the full monty. But all of them are hot. There's pics and videos from the news, entertainment TV shows and paparazzi, but there are also candid and cell phone shots, not to mention a few well-known celebrity sex tapes. All in all, you'll find actors, athletes and musicians shirtless (or more!) at the beach, in the locker room, at home or on stage, and while not all the content is nude, there's definitely enough full frontal to keep you interested.
The site adds new content every day, although updates vary; from 6 to 23 celebs per day get something added to their profile, and it's easy to find on the updates page, and members can search by past 24 hours, a week or various other amounts of time. There are also options - there are males only or naked females if you're interested, and you can browse by thumb or simply a list. With over 9000 male celebs, you can browse and browse, and I found over 2000 (hard to know how many exactly) video clips as well as tens of thousands of pictures.
Before we go further, it's worth mentioning that the member area here is actually the same one found at Male Celebrities. In fact, the top of every page says "welcome to malecelebrities.com member's area". Still, there's lots to see, so if you've never actually joined Male Celebrities, this shouldn't be an issue.
All the videos are available in MPG format, and like all celebrity sites the clips range from a few seconds to several minutes. Videos are shown at from 320x240 to 720x480 in varying qualities, which makes sense since they're from a variety of sources. The vids are downloadable and free of DRM, which means they'll play after your membership has expired, and should work for those on Mac and Linux.
The Male Celebs photos also range in size from fairly small to good sized, and just like with the videos, the quality ranges. That makes sense since some are scans from newspapers while others are high quality pics from press release kits, movie promos and more. Expect a mix of low quality, average quality and high quality.
Now let's talk about other features. There's the scandal section, news and rumors and more. There is a handful of celebrity sex tapes, but not as many as I would have expected, and no Pam and Tommy. There's the updating Top Ten Celebrities widget, Hollywood's Best Cocks (wouldn't you love to be in on the judging for that?) and each celeb has a bio and videography. Ah, and for those with full memberships, some porn extras, as well.
Did I find some issues? You bet. I ran across pics that weren't there, a few videos that wouldn't play, and the OJ sex tape isn't on the site - we're sent to another site where the video doesn't play, either. Not only is this site littered with ads, but there are links to buy videos in all sorts of places. The trial membership gives only limited site access and when it recurs, it costs more than the regular monthly membership. And the first of several times I arrived at the tour, I was greeted by a pop-up.
Male Celebs delivers plenty of famous (and semi-famous) men you'll see starring on TV, in movies, magazines and on the cover of CDs. The site offers 9000 celebrities, lots of pics, star gossip, and the 2000+ video clips and daily updates should keep those looking for famous skin busy. The site is very searchable in a variety of ways, although it can be a bit confusing at first, and while there is some missing content and the issues listed above, overall there are just so many naked soap stars, movie star ass and celebrity chests and cocks that Male Celebs is definitely worth checking out.
Click here to visit Male Celebs
---
Bookmark and Share
---