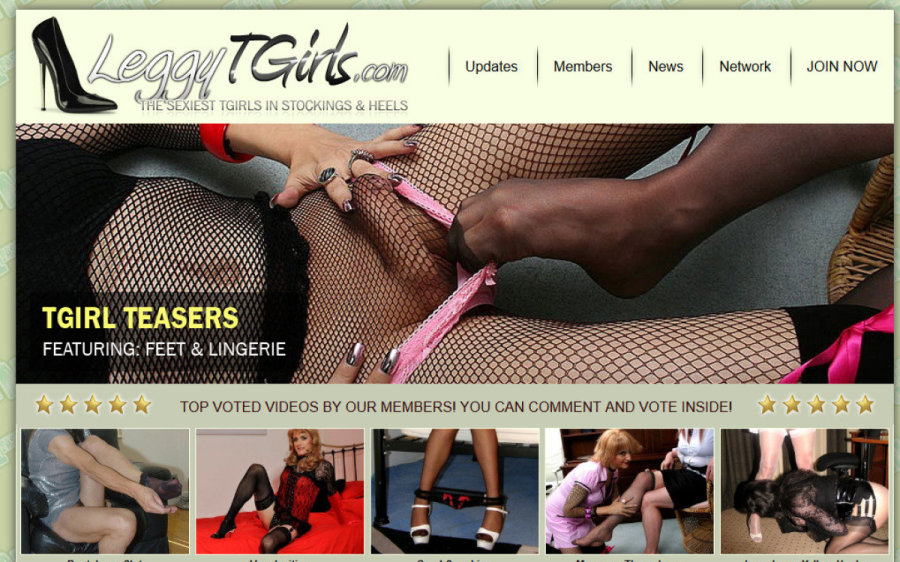 Leggy TGirls offers us amateur British transvestites who have a particular thing for garterbelts and stockings or pantyhose that show off their legs. The tgirls are ordinary guys who like to dress up in wigs, sexy lingerie and falsies, but there's an obvious maleness to them at times - these are the kind of guys who take their passion seriously. They are also the kind of trannies who like to look good when they play, and they have found some pretty sexy outfits to show off their physiques, their shapely bodies and their long, curvy legs.
There's a certain amount of posing and pouting that gives us plenty of time to admire the tgirls, with a focus on their legs. Leg admiration moves on to sex when the action gets started, and you will find trannies with hard cocks rubbing them between their friends' thighs in stockings; there are some blowjob scenes, mutual masturbation, foot worship and foot play, as well as foot-jobs; so it's a nice mix of the erotic with harder edged action, though don't expect full-on fucking.
Leggy TGirls is one of the sites in the All Tgirl Pass Network, and when you sign up, you get to access the rest of the ten sites in the collection. The thing about the Leggy TGirls content and the content from the network sites is that it has a homey feel to it. You don't normally say that about porn, but here you get the impression that this is homemade content put together by guys who like to dress in their feminine finery and get off with each other. There are other sites in the network specializing in trannies in blowjob movies, BDSM, domination, group sex and cumshots, but here they stay on the theme of legs, stockings, and nylons.
There were 20 videos when I was doing the, er, legwork at Leggy TGirls, and they are offered in MP4 and WMV formats to both download and stream. Mobile-sized versions are available at 320x240, and there are also larger, though not HD, options for both file types at 720x576. Some of the more recent movies can be streamed in a Flash player at 980x560 and they go full screen just fine; the older ones, which are smaller, may not manage so well when enlarged. Overall the videos are amateur to fairly decent amateur quality, and they always have the look and feel of homemade vids. The runtimes of these movies vary from a few minutes to over 40, and these runtimes are clearly stated.
There were 41 image sets at the site, too, and these can be browsed easily. Pictures are listed on thumbnail galleries with the large images sized at around 533x800 for the older pics and 1024x680 or a little smaller for the newer; they are available with navigation tools and slideshow options. Images are a good amateur standard, clear but often just a bit dimly lit, and there are many solo posed shots of the tgirls plus some action ones. Once again, the legs and stockings are at the forefront of the photos, and there is some nice variety in the tgirls and their outfits. Zip files are available for those who want to save full sets or you can save individual pics if you prefer.
Now let's talk about the nine bonus sites included in your 10-site sign-up deal. You will find that a lot of the content is presented in the same way, with the same standards and the same navigation tools for each site, so that makes the network easy to use. You will need to enter each site individually, so keep your login details handy for that. But the content is decent amateur and offers up crossdressers and transvestites in all kinds of hot, homemade action from solo posing to BDSM, from tranny domination to cumshots. Updates are not always on target in these sites (some probably don't update at all), but the complete network holds enough content to keep you happy for a month or two.
This is a pretty simple amateur site, and it's not without its issues, but I have to say I've seen bigger and bolder sites with more problems. First, though, are the updates. In the past five and a half months there have been only eleven updates added, and most are pics-only updates; only three include video and two of those are four months apart. Every video and gallery page has a long text link to one of this studio's other sites. Videos are okay, although not available in HD, but better lighting would be nice. I'd have liked more info on the models; there is no model index and no information about them.
There was something nicely homey about Leggy TGirls; it feels like a welcoming site where amateur guys share the thrill of crossdressing. The site keeps the focus on leg action, nylons and erotic stocking and foot play. The quality of the 20 videos is only decent at best, but everything works and looks fine, and the mobile versions were appreciated. The images are good-sized and clear and you do have access to the bonus sites which are also mainly UK tranny and CD themed. Although Leggy TGirls has been up and running for a while now, it's still kind of ambling along in terms of updates. It's not exactly using its nylon-clad legs to run away with us, but it will lead you through some exclusive content with hot British TVs exploring the sensuality of their legs.
Click here to visit Leggy TGirls
---
Bookmark and Share
---