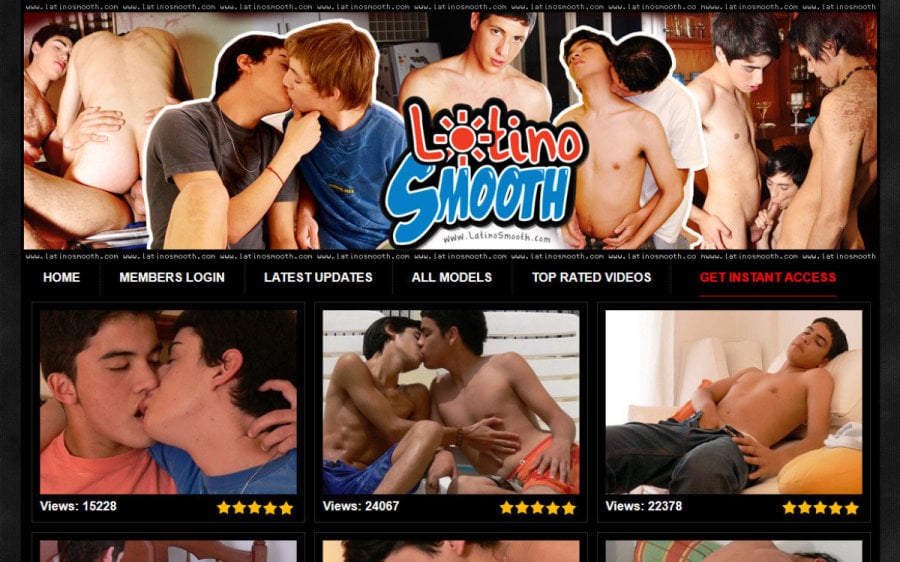 Latino Smooth features slender twinks, college-age guys, some well-built jocks and hunks, plus some regular guys, probably amateurs. Most have smooth bodies, although a few guys are hairy, and there are some smooth guys with both trimmed or natural pubes. Some of the twinks are very cute (and smooth) while other performers are a mix of average to attractive guys, some quite handsome. While most of the men here are fit, there are a few who sport a few extra pounds, and while a few guys have tattoos, there are many who aren't inked. Most of the guys are Latinos with uncut cocks, some quite well hung, and there are some Blatinos in the mix as well. Some of the most recent updates feature guys they say are in the military, and these are some of the hottest performers on the site.
You'll find solo and hardcore action here. Most of the hardcore scenes are duos, although there are a handful of threesomes as well. Some of the sessions start off with plenty of kissing and fondling, dick sucking and fucking while others - apparently gay-for-pay sessions - start off with the guys on the couch: they stroke their own cocks and are eventually convinced to stroke each other, and from there they move to supposed first-time blowjobs, and sometimes fucking. I found a little cum eating, some office sex, and guys screwing on beds and couches, in the gym or hot tub, and outdoors. There are some sexy outdoor solo masturbation sessions, others indoor, and in one very hot solo a horny Latino soaps himself up in the shower and then fills his ass with a thick dildo and pleasures himself.
Latino Smooth offers 93 videos. These are available in MP4 format, each available in two sizes which vary a bit from video to video, but the larger plays at either 640x360 or 640x480, which is on the small side these days but still okay. The videos are downloadable and will play on most mobiles including iPhone and Android, and they are also available to stream at the same size as the downloadable videos. Quality ranges from average to fairly good at their original sizes, but while some videos fare better than others at full screen, all lose some sharpness and clarity when enlarged to full screen.
The site also offers 196 sets of pictures. There are 93 pic sets that contain digital stills sized at 768x1024 at good amateur quality. These are picture-only updates and many of these feature really cute guys. The rest of the photos are screencaps sized at between 640x360 and 720x405, and quality varies but many are decent quality for screencaps. You can save individual pictures or download full pic sets in zip files, and while there are no zip files, you can easily navigate from pic to pic. There are from around 50 to well over 200 pictures per set.
Latino Smooth is part of the Britain's Boys network, and full members get access to 12 bonus sites and five weekly updates, plus 38 bonus videos. While none of the other sites are Latin-themed, there are some Latinos in the updates, and there are over 1,200 videos that can be downloaded, streamed, and watched on most mobiles, as well as many more picture sets. Some of the sites, including Lollipop Twinks, Beddable Boys, and Twinklight, offer high-quality full-HD videos while others feature standard def vids the same size as the Latino Smooth videos. Members also get limited access to seven additional gay porn networks.
Now let's talk about updates. It's been four and a half months since this site last updated, and while I'd say that it's ceased adding new content, there have been several other times when the site has stopped updating for three or four months. Still, this is the longest break so far, so if you join, expect no updates and you won't be disappointed, but the network does add five new videos per week, so you won't be stranded with nothing new to watch.
The site does have some issues in addition to the lack of updates. First, is the pre-checked offer on the billing page that, if left checked, will sign you up for a second recurring site membership when you join Latino Smooth. Next, trial members get limited access and can only watch "10 to 13" videos during the period of their trial. There's a big ad on top of every page in the members area, which I found particularly annoying on the gallery pages, and there's two rows of animated thumbs at the bottom of every page, which are actually an ad for a live cam site. And I do wish that the videos were larger and that some were higher in quality.
The last couple of issues are not the least. The site lists 196 scenes, but 103 of the "scenes" listed are actually standalone picture sets with no associated videos, so they're not scenes at all. Since this is true for a couple of the bonus sites as well, it was impossible for me to get an accurate video count. And the tour states that "Hundreds of Hot Latino Gay Boys Submit Their Personal Videos Every Week," which maybe so, but the videos here are almost certainly older DVD scenes, and there are no updates at the moment and no user-submitted content.
Latino Smooth offers horny Latin and Blatino twinks, jocks and amateurs in hardcore and solo action. Many of the guys are smooth and slim or smooth and well built, although some are a little chunky, and most have uncut cocks. The site offers 93 videos to download, stream, or watch on your mobile; these include sets of screencaps and there are 103 standalone photo sets as well. While the site seems to have stopped updating, full members get access to a good-sized gay porn network with multiple weekly updates, although there are no other Latin-themed sites included. Still, Latino Smooth could be worth a visit if you're looking for some hot Latin guys and you will appreciate the network access as well.
Click here to visit Latino Smooth
---
Bookmark and Share
---