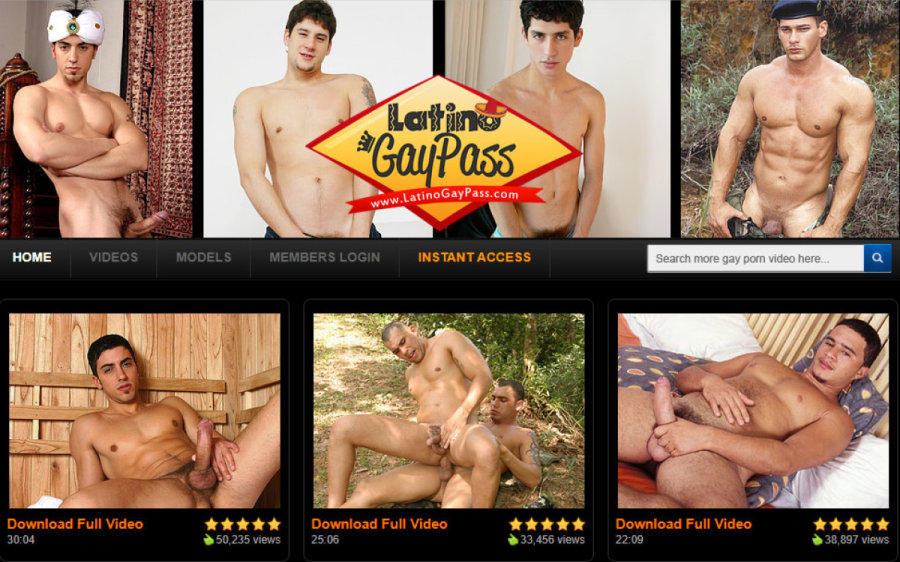 Latino Gay Pass is a gay porn network focusing on horny Latin guys. There's a mix of well-built hunks, athletic jocks, smooth and slender twinks, as well as some average guys. You'll find lots of uncut cocks and men from Brazil and Mexico, although many of the performers are simply listed as "Latin." You'll find guys with unshaven pubic hair and furry asses, although many others are smooth. And there are some horny Blatinos, as well. It's been a while since we visited this network, so it's time to log in and see what's new.
When it comes to action, you'll find plenty of cock sucking and fucking in a variety of interesting positions - and sometimes bareback. There's lots of kissing, threesomes, rimming, cock riding, and there's plenty of guys shooting their loads. The sex takes place in locations including bedrooms, living rooms, outdoors, in bathrooms, and on what seem to be porn sets. And while there are some solo masturbation sessions, many of the solos are in the photo shoots (more about that later). As this is a network with a number of sites, and some of the sites have been around for a while, production values vary from amateur to good.
The Latin sites included in the network are Broke Latino Guys with 133 videos, Brazilian Dicks with 244, Raw in Brazil has 129 vids, Cocky Latinos offers 171, and there's Arabian Dicks, where the guys are actually Latin performers in Arabian Nights style costumes. Latino Gay Pass also has over 450 of its own videos, all starring Latin performers.
Latino Gay Pass offers about 1,200 DRM-free videos. The videos are offered in MP4 format, and sizes vary. Some vids are sized at 640x480 plus one smaller size, some at 1920x1080 plus three smaller sizes, and I found a couple sized at 1280x720, also with a smaller size. Quality varies; the small vids with one smaller size are often taken from older DVDs, and they range from average to good amateur quality, while the full HD vids tend to be good amateur quality. Streaming is available for all the vids, although some of the videos enlarge to full screen much better than others, and the smaller videos will play on most mobiles.
Most of the videos include picture sets, some don't, and there are standalone sets in the Photos section. Of the videos that include pics, some offer good quality screencaps sized at from 640x360 to 1440x810, some of the latter good enough to pass for digital stills; others don't fare as well. There are also some sets of digital stills sized at 1000x1500, and these are basically pretty good quality, some are just a little grainy and others are obviously a little older and it shows. While there are no slideshows available, you can navigate from picture to picture. Photo sets can be downloaded in zip files or pics can be saved individually.
Members get access to some extras. First are four twink sites from the same company: Beddable Boys (330 videos), Lollipop Twinks (329 videos), Teach Twinks (327 videos), and Twinklight (51 videos). You won't find a lot of Latinos in these sites, but they do offer lots more porn, and unlike some of the Latin network sites, these sites offer exclusive content and some offer HD as well. There are also 38 bonus videos.
Now let's talk about updates. Since our last visit, all the sites in the network including Latino Gay Pass itself have stopped updating. Bonus sites Teach Twinks and Lollipop Twinks are currently updating, so you'll still have something new to watch, but you won't have fresh Latin content, and the other bonus sites have also stopped updating.
There are some more issues. Trial members get only limited access; the bottom of the join page says that trial members can view "six to seven films." The join page also offers "Five New Videos Added Every Week," but as we know, the Latin sites have stopped updating. At the top of most member pages is a rotating, large ad, although you can turn these off; at the bottom of most pages are animated rows of thumbs, all of which lead to a third live cam site where you need to pay for full access. And while some of the videos look good, some are getting a little long in the tooth.
One more thing I wanted to mention is that over 125 of the oldest listings in the "Videos" section are only photo sets. These are from 2012 and before, and as far as I can tell, the pictures-only updates are from Arabian Dicks and Latino Gay Pass itself. And this doesn't make much sense, since there is a separate photo section these pic sets could have been listed in.
Latino Gay Pass delivers horny Latin twinks, hunks, and amateurs in gay sex videos with plenty of sucking and fucking duos plus the occasional threesome or orgy, and there are solos, as well. There are over 1,200 Latin-themed videos that can be downloaded, streamed, or watched on your mobile, and while the Latin sites no longer update, two of the four twink bonus sites do. While some of the best quality content here is from the non-Latin sites, there's still plenty of uncut Brazilian and Mexican cock, and more than enough videos at Latino Gay Pass to keep members busy.
Click here to visit Latino Gay Pass
---
Bookmark and Share
---