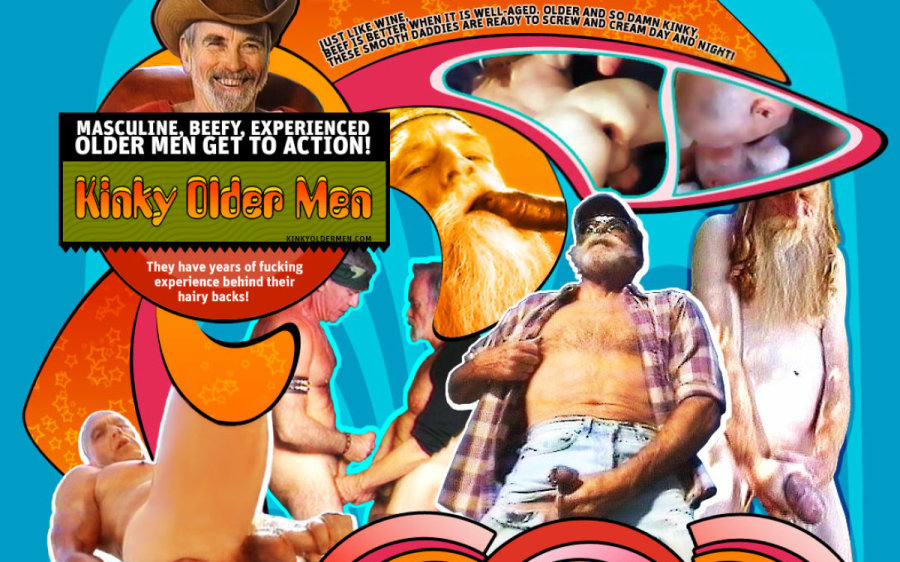 Kinky Older Men features plenty of mature men, daddies, and horny grandpas in action. The performers are over 40 and many are over 50 or 60, with silver or salt-and-pepper hair, some men with hairy bodies and facial hair, but there are also clean-shaven 40-somethings. Some of the performers are grizzled with long grey beards, a look you won't find on many porn sites. There are also some leather men, at least one video featuring guys in military garb, and you can expect to find lots of untrimmed pubes. There are also a few younger guys in their twenties playing with these mature men and daddies.
Foreskin lovers will be particularly enamored with this site as there are a lot of uncut cocks here; not only that, but I saw a lot of foreskin nibbling, pulling and stretching, as well as some docking. Whomever put this collection together loves uncut dick. They also liked filming black and white men playing together as I saw quite a number of interracial scenes.
Some of the vids are from the mid to late 90's where others could be ten years older, so expect some almost classic stuff, as well. Some of the pics look a bit older, so they have that classic porn look.
So let's talk about the kinky part of this site first. One older man ties rope around his nuts and jacks off, another sucks a tattooed cock that also has two piercings, a trio of men hangs weights off their balls and jack off together, two leather men play with some dildos, another older guy hangs a cinder block off his nuts, and another daddy plays with a cock pump. But aside from these scenes and a few others like them, I found most of the videos feature plain old jacking, sucking and fucking - enjoyable, nonetheless, but no particular kinky slant.
One video I watched was called "White Bear Smokes Black Cock", and it features a geeky computer bear on the road for his job. He's not in his hotel room long before a local stops by for a horny session playing with their big uncut cocks. There's lots of foreskin pulling and nibbling, they even finger each others' hoods before swapping head. The bear sits on the couch with the man kneeling between his legs - he pinches his buddy's nipples while the black man strokes his big dick and cums on the bear's belly.
"Business Partners Become Bear Fuckers" has a couple of older men (and business partners) sharing a hotel room to save on expenses, but after a couple of drinks they blow each other, then one sits on the others' cock. And the bottom daddy in that scene ends up fucking a ginger twink in another video and a ripped stud in a third scene. I also saw a series of videos where the men looking like mountain men with long hair and big, bushy beards; there are some scenes with men jacking off in solos. There are plenty of duos, but there's also a good number of threeways and small groups and both indoor and outdoor sessions.
Kinky Older Men offers members 66 videos in downloadable WMV and MP4 formats plus streaming Flash. The videos are DRM-free full scenes shown at 640x480 at average quality, which makes sense as at least some of the movies here were shot on film and converted to digital formats. As a result, the vids lack the sharpness and color saturation you find on more modern videos that were shot digitally, but I still found them quite watchable and enjoyable.
Each video also comes with a screencap gallery The pics are shown just a little smaller than the videos. While all screencaps are lower in quality than digital stills, the quality here varies as some of the videos were better quality than others. If you find a set of pics that you like, you can download the pics in a zip file or watch them in a hands-free slideshow.
In addition, members get access to 8 bonus sites in the same network: Older Gay Daddies, Cock of the Law, Two Dicks In His Ass, Kinky Gay Bears, Euro Gay BDSM, Muscled Cocks, Gay Medics and Masculine Bears. The site also has a section called Streaming Channels where there are 15 gay video feeds in a variety of niches. And for those whose taste runs to reading, there's a collection of 25 erotic stories.
I had only one real issue with the site - it does not update. There's enough here for you to enjoy during your membership, and a number of the bonus sites also feature older men, hairy guys and bears, as well as more kinky sex (there's even a cop site), but you'll have to make do with what's there because none of the sites are being updated. One bothersome thing is that each movie is listed on it's own page and there's no way of getting a summary of a dozen or more videos on a page, so that means you need to click through 66 separate pages to see everything.
Kinky Older Men delivers horny men mostly over forty sucking and fucking, jerking off or playing with some kinky toys. There are lots of hairy men, bearded guys, grey-haired men, daddies and there are plenty of black men, too. And foreskin fans will love all the uncut dick here and foreskin play, too. There are 66 videos and a little more than a couple of hundred in the 8 bonus sites, so while none of these sites is updating, there's enough here to keep you turned on during your membership, and the downloadable videos are yours to keep. Classic porn fans in particular will appreciate the content at Kinky Older Men.
Click here to visit Kinky Older Men
---
Bookmark and Share
---